Can Renuvion® Replace the Need for More Invasive Plastic Surgery?
Posted September 17, 2020 in Renuvion®
2 Minute Read: 
Genetics, age, or even lifestyle choices can impact on the quality and presentation of our skin. The skin begins to stretch and sag, resulting in a less appealing, aged appearance. But what if you could firm and tighten the skin on any part of the body for a more youthful and radiant glow?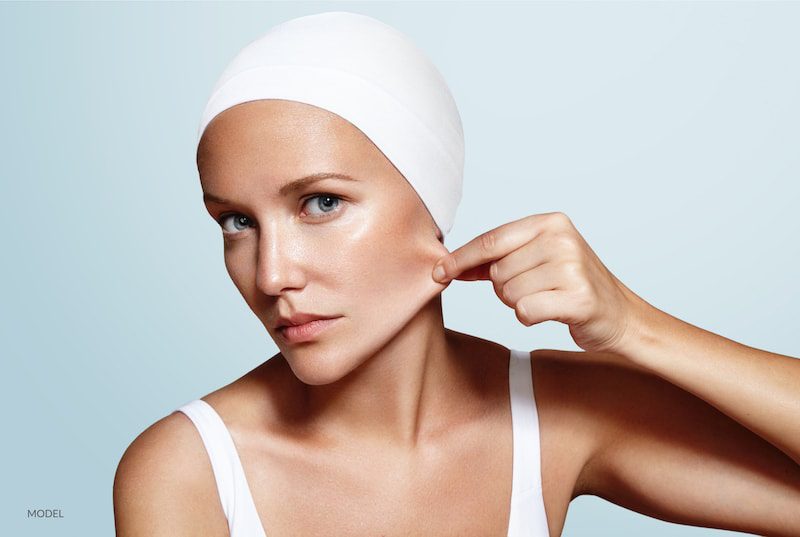 Renuvion® is a minimally invasive approach to skin tightening that effectively rejuvenates loose skin without the need for more invasive procedures. It can address just about any region of your body that would benefit from skin tightening, including the abdomen, lower face, back, breasts, arms, butt, neck, and thighs.
How Does Renuvion® Work?
Renuvion® uses helium plasma energy to lift and tighten aging skin to achieve your desired outcome. The procedure focuses the plasma technology on the targeted treatment area, delivering precise body contouring results while minimizing damage to the surrounding tissue.
The procedure is performed under local anesthesia. Your surgeon will make a tiny incision in the treatment area and place the Renuvion® device directly underneath the skin to administer a precise stream of helium plasma.
In reality, the procedure stimulates collagen and elastin production from beneath the surface to contour, lift, and refresh the skin. You can choose Renuvion® as a standalone treatment or combined with other procedures, such as liposuction, for enhanced results.
What Should You Expect From Renuvion®?
Besides the tightening of the skin, your skin will continue to improve as you heal from the procedure. Patients can expect to experience some mild swelling and bruising; however, this should clear in a week.
Can a Renuvion® Procedure Replace Invasive Surgical Procedures?
While the skin tightening abilities of the minimally invasive Renuvion® are indeed dramatic, they cannot necessarily act as an alternative to plastic surgery. This is because the procedure is only effective in addressing mild to moderate skin laxity on the body. Therefore, individuals with severe or significant skin laxity issues due to aging or weight loss, would be better off with the traditional body contouring procedures, such as a facelift or a tummy tuck.
Request an Appointment Today!
Are you looking to restore your youthful contours, improve your overall confidence, and increase your self-esteem by addressing your skin laxity issues? Get in touch with us at (305) 960-7511 or fill out our online form to schedule a consultation to determine whether Renuvion® is right for you. Dr. Careaga or Dr. Durand will answer any questions you have about skin-tightening treatments and find the right treatment plan for your needs.