Before
After
Before
After
View Photo Gallery
Mommy Makeover
In Miami
A woman's body may undergo drastic changes caused by pregnancy and breastfeeding, including deflated, sagging breasts, excess skin and fat on the stomach, stretch marks, and loose abdominal muscles. The Mommy Makeover is designed to restore your pre-baby body by improving the shape and appearance of your physique after childbearing.
Why Choose Careaga Plastic Surgery?
Careaga Plastic Surgery offers an immaculate and serene setting with cutting-edge technology suited for your cosmetic surgery needs. Additionally, the dedicated staff at Careaga Plastic Surgery are highly professional, with an abundance of experience in the beautification industry. Our highly trained and qualified surgeons, Dr. Careaga and Dr. Durand, will perform your service. With each procedure, we pay close attention to aesthetics and symmetry to provide you with the most natural results possible.
Mommy Makeover Can Correct:
Breast Sagging
Many different breast concerns can arise after pregnancy, including sagging or loose skin, lost volume, asymmetry, stretch marks, and stretched or enlarged nipples. Each Mommy Makeover is fully customized and can include various breast procedures to achieve your specific aesthetic desires.
Stretched Abdominal Muscles
The skin and muscles of the abdomen can be compromised after carrying a baby, resulting in stretched skin, muscle laxity, and excess fat in the stomach region. A Mommy Makeover can include techniques to tighten the skin and muscles for an enhanced, chiseled stomach appearance.
Lack Of Confidence
After pregnancy and breastfeeding, the breasts may appear deflated and the stomach region may have excess fat and loose skin. Diet and exercise are not able to address these concerns, which can lower self-confidence. By enhancing the breasts and improving the stomach, your self-esteem can be restored.
Mommy Makeover Options
A Mommy Makeover is customized based on the needs of the patient, but it is generally one of the following combinations:
Tummy tuck + breast augmentation
Tummy tuck + breast lift
Tummy tuck + augmentation mastopexy (breast lift with implants)
Tummy tuck + breast reduction
Explore the options below to see which procedure combination might be right for you.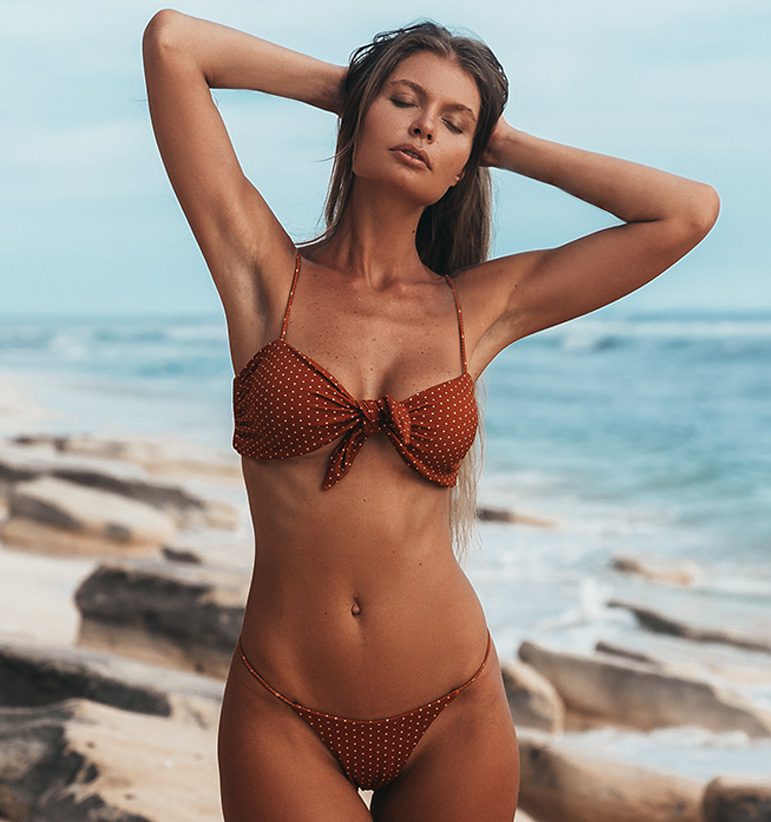 *Model
Enhanced Breasts And Cleavage
Patients seeking to add volume to their bust can undergo breast augmentation to increase the size and improve the shape, texture, and symmetry of their breasts. A breast lift is designed to reposition the breasts to a higher position on the chest, which can be completed either as a standalone procedure or in conjunction with a breast augmentation depending on the needs of each patient. Concerns with nipple size and placement can also be addressed during a Mommy Makeover.
Reduced Breast Size
In some cases, the breasts retain excess fatty tissue, which can weigh down the chest and become uncomfortable. Patients who feel their breasts are disproportionately large for their body can opt for a breast reduction to reshape and resize the breasts. This procedure can also include a breast lift to place the breasts in a higher position on the chest.
Tighter, Smoother Abs
The tummy tuck removes excess fat and skin from the stomach area and tightens the muscles for a more defined contour. Stretched muscles are sutured together, fat is excised, skin is pulled taut, and extra skin is removed. This results in a smoother, tighter torso.
How Long Is Mommy Makeover Recovery?
All incisions will be covered with gauze or bandaging, your breasts will be wrapped in a surgical support garment, and compression garments may be used to reduce swelling and bruising in the abdominal area. Many patients resume their daily routine within two weeks, but it can take between four and six weeks for the swelling, bruising, and discomfort to resolve. It is recommended that patients avoid heavy lifting and strenuous activities for four to six weeks.
Will Have I Scars & How Much Is a Mommy Makeover?
Scars
Incisions are made in strategic locations to reduce visible scarring. Most scars can be covered by clothing and should fade with time.
Cost
The price of every Mommy Makeover will differ depending on which procedures are included and the extent of correction being made. Additional fees may include anesthesia costs, surgical facility fees, medications, and medical tests.
Is There Downtime After a Mommy Makeover?
Discomfort, swelling, and bruising are common after a Mommy Makeover and can be alleviated by taking prescription medication. Continue wearing your support garment and bandages until your surgeon advises that you may discontinue use. Getting plenty of rest and drinking water to remain hydrated will help you recuperate more comfortably. Post-operational care instructions will be provided and should be followed carefully to reduce the risk of complications.
Frequently Asked Questions
Patients who identify with some of the concerns addressed by a Mommy Makeover can benefit from this procedure. It is best to finish having children before undergoing a Mommy Makeover, as childbearing can undo the results of the surgery. It is recommended that all patients wait until after they have stopped breastfeeding and their bodies have fully recovered from pregnancy to undergo a Mommy Makeover.

Mommy Makeovers are designed to simultaneously perform multiple procedures to provide a transformation to rejuvenate the body. With only one surgery, the cost is reduced because the surgical fees are only needed for one operation. The recovery time is also reduced and only needs to occur once.

Pockets of excess fat can be removed using liposuction as an add-on procedure to a Mommy Makeover. Tiny incisions are made in the desired locations, and a thin suctioning device (cannula) is inserted to gently remove fat cells. The most common areas addressed by liposuction include the arms, thighs, stomach, flanks, and hips.

Results from a Mommy Makeover are meant to be long lasting, especially if there are no weight fluctuations or additional pregnancies. Maintaining a healthy lifestyle will help prolong your results.

Any patient with multiple areas of concern that can be addressed by a Mommy Makeover may benefit from this procedure.