Before
After
Before
After
View Photo Gallery
Mommy Makeover
In Miami
If you are a woman, you know that pregnancy, childbirth, and breastfeeding cause dramatic changes to your body that are challenging or impossible to remedy with diet or exercise. Your body has been through a trauma, and this often requires a surgical intervention.
A Mommy Makeover involves a customizable combination of plastic surgery procedures that address common pregnancy-related side effects such as droopy or deflated breasts, loose abdominal muscles, excess fat pockets, stretched skin, and even some stretch marks.
While a Mommy Makeover cannot necessarily restore your pre-baby body, it can tone and improve your shape to create a post-baby body you can feel proud of!
Why Choose Careaga Plastic Surgery?
Careaga Plastic Surgery offers a serene and immaculate surgical environment with state-of-the-art technology for all your cosmetic surgery needs. The doctors and dedicated staff are highly skilled, professional, and compassionate. Our board-certified plastic surgeons have the experience you want when undergoing cosmetic surgery, particularly comprehensive procedures like Mommy Makeovers.
Dr. Careaga and Dr. Durand have extensive experience with the most in-demand breast and body procedures, and they deliver excellent results while minimizing scarring and downtime.
A Mommy Makeover Is Designed To:
Lift and Enhance the Breasts
Rapid breast volume changes during pregnancy, mixed with the stresses of nursing, often cause the breasts to deflate and sag. Stretched tissue and loss of volume cannot be corrected naturally. Fortunately, breast enhancement surgery, including breast augmentation and breast lift, can restore volume and elevation for fuller, better-shaped, and perky breasts. While most women choose to enlarge their breasts with implants, some women enhance their look with fat transfer to the breasts.
Remove Diet and Exercise-Resistant Fat
Unwanted fat is always frustrating, and women tend to develop and store fat differently during pregnancy. This is because they need the extra energy for their growing babies. Unfortunately, these fat deposits don't always disappear following childbirth. Liposuction can be performed nearly anywhere on the body to eliminate localized fat pockets and restore a slimmer, more sculpted physique. Popular liposuction areas include the abdomen, waist, hips, thighs, lower back, and under the buttocks.
Tighten Abdominal Muscles and Skin
The abdomen undoubtedly goes through the most significant trauma during pregnancy and childbirth. Your growing uterus stretches the skin and places significant pressure on the abdominal muscles, often causing them to separate. This condition, known as diastasis recti, can only be corrected surgically. Tummy tuck surgery, also known as abdominoplasty, addresses loose skin, excess fat, and abdominal muscles to restore a flatter, more toned, healthier-looking abdomen.
What Do Mommy Makeover Surgeries Involve?
Breast Procedures
Breast procedures are a cornerstone of a Mommy Makeover. This may involve a breast augmentation, breast lift, or breast reduction, depending on your aesthetic desires. During breast enhancement surgery, Dr. Careaga or Dr. Durand will make the necessary incisions — based on your surgical plan. From here, implants may be added, tissue and fat may be removed, and the glandular tissues may be tightened to create better-proportioned, shapelier breasts.
For ideal contours and to ensure proper coverage for implants, our surgeons reshape the natural breast tissue and use special suturing techniques to reduce the appearance of scars and encourage fading.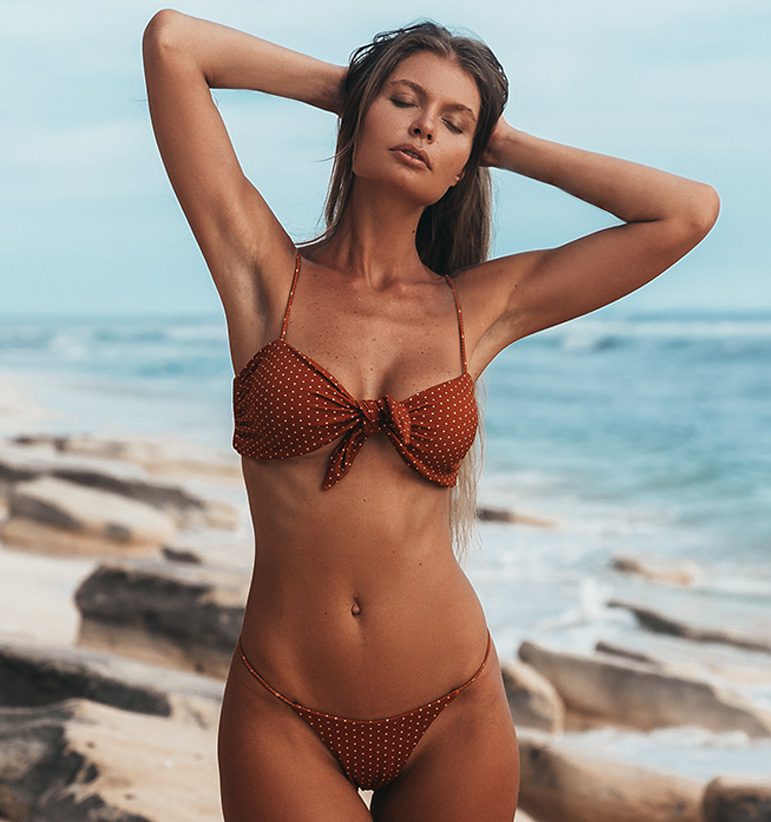 *Model
Tummy Tuck
In a full tummy tuck, Dr. Careaga or Dr. Durand makes an incision from one hip to the other. This allows them to address excess skin, fat, and abdominal muscles above and below the navel.
A smaller incision can be used for a mini tummy tuck as less correction is needed. A mini tuck will only address the area below the belly button.
Liposuction
Liposuction involves using a thin tube (cannula) to suction and remove fat cells from across the body.
Mommy Makeover procedures are performed under general anesthesia at our well-known surgery center.
How Much Does a Mommy Makeover Cost in Miami?
The cost of your Mommy Makeover varies depending on the breast and body procedures chosen and anesthesia fees. You will receive an accurate cost estimate during your Mommy Makeover consultation with Dr. Careaga or Dr. Durand. Since this combination procedure is usually performed in one setting, you can save on some of the fees — as opposed to undergoing surgeries at different times. Financing options are available to help with your Mommy Makeover.
What Does a Mommy Makeover Involve?
Since the Mommy Makeover is a customizable procedure to address each woman's needs, no two surgeries will look the same. Depending on your agreed-upon plan, your Mommy Makeover will involve breast and body contouring procedures performed in a single surgical setting.
Mommy Makeovers tend to take several hours; however, they are often outpatient procedures.
During your Mommy Makeover consultation with Dr. Careaga or Dr. Durand, they will carefully listen to your concerns, review your medical history, evaluate your breasts and abdomen, and explain your Mommy Makeover options.
For patients undergoing breast surgery, our Sientra® Mirror simulator can give you a realistic glimpse into your post-recovery body according to your preferred options and our surgeon's recommendations. Our Miami plastic surgeon offers a full line of breast implants for your choice of materials, sizes, shapes, incisions, and placement options to customize your Mommy Makeover and ensure your desired results.
Mommy Makeover Surgery Combinations
You can combine procedures in the following ways for a Mommy Makeover that meets your unique needs. This may include:
Breast augmentation, breast lift, tummy tuck, and liposuction
Breast augmentation, tummy tuck, and liposuction
Breast lift and tummy tuck
Breast augmentation and tummy tuck
Breast reduction and tummy tuck
Breast lift and liposuction
Breast augmentation and liposuction
Breast reduction and liposuction
Be sure to plan for additional downtime when combining cosmetic surgeries.
After Your Mommy Makeover
What Can I Expect During My Mommy Makeover Recovery?
When you wake up after surgery, all incisions will be covered with gauze or bandaging, your breasts will be wrapped in a surgical support garment, and compression garments may be used to reduce swelling and bruising in the abdominal area. You will need someone to drive you home and stay with you for at least 24 hours.
Many patients resume their daily routine within two weeks, but the swelling, bruising, and discomfort can take four to six weeks to resolve.
It is recommended that patients avoid heavy lifting and strenuous activities for four to six weeks.
What Results Can I Expect After a Mommy Makeover?
You may be able to see some changes to your breasts and belly immediately following the procedures, but it can take a few months to appreciate your final results. When looking in the mirror, after swelling dissipates and implants (if received) have settled, you can expect a shapely figure with a slimmer waist, flatter tummy, and more youthful bustline.
Find the Sientra® Mirror Simulator in Miami, FL
The Sientra® Mirror is the most advanced way to see your results before surgery. Virtually try on various implant sizes, shapes, and materials to choose the results you want.
Breast Implant Warranty
Our Sientra® Platinum20™ breast implants come with a replacement and limited warranty so that in the unlikely event of a rupture or capsular contracture complication, you are covered for replacement at no additional cost.
Mommy Makeover Financing
Careaga Plastic Surgery offers top-level care while striving to ensure our services are affordable. We hope to make your dream body a reality by providing financing options for your cosmetic procedure. Learn more about these options by visiting our financing page.
Patients who identify with some of the concerns addressed by a Mommy Makeover can benefit from this procedure. It is best to finish having children before undergoing a Mommy Makeover, as childbearing can undo the results of the surgery.

It is recommended that all patients wait until after they have stopped breastfeeding and their bodies have fully recovered from pregnancy to undergo a Mommy Makeover.

Mommy Makeovers are designed to simultaneously perform multiple procedures to provide a transformation to rejuvenate the body.

With only one comprehensive surgery, the cost is reduced because the surgical fees are only needed for one operation. The recovery time is also reduced and only needs to occur once.

Pockets of excess fat can be removed using liposuction. Tiny incisions are made in the desired locations, and a thin suctioning device (cannula) is inserted to gently remove fat cells.

The most common areas addressed by liposuction include the arms, thighs, stomach, flanks, and hips.

Results from a Mommy Makeover are meant to be long-lasting, especially if there are no weight fluctuations or additional pregnancies. By maintaining a healthy lifestyle, your abdominal results can be permanent. If implants are part of your Mommy Makeover, you can expect them to last several years.

Any patients with multiple areas of concern that can be addressed by a Mommy Makeover may benefit from this procedure, including those who have lost a significant amount of weight.