Daniel Careaga, MD
Double Board-Certified Plastic Surgeon
In the city where beauty and image is everything, one artist stands out among the rest. Dr. Daniel Careaga has gained a reputation for being a meticulous plastic surgeon with a powerful practice, Careaga Plastic Surgery, located in the heart of Coral Gables. With the experience of over 10,000+ successful operations performed, Dr. Daniel Careaga knows beauty and he knows what his patients want.
"I don't believe in cookie cutter surgery. Each patient has a different body and face style and different goals in mind. By actively involving them in the process, I can consistently deliver the best possible result."
- Daniel Careaga, M.D.
After intensive training and working alongside world-renowned plastic surgeons, Dr. Daniel Careaga founded, Careaga Plastic Surgery in 2012, a luxurious plastic surgery facility located in the heart of Coral Gables that utilizes the latest and most innovative technology in the industry, for both surgical and non-surgical treatments, offering patients the next level of industry excellence and optimal medical care.
Daniel Careaga, MD, is a graduate of Ross University School of Medicine, with a General Surgery Residency at University of Mississippi Medical Center, and a Plastic Surgery Residency at Wayne State University. Dr. Careaga has double board certifications by both the American Board of Plastic Surgery and the American Board of Surgery.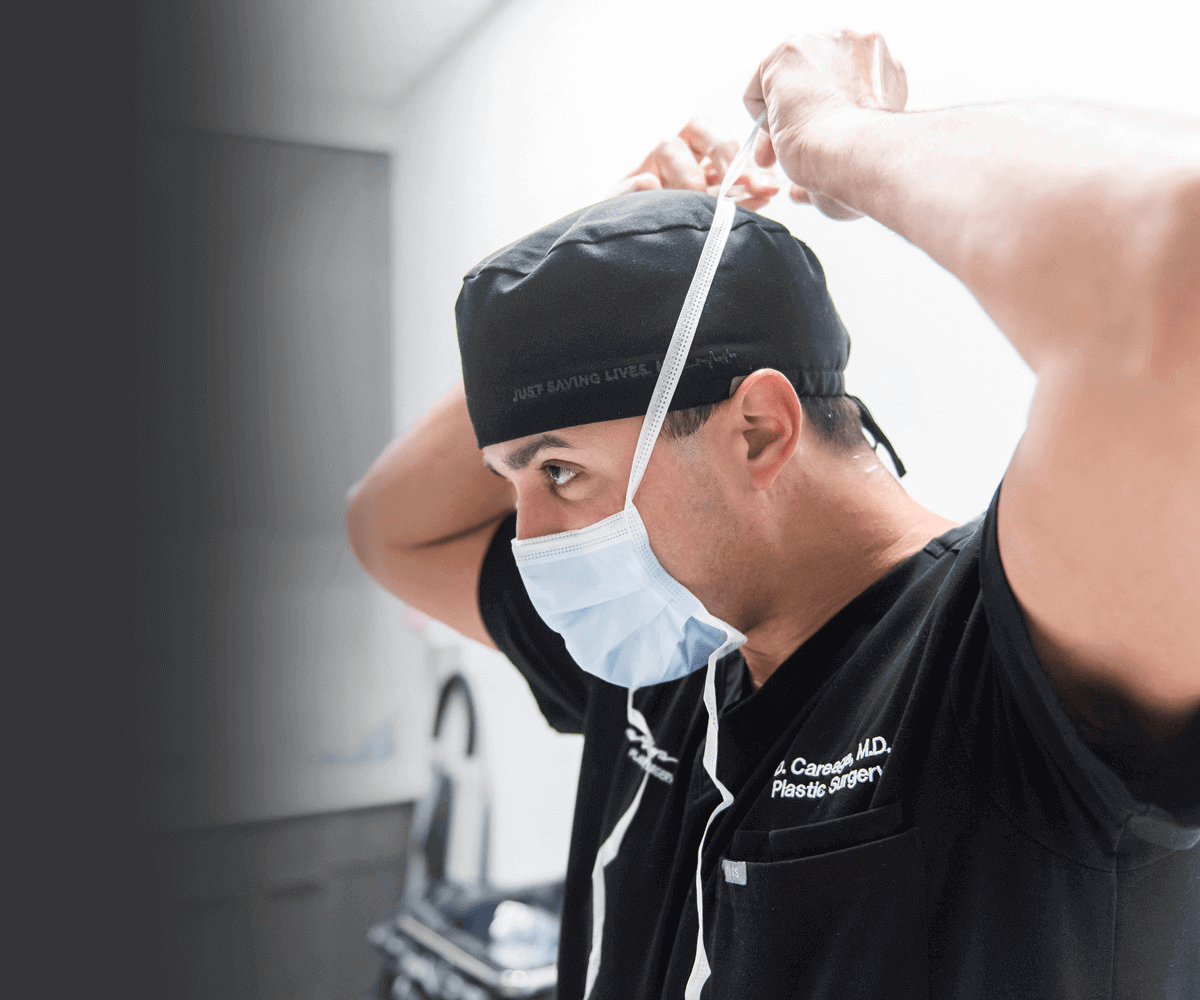 10,000+
aesthetic
procedures
---
---
Professional Accolades

and Research
---
Certifications, Associations, and Awards

Dr. Careaga returned to Miami to begin his practice in 2012 after completing his plastic surgery residency. He is licensed to practice medicine in Florida, Michigan, and Mississippi. Dr. Careaga holds certifications in advanced cardiac life support and advanced trauma life support. He also holds clinical appointments at Miami's Baptist Hospital, South Miami Hospital, Coral Gables Hospital, Mercy Hospital, and Doctors Hospital. Dr. Careaga belongs to several professional associations, including the American Medical Association (AMA) and the American College of Surgeons.

Dr. Careaga has received several awards and honors, including:

Dean's list, Ross University School of Medicine, 2003
Surgical Scholars Program, 2002
University of Miami Honors College, 1995 to 1999

Presentations

James Harvey Hendrix Lectureship in Plastic Surgery, April 30, 2006.
"Does the timing and route of administration of VEGF change the outcome of flap survival?"
University of Mississippi Medical Center

Department of Surgery Research Symposium, March 15, 2006.
"How many abdominal washouts does it take to get to the center of a closed abdomen? A review of the current understanding of abdominal compartment syndrome."
University of Mississippi Medical Center

Richard Jennings Field Lectureship in Surgery, February 9, 2005.
"Massive desmoid tumor of the anterior mediastinum in a 12-year-old boy."
University of Mississippi Medical Center

Abstracts

Careaga, DC, Duchesne, JC. Laparoscopic repair of traumatic rupture of the diaphragm. Video presentation submitted 2/28/07 to American College of Surgeons for presentation at ACS conference (New Orleans, LA).

Careaga DC, Duchesne JC. Morbid obesity and the open abdomen. Accepted 2/20/07 at AAST for presentation at AAST conference (Las Vegas, NV).

Careaga, DC, Walkinshaw, M. Ultrasonic Liposuction: Quantitative Analysis of Results. Submitted 1/30/07 to SESPRS for presentation at SESPRS conference (Destin, FL).

McCraw JB, Careaga DC. Management of the long breast using a tension-free vertical button mammaplasty.

McCraw JB, Careaga DC. Effect of On-Q pump on post-operative pain following reduction mammaplasty.