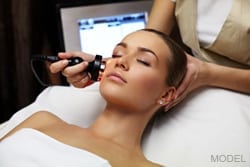 Welcome to Careaga Plastic Surgery Center Laser Center. At our state-of-the-art Laser Center we offer a variety of advanced laser treatments for the non-surgical treatment of:
Cellulaze™
Facial Rejuvenation (visible signs of aging)
Hand Rejuvenation
Hair Removal (excess and unwanted facial and body hair)
Hyperpigmentation
Rough Textured Skin
Wrinkles
Vascular Lesions
Careaga Plastic Surgery applies the latest Laser Skin Resurfacing technology and techniques that help to reverse the visible signs of aging. These remarkable laser treatments will refresh and rejuvenate!
If you have aging, sun-damaged, wrinkled and sagging skin, pigmented skin, and unwanted body hair, and are looking for non-surgical advanced technological solutions, we can help! Schedule your consultation today.