Rhinoplasty
A rhinoplasty (nose surgery) can address several concerns in one's nose, depending on what is needed and desired. In some patients, this can be to improve nasal shape, proportions, and overall facial harmony. In others, it can be to correct impaired breathing caused by structural defects in the nose and septum. It is not uncommon for a patient seeking rhinoplasty to have both cosmetic and functional concerns. A well-trained rhinoplasty surgeon should be well-versed in what is needed to address both of these issues.
An accident or injury can change the shape of your nose to an undesirable outcome. Sometimes, patients are simply unhappy with the nose they were born with due to genetics or a facial imbalance. Regardless of the cause, rhinoplasty (nose surgery) aims to correct imperfections in the nose to achieve the desired shape and size for improved facial harmony.
Revision (or secondary) rhinoplasty is performed in patients who already underwent prior rhinoplasty surgery. Revision rhinoplasty is often considered the most difficult cosmetic surgery procedure. It is a much more involved procedure than a primary rhinoplasty that is done to restore both nasal shape and function. Unfortunately, we often see patients seeking revisionary surgery after undergoing primary rhinoplasty with a surgeon who was not well-trained in rhinoplasty surgery.
Why Choose Careaga Plastic Surgery?
After his plastic surgery training at the world-renowned Cleveland Clinic, Dr. Paul Durand became one of the few to undergo a subspecialized fellowship with world experts in primary and revision rhinoplasty. He is a firm believer that rhinoplasty is a surgery of millimeters and should be treated as such in helping every patient achieve their unique aesthetic goals.
At Careaga Plastic Surgery, we offer the professional expertise, safety, and cutting-edge technology required to help patients from Coral Gables, Brickell, Key Biscayne, South Miami, Coconut Grove & Kendall area achieve their cosmetic surgery needs. Our dedicated staff is professional and has extensive experience in the cosmetic industry.
What Are Some Issues That a Rhinoplasty Can Address?
---
Bulbous or Boxy Nasal Tip
---
Whether your nose has always had a boxy or bulbous tip that lacks definition or you've experienced an incident that rendered your nose crooked or misshapen, rhinoplasty can correct bumps, crooks, unevenness, and other imperfections for a more flattering nose shape and size.
Request More Information
Large "Hump" or a Wide and Crooked Nose
---
Large and elongated noses can be reduced for a shorter, thinner nasal appearance.
A large dorsal hump can also be reduced for a much more pleasing side-view.
Request More Information
Obstructed Breathing
---
A deviated septum or impeded nasal structure can reduce your ability to breathe freely, which is uncomfortable and can cause other health issues. Septoplasty, which is often combined with rhinoplasty, addresses these concerns by correcting deviation and fixing sinus issues to reduce snoring.
Request More Information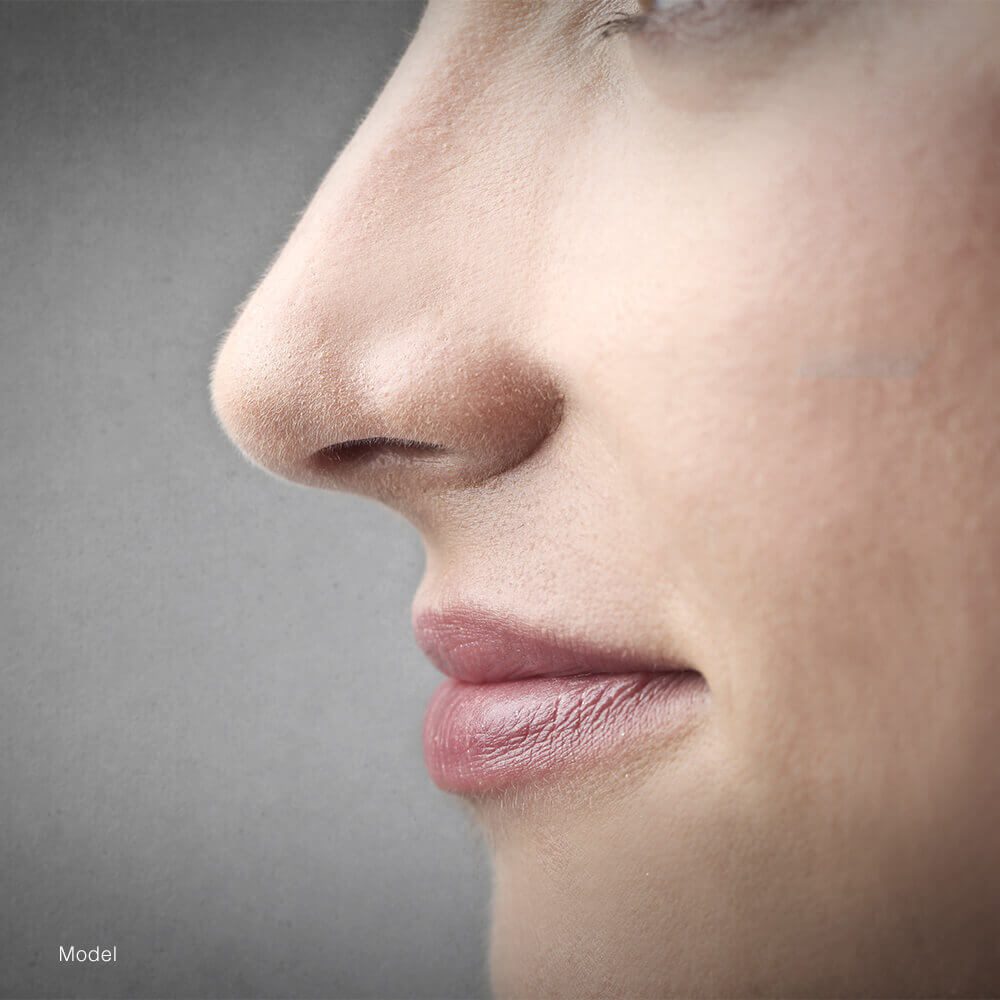 What Does A Rhinoplasty Entail?
---
Anesthesia

Anesthesia medication is administered prior to your procedure so you do not feel or remember anything during the surgery.

Surgical Technique

Incisions are made to access the nasal tissue in key areas. Regardless of the approach used, incisions are placed in locations that minimize scarring and make them imperceptible to the naked eye. Mild concerns can be addressed with incisions only inside the nose (closed rhinoplasty), while in more extensive corrections, a tiny incision across the columella can also be used (open rhinoplasty). Both approaches provide an excellent aesthetic result.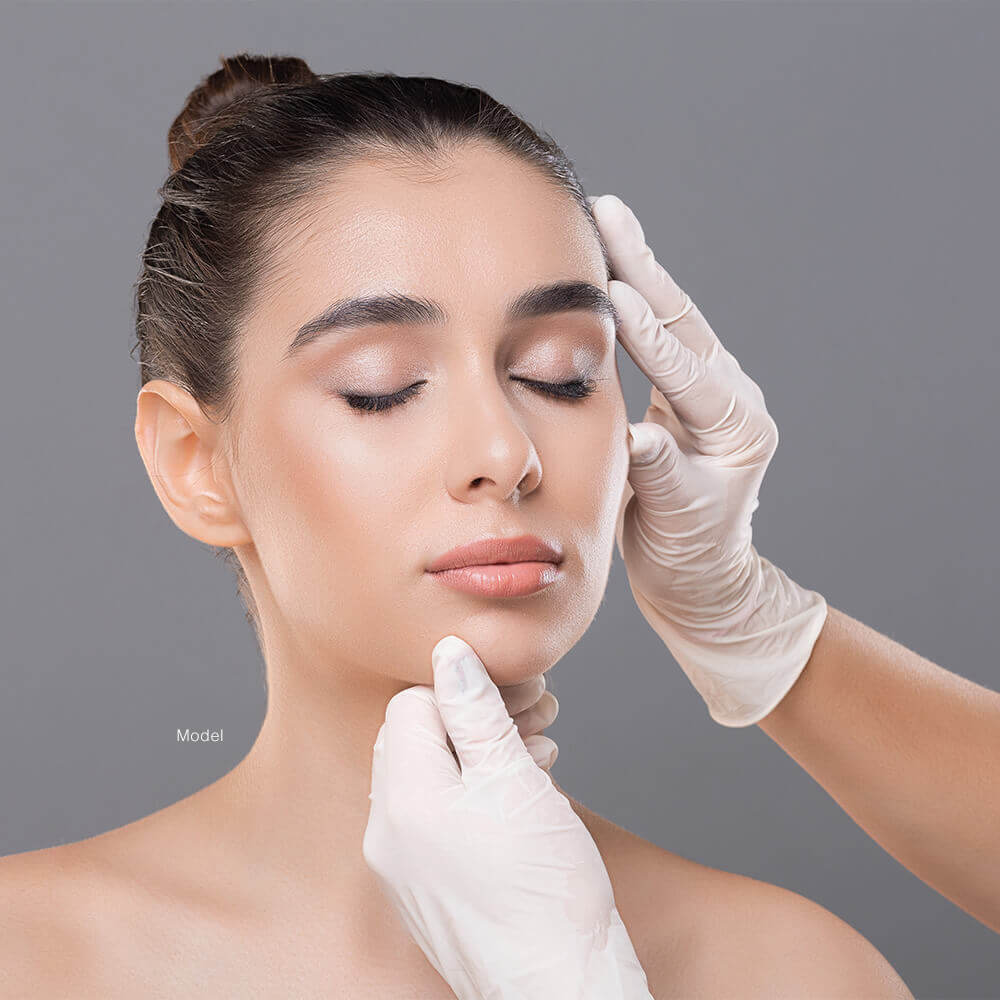 Rhinoplasty Concerns
---
Recovery

After surgery, you will be asked to wear an external splint over your nose for support and protection. Internal splints can also be used for extra support. All splints are usually removed at your one-week follow-up appointment. Bruising and sensitivity are normal for the first couple of weeks. You will begin to see your rhinoplasty results as the swelling goes down, and your outcome should continue to improve over the next several months. Take it easy while you recuperate, and follow your post-operative care instructions to ensure a safe, relaxing healing process.

Scars

Scarring is minimal and typically concealed either within the nostrils or on the underside of the nose. Perfect surgical technique is used to make these imperceptible to the naked eye after healing.

Cost

Each rhinoplasty requires a specific method to address the patient's unique concerns, and the price is based on the method used as well as other factors. Your cost estimate usually includes anesthesia fees, operating room expenses, medications, and other related costs. You can discuss these details during your consultation.

Downtime

Patients should take it easy for the first week and avoid applying pressure to their nose. Many people can resume work after 7 to 10 days depending on the requirements of their job. Strenuous exercise and activities should be discontinued until you are cleared by your surgeon to return to your routine, usually after three weeks.
Frequently Asked Questions
---
Is rhinoplasty right for me?

If your nose has completed growing and you are dissatisfied with your nasal appearance, then rhinoplasty may benefit you. Patients should maintain realistic expectations for their outcome and be in good overall health.

How long does the procedure take?

Your procedure can take between one and three hours to perform depending on what needs to be corrected. Revision (secondary) rhinoplasty, which is when patients have already had previous nasal surgery, can take a bit longer.

Does insurance cover rhinoplasty?

The reason for your rhinoplasty will determine whether your procedure is covered or if insurance can help pay for it. After your consultation, please contact your insurance provider for further details.

How long do the results last?

Rhinoplasty results are generally permanent. It can take a year for your final outcome to become evident due to residual swelling, and your nose will continue to improve as you heal.