Male Plastic Surgery Services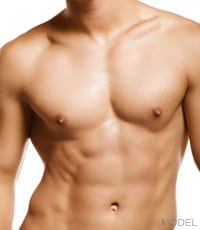 Procedures for Men
Aesthetic surgery is not limited to procedures for women. Many of the common surgical procedures have to be modified when they are being performed in a man. David E. Careaga, MD, and Paul D. Durand, MD, are highly skilled plastic surgeons experienced in giving men outstanding results.
---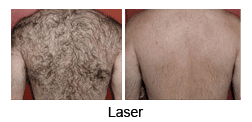 *Individual results may vary
LASER
Laser hair removal is one of the most common procedures men undergo. Unsightly back hair is a common complaint that prompts men to seek out a permanent solution.
---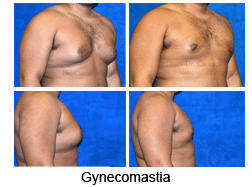 *Individual results may vary
GYNECOMASTIA (Man boobs)
Gynecomastia is a condition that enlarges the male breast. This can cause severe issues with self-esteem as the appearance can often times resemble a female breast. Common causes of gynecomastia include: aging, marihuana use, anabolic steroids, genetic conditions, obesity, and certain types of tumors. Prior treatments for gynecomastia would often leave an unsightly scar that would be visible without a shirt on. Standard liposuction is ineffective against the male breast tissue which is very dense. Dr. Careaga and Dr. Durand perform an Ultrasonic assisted liposuction with excellent results and minimal scarring. Ultrasonic liposuction is a type of liposuction in which a special instrument designed to remove fat vibrates at over 30,000 times per second. These ultrasonic vibrations disrupt the dense breast tissue and allow it to be gently aspirated leaving a contoured chest.
---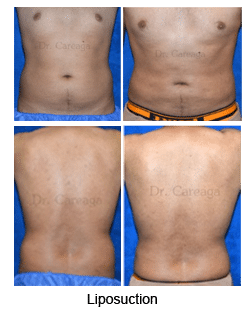 *Individual results may vary
LIPOSUCTION
Liposuction is the most commonly performed cosmetic procedure in men. Contouring the male body requires a high level of experience and the ability to use multiple types of liposuction on a particular person depending on the area to be worked on and the desired result. Dr. Careaga and Dr. Durand often combines SmartLipo for areas such as the abdomen and neck and ultrasonic liposuction for the back. SmartLipo is a laser based liposuction in which a small laser fiber is gently inserted under the skin. The laser destroys the fat cells and causes more skin tightening than any of the other types of liposuction. The fat of the back is denser and more difficult to remove. Ultrasonic assisted liposuction disrupts this fat better than SmartLipo or traditional liposuction. This is especially important in the lower back as one of the more common problem areas in men are the love handles.
---
*Individual results may vary
BLEPHAROPLASTY (Eyelid rejuvenation)
Rejuvenating the eyelids can have a profound effect on a person's perceived age. Blepharoplasty, commonly referred to as an eyelid lift, removes excess skin and fat of the eyelids. The upper eyelids typically develop excess skin as a person ages. These can cause unsightly folds which can in severe cases obstruct a person's vision. Upper blepharoplasty removes this excess skin and tightens the underlying muscle. The scar is placed in a natural occurring fold of the eyelid so as to maintain it imperceptible.
The lower eyelids can cause a "tired" appearance when there is bulging. Traditional lower eyelid surgery in men can be troublesome because the scar that it leaves under the lower eyelashes can often times be visible. Dr. Careaga and Dr. Durand perform a technique called trans-conjunctival blepharoplasty with CO2 laser skin tightening. The incision for this procedure is made via laser on the inside of the eyelid. Bulging fat is gently removed and skin tightening is performed with a fractional CO2 laser. This leaves a much more rejuvenated appearance to the lower lids with no visible scar.