Tummy Tuck in Miami
Sometimes even a healthy diet and consistent exercise regimen aren't enough to get rid of that "pooch" and achieve the desired midsection. If your pregnancy, aging, or weight fluctuations have resulted in sagging skin or weak abdominal muscles, a tummy tuck might be right for you. Tummy tuck surgery, also known as abdominoplasty, removes excess skin, fat, and tissue from the lower abdomen while restoring separated abdominal muscles, leaving you with a leaner profile and a firmer stomach. Dr. Careaga and Dr. Durand are board-certified plastic surgeons in Miami who offer both full and mini tummy tucks at their state-of-the-art facility, Careaga Plastic Surgery. Here, frustrations can be forgotten, and patients can once again feel confident in their slimmer figures and defined waistlines.
Why Choose Careaga Plastic Surgery?
Careaga Plastic Surgery offers an immaculate and serene setting in the city of Miami with cutting-edge technology suited for your cosmetic surgery needs. Additionally, the dedicated staff at Careaga Plastic Surgery are highly professional with an abundance of experience in the beautification industry. Dr. Daniel Careaga and Dr. Paul Durand have acquired certification in plastic surgery from the American Board of Plastic Surgery (ABPS) and have years of higher education, which is reflected in their fruitful and extensive careers as plastic surgeons. They are well-known for their inimitable tummy tucks, making the tummy tuck one of their top procedures.
What Is Tummy Tuck Ideal For?
---
AGING SKIN LAXITY
---
As skin and muscles age, it is common for them to lose their elasticity and become lax. This event is tough to prevent, and while diet and exercise may keep you slim and keep fat at bay, no amount can reverse the natural aging process. Tummy tucks help restore the firm contour you once had and help you regain a youthful aesthetic.
Request More Information
SIGNIFICANT WEIGHT LOSS
---
Sudden or substantial weight loss can result in a significant amount of excess, stretched skin in the abdominal area that cannot contract after the weight loss. This skin can diminish the appearance of the midsection you worked so hard to achieve throughout your weight loss journey. The sagging skin can cause discomfort as well as affect your self-esteem. Tummy tucks remove the excess skin and provide a smooth stomach to go with your trimmer waistline.
Request More Information
POST-PREGNANCY
---
Pregnancy causes the skin to expand rapidly and the abdominal muscles to separate. Even after the delivery and weight loss, the muscles are weakened and don't always come back together on their own, leaving a "pooch" in the lower abdomen. A tummy tuck tightens and reconnects the abdominal muscles, creating a firmer core and allowing you to return to your pre-baby body.
Request More Information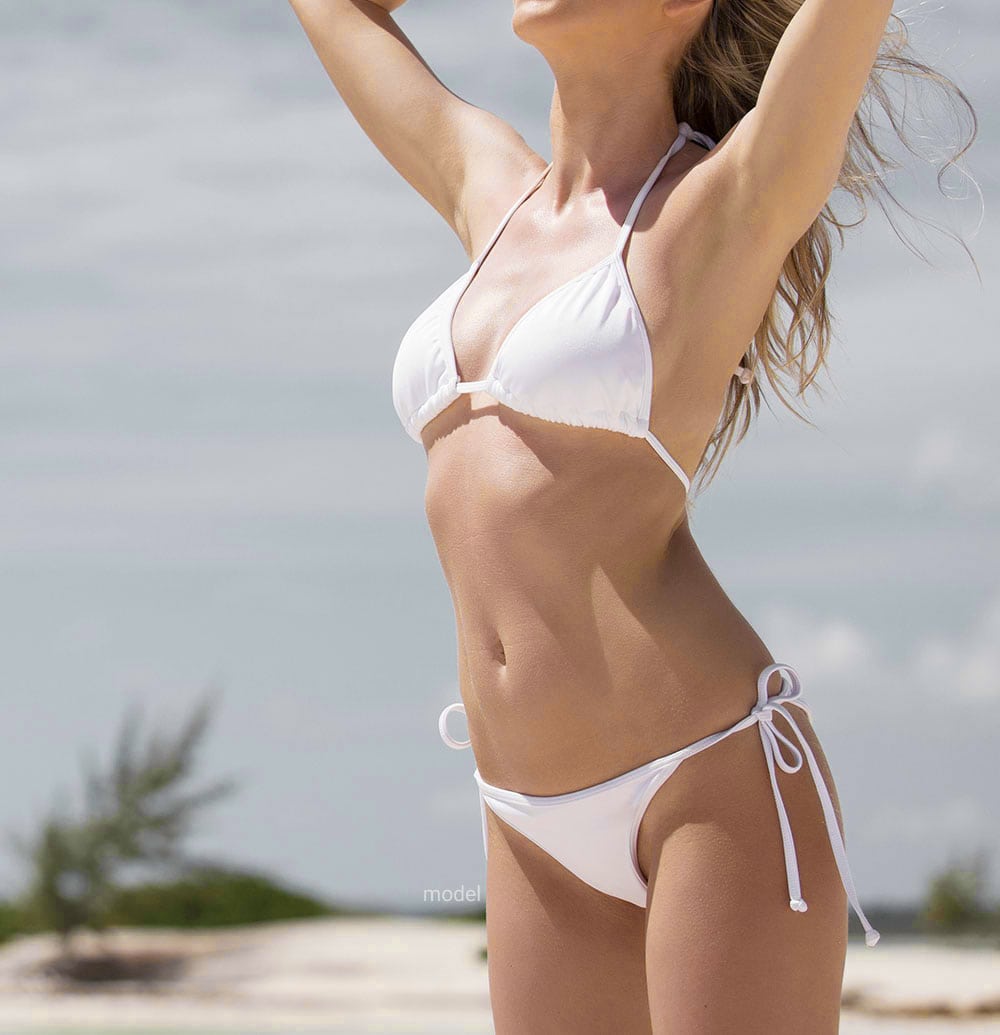 Tummy Tuck Options
---
Depending on the extent of your sagging skin and abdominal muscles, there are several levels of a tummy tuck offered at Careaga Plastic Surgery. It is important to understand these to help you choose the right procedure.
FULL TUMMY TUCK

Ideal for those wanting a full "flat stomach" effect
Allows entire abdomen to be reduced and smoothed
Incision runs from hip bone to hip bone under the bikini line, and a second incision is made around the navel
Trims loose skin and tightens abdominal muscles
Removes stretch marks from the lower abdomen

MINI TUMMY TUCK

Ideal for those who have sagging skin and loose muscles confined to the lower abdomen
Shorter incision and faster recovery time
Removes excess skin and fat from the lower abdomen
Tightens abdominal muscles below the navel

PANNICULECTOMY / FULL BODY LIFT

Also known as post-bariatric surgery
Ideal for those who have lost a significant amount of weight and have large folds of excess skin
Removes hanging fat and skin
Can be combined with a tummy tuck to tighten the abdominal muscles
Typically Combined Procedures
---
Tummy tuck surgeries are often combined with breast enhancing procedures to fully transform the post-baby body and provide a rejuvenated, youthful body contour.
Breast Augmentation
It is common for women to feel self-conscious regarding their breasts, especially after pregnancy or when signs of aging begin to appear. Breast augmentation can be combined with a tummy tuck to address a bust that has lost volume. Various options are available for implant material, shape, size, and texture to achieve your individual cosmetic goals. Implant location and projection, as well as the incisions used, will also be discussed during your consultation. If your breasts are different shapes or sizes, then breast augmentation can address this concern by using differently sized implants improve symmetry. Breast augmentation results in a curvier bust and improved self-confidence.
Breast Lift
Sagging of the breasts, or ptosis, can occur due to aging, pregnancy, weight loss, or genetic factors, and can lead to a deflated appearance, downward-pointing and droopy areolas (the dark skin around your nipples), and asymmetrical breasts. With a breast lift, or mastopexy, breast tissue is repositioned and reshaped to place the breasts higher on the chest while also correcting the shape. Nipple placement is also improved. Any excess skin is removed to provide tighter, youthful breasts and areolas. Some patients combine breast augmentation, breast lift surgery, and a tummy tuck for a complete body makeover.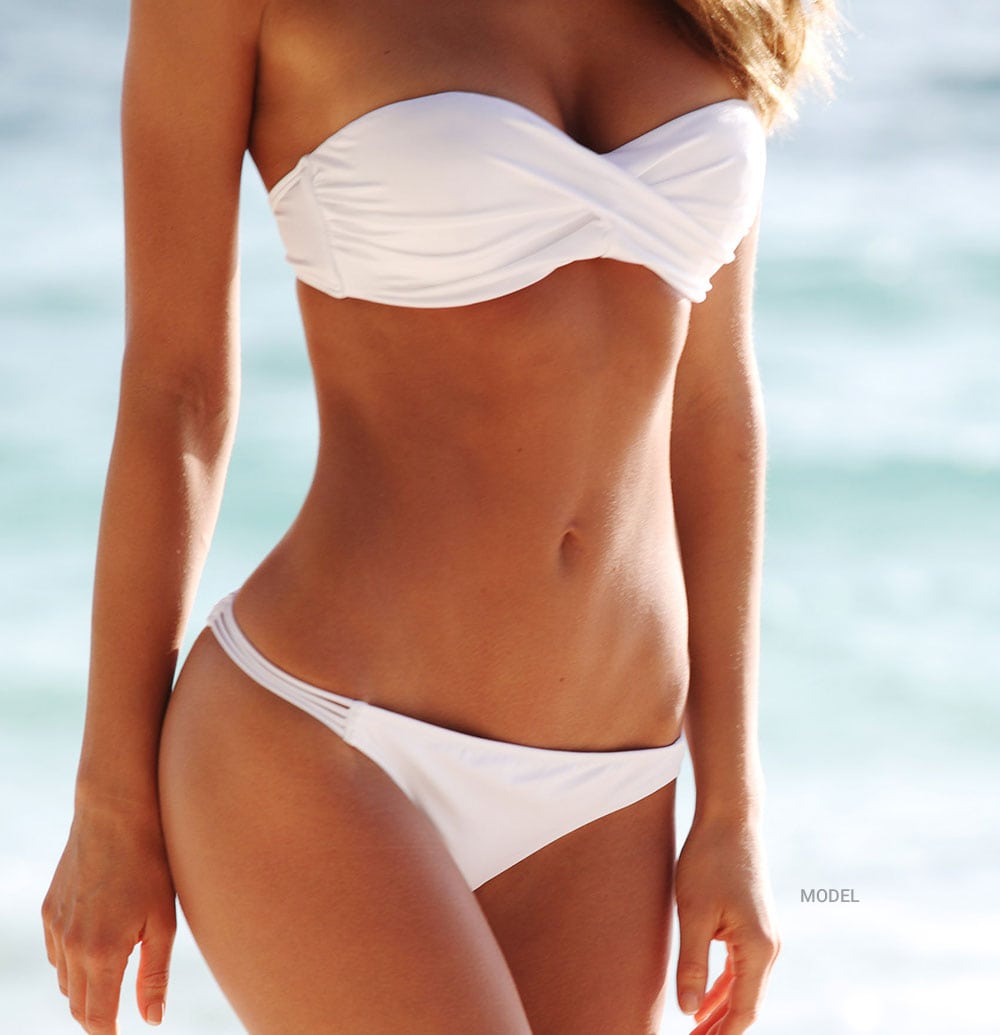 Concerns
---
RECOVERY

Patients may experience swelling and soreness for the first few days and will be advised to wear a compression garment around the surgical area. Drains will be placed to remove any excess fluids. Avoid strenuous work and heavy lifting for four to six weeks. This work includes lifting children and doing household chores. Most patients should expect to take one to two weeks off work depending on the physicality of their job. Swelling should lessen after six weeks, but it may take longer depending on the degree of the surgery. During your consultation, Dr. Careaga will discuss what you can expect during recovery.

SCARS

Any surgery will result in some scarring. Tummy tuck scars will be placed under the bikini line. Mini tummy tuck scars may be smaller and placed lower depending on the amount of skin removed. Scarring will also depend on how the patient's body heals—everyone's skin will react differently. Scars will typically fade over time and can easily be hidden beneath clothing and swimsuits. For women who have cesarean scars, these may be incorporated into the new scar.

COST

The cost of tummy tuck surgery varies depending on the extent of the surgery. Dr. Careaga or Dr. Durand will provide you with an accurate cost estimate during your tummy tuck consultation.

DOWNTIME

Patients are under general anesthesia during the procedure to prevent pain. For some, an overnight stay at the surgical facility may be recommended. Soreness, swelling, and bruising are possible in the days following, and Dr. Careaga or Dr. Durand will prescribe an oral pain medication to help alleviate those symptoms.
Tummy Tuck Financing
Careaga Plastic Surgery does everything they can to ensure that their services are affordable for every patient. Providing financing options is just one of the ways we try to help with this part of the process. These programs can be used individually or combined to fit your personal needs. We currently have three financing options available:
ALPHAEON: A lifestyle healthcare that focuses on helping you be the best you possible. For patients who would like to use their healthcare in more instances than only when they are sick.
CareCredit®: A financing option that can be used multiple times without having to reapply. This credit can be used to fund procedures for your entire family.
United Medical Credit: This option comes with multiple plans to choose from, instant decisions, and no pre-payment penalties.
Frequently Asked Questions
---
Am I a good candidate for a tummy tuck?

The best candidates for a tummy tuck are in good physical health and near their goal weight, are non-smokers, and have realistic expectations. This procedure is designed to remove excess skin and tissue and tighten the abdominal muscles, but it should not be considered an alternative to weight loss.

How long will the results last?

Excluding subsequent pregnancies or weight gain, the results of tummy tuck surgery should be permanent. No surgeries, however, will prevent natural aging. Your doctors recommend that patients maintain a healthy diet and exercise regimen to optimize their results.

What are the risks associated with tummy tuck surgery?

As with any surgery, there are certain risks involved. Although rare, these can include infections, blood clots, reactions to anesthesia, and scarring. It is important to follow all of your doctor's advice for both pre- and post-op to minimize your risks.

Can I have children after a tummy tuck?

A tummy tuck will not affect your ability to become pregnant or carry a baby full-term; however, because pregnancy will reverse the effects of a tummy tuck, it is advised that you postpone this procedure until after you are finished having children.

Will a tummy tuck get rid of my stretch marks?

A tummy tuck will not correct or prevent stretch marks, but it may reduce the appearance and smooth them if they are located in the area where the excess skin was removed.