Gynecomastia (Male Breast Reduction)
Excess breast tissue and fat in men can lead to both psychological and physical discomfort. Gynecomastia surgery (or male breast reduction) can reduce the appearance of the excess skin and fat while creating a more masculine, youthful contour.
Why Choose Careaga Plastic Surgery?
Careaga Plastic Surgery offers an immaculate and serene setting with cutting-edge technology suited for your cosmetic surgery needs. Additionally, the dedicated staff at Careaga Plastic Surgery are highly professional with an abundance of experience in the beautification industry. Dr. Daniel Careaga and Dr. Paul D. Durand are both board-certified plastic surgeons by the ABPS and have acquired years of higher education, which is reflected in their fruitful and extensive careers as plastic surgeons. They understands the cosmetic enhancement desires of male patients and have helped hundreds of men achieve a more masculine appearance.
Gynecomastia Surgery Can:
---
ACHIEVE A MORE MASCULINE CONTOUR
---
Excess breast tissue and fat can obstruct the contour desired by many men. Male breast reduction can help you achieve a more masculine, sculpted, and well-balanced frame.
Request More Information
ALLEVIATE PAIN AND DISCOMFORT
---
Gynecomastia isn't only unsightly but can also be the cause of physical discomfort. The additional weight in the chest area can make certain sports and exercises such as running and jumping difficult because of the strain on the chest. Male breast reduction eases the comfort and ability to participate in physical activity.
Request More Information
INCREASE SELF-CONFIDENCE
---
Men with enlarged breast tissue often feel embarrassed about their physique, causing them to shy away from social and intimate interactions. After surgery, men can feel more confident about wearing tight-fitting shirts, or going without a shirt at the beach, pool, or gym.
Request More Information
Gynecomastia Surgery Options
---
Gynecomastia develops for a number of reasons including hormonal changes, weight gain, heredity, and the use of steroids and other body-enhancing drugs. Depending on the cause for your gynecomastia, there are multiple techniques offered at Careaga Plastic Surgery. The male breast reduction procedure can consist of a surgical method, liposuction, or a combination of both.
SURGICAL (EXCISION) METHOD

Ideal for men with excess breast tissue due to steroid use and hormonal changes
Surgically removes dense fibrous tissue in the chest area
Incisions will be hidden for minimal appearance of scars

ULTRASONIC LIPOSUCTION

Removes excess fat in chest area
Only a small incision is needed
Minimal scarring
Faster recovery time
Ultrasound breaks up glandular tissue
Allows contouring of entire chest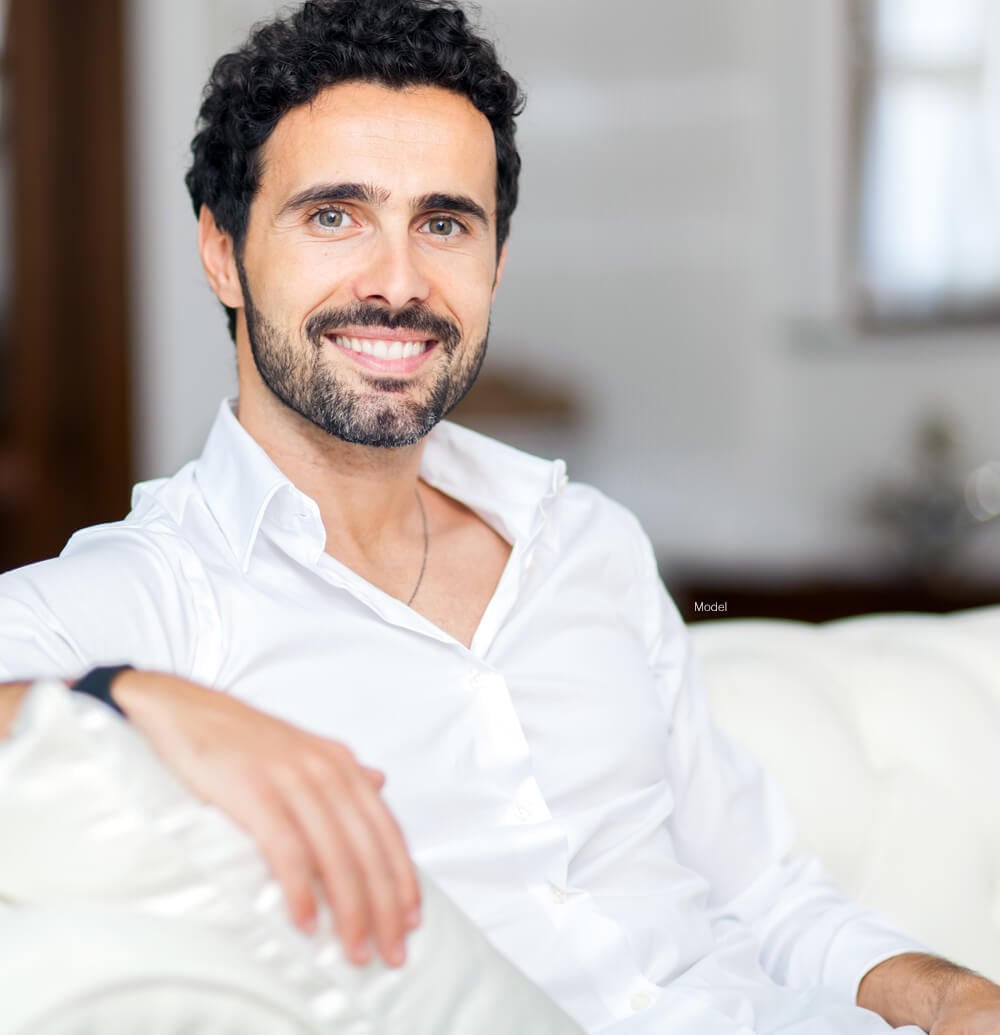 Concerns
---
RECOVERY

Recovery will depend on the type of gynecomastia surgery performed. Compression garments will be required in the days following surgery to minimize swelling and promote proper healing. For gynecomastia surgery using liposuction, patients can traditionally return to work after two to three days, sometimes longer if the job is strenuous. When undergoing the surgical method, at least one week off of work will be recommended for a non-strenuous job. For both techniques, men should be cautious about any stress to the chest and arm areas. During your consultation, Dr. Careaga or Dr. Durand will discuss what you can expect during your recovery.

SCARS

Regardless of the technique used, there will be some scarring around either the areola (for the excision method) or at the liposuction site. Dr. Careaga or Dr. Durand tries to place these incisions in discreet locations to minimize the appearance of the scars. Scars will fade with time.

COST

The cost of gynecomastia surgery will vary depending on the technique used, anesthesia fees, doctor fees, and geographical location. Dr. Careaga or Dr. Durand will provide a cost estimate during your consultation.

DOWNTIME

This is an outpatient procedure performed under anesthesia to prevent pain. After the surgery, you may experience some discomfort and swelling. This can be alleviated with oral pain medication.
Gynecomastia Financing
Careaga Plastic Surgery does everything they can to ensure that their services are affordable for every patient. Providing financing options is just one of the ways we try to help with this part of the process. These programs can be used individually or combined to fit your personal needs. We currently have three financing options available:
ALPHAEON: A lifestyle healthcare that focuses on helping you be the best you possible. For patients who would like to use their healthcare in more instances than only when they are sick.
CareCredit®: A financing option that can be used multiple times without having to reapply. This credit can be used to fund procedures for your entire family.
United Medical Credit: This option comes with multiple plans to choose from, instant decisions, and no pre-payment penalties.