Look Up to 20 Years Younger by Combining These 3 Cosmetic Procedures 
Posted February 16, 2023 in Facial Plastic Surgery, Facial Rejuvenation
3 Minute Read:
Maturity typically comes with many advantages, some of which include more experience and added wisdom. However, these perks are also accompanied by fine lines, wrinkles, loss of volume, and sagging skin.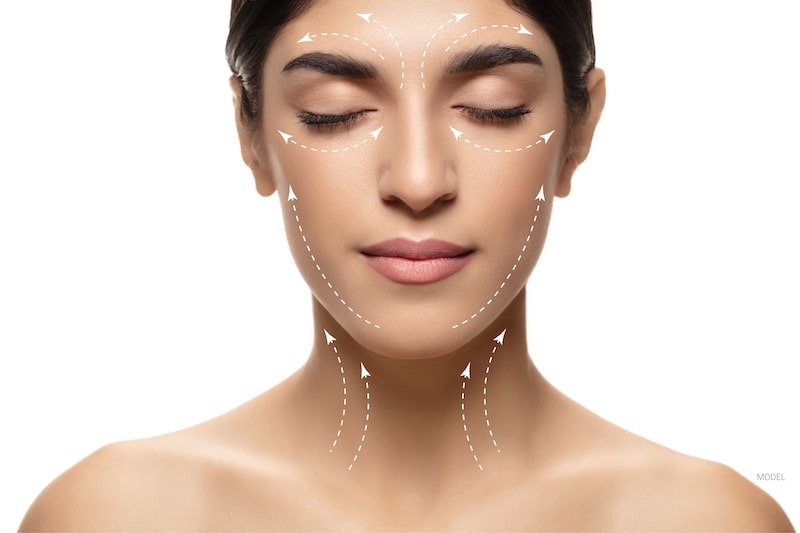 These signs of aging often cause women (and men) to consider undergoing a facelift in hopes of regaining a more youthful appearance. Facelift surgery is the most effective and long-lasting way to turn back the clock on the effects of aging. Still, it traditionally only addresses the mid to lower facial area.
If you are thinking about having a facelift, adding procedures to improve the appearance of the eyes, brows, and forehead can deliver even more dramatic results and make you look up to two decades younger.
Cosmetic Procedures to Combine for Full Facial Rejuvenation
While a neck lift is often included with a facelift, this still leaves most of the upper region of the face untouched, and a blepharoplasty or brow lift may be needed to restore this area.
Let's take a look at what each surgical treatment offers:
1. Traditional Facelift (Rhytidectomy)
Also known as rhytidectomy, a facelift can eliminate wrinkles, lines, and sagging skin on the lower face to the midface, including the areas around the cheeks, nose, lips, chin, jowls, and usually the neck.
Discreet incisions are made from the temples to the ear and primarily hidden in the hairline to tighten loose facial muscles, tissue, and skin, while more volume can be added by redistributing fat using an additional technique known as fat grafting/fat transfer. With fat transfer, fat is taken from elsewhere on the body with liposuction and injected into various facial areas.
Excess skin is removed and redraped over the face to create smooth, youthful contours.
A neck lift is typically included to maintain a seamless transition from the chin to the neck. An additional small incision is made under the chin to tighten and smooth this area while removing excess skin and fat.
2. Eyelid Surgery (Blepharoplasty)
As we age, our upper eyelids can wrinkle and begin to droop, while the effects on the lower eyelids are puffy dark circles or hollows.
Upper eyelid surgery involves an incision along the eyelid's natural crease to remove excess skin and fat while tightening the surrounding muscles.
A lower eyelid blepharoplasty may involve an incision along the lower lash line, but techniques vary depending on your specific concerns.
Wrinkly, sagging, and puffy eyelids can considerably detract from your eyes' beauty and make you look older than you are, tired, and unengaged.
Eliminating excess fat, skin, and puffiness around the eyes provides a smoother, younger, more rested, and more engaged appearance.
3. Forehead Lift (Brow Lift)
Forehead lines and a furrowed brow can not only make you look older but also angry or sad. Without correcting this, you look younger with other facial procedures but not necessarily happier.
A brow or forehead lift can smooth out these lines and restore a higher, younger-looking brow, making you look more youthful and good-spirited.
Sometimes, a brow lift alone can raise the eyelids enough to combat aging there.
These surgical treatments are usually performed under general anesthesia, but eyelid surgery may only require a local anesthetic and sedation.
Comprehensive Facelift in Miami, FL
The board-certified plastic surgeons at Careaga Plastic Surgery in Coral Gables will customize your facelift procedure according to your needs. They can also recommend non-surgical treatments to complement your facelift.
Call (305) 615-4987 today to schedule your Miami facelift consultation and learn more about the many options available.