Top 7 Ways to Get the Body You Always Wanted
Posted February 07, 2023 in Better Plastic Surgery Results, Body Sculpting
6 Minute Read:
Regardless of age, women and men desire a toned and attractive body. However, this is much easier said than done. While you can spend hours upon hours at the gym and eat the healthiest foods available, you may still not be able to look and feel the way you truly want.
However, plastic surgery can help correct specific parts of your body to help you look and feel your best. And what's more: you can combine different cosmetic procedures to achieve a full-body makeover that can ultimately increase your confidence!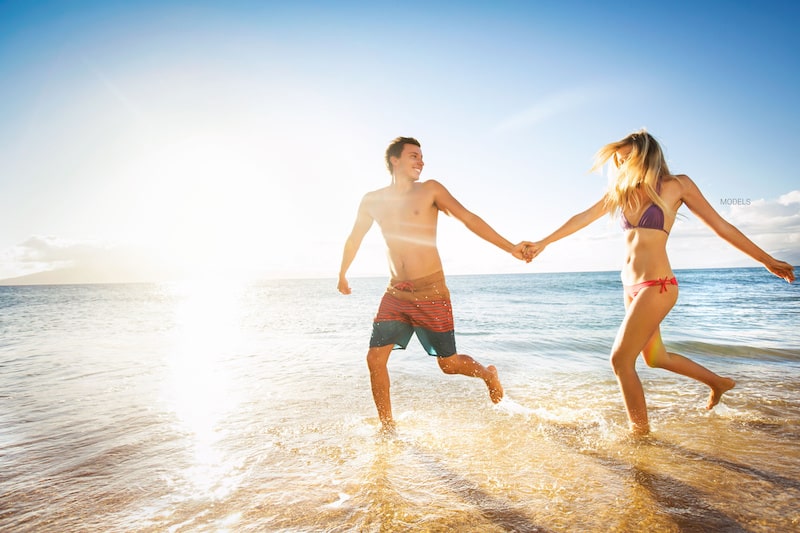 Below, we'll discuss seven of the most popular and effective plastic surgery procedures that can help you achieve the contoured appearance you've always desired.
1. Liposuction
Liposuction surgery is one of the most useful and effective cosmetic procedures available. That is because liposuction can be used as a standalone procedure to help you get rid of unwanted stubborn fat, or it can be combined with other plastic surgery procedures (including some procedures on this list).
And what's even better is that liposuction can be used on numerous areas of your body (including the neck, abdomen, lower body, and more) to help you achieve a thinner, more toned appearance.
At Careaga Plastic Surgery, we are proud to offer tumescent liposuction, which helps make the fat easier to remove. This treatment helps you achieve the contoured appearance you want with little to no scarring after the procedure.
2. Tummy Tuck
Whether from age or life events like pregnancy, many people struggle with excess fat and sagging skin in the midsection. This can cause them to feel self-conscious and uncomfortable.
Tummy tuck surgery (abdominoplasty) is a surgical procedure that removes stubborn belly fat, tightens the underlying muscles, and removes sagging skin in the abdomen.
Your tummy tuck will be customized to your needs and may involve a traditional tummy tuck or a mini tummy tuck. This will be determined by Dr. Careaga or Dr. Durand depending on the amount of loose skin present in the abdomen.
After your tummy tuck procedure, you can look forward to a more toned and contoured physique with a stronger core.
For a tummy tuck, an incision will be made just above your pubic area. The length of this incision is dependent on the type of tummy tuck you are having, though a full tummy tuck requires an incision that stretches from hip to hip.
Once the incision is made, liposuction may be used to remove any stubborn fat in the area. Next, Dr. Careaga or Dr. Durand will tighten the abdominal muscles with internal sutures. Lastly, excess skin will be surgically removed and the remaining skin will be tightened before the incisions are closed.
3. Arm Lift
Many people struggle with excess and flabby skin on the underside of the upper arms ("bat wings"). Arm lift surgery (brachioplasty) is a procedure that sculpts your arms and gets rid of that unsightly sagging skin.
For an arm lift, an incision will be made on the underside of the arm. Excess fat will be removed with the help of liposuction, and then the tissues will be repositioned to give you a more sculpted appearance.
Lastly, excess skin will be surgically excised, and the incisions will be closed to give you the arm definition you've always wanted.
4. Body Lift
Undergoing extreme weight loss (either naturally or through gastric bypass surgery) is an accomplishment to be proud of. However, while the weight may be gone, you can be left with sagging skin that hides your new physique. Thankfully, a full body lift surgery (panniculectomy) or lower body lift surgery can help you look your very best after weight loss.
For this procedure, an incision will be made around the entire torso. Liposuction may be used to remove any remaining fat in the area (which can include the abdomen/tummy, love handles, back, flanks, and thighs), and excess skin in the area (abdomen, back, and/or legs) will be surgically removed.
This procedure can help you achieve a more toned and sculpted appearance to your entire mid and lower body. Many patients choose to combine their body lift with abdominoplasty to tighten the underlying abdominal muscles.
5. Breast Augmentation
Breast augmentation is one of the most popular cosmetic surgeries for women. With breast augmentation surgery, women can enhance the size, shape, and volume of their breasts. 
For this procedure, breast implants made of either silicone or saline are inserted beneath the breasts to achieve the desired enhancement. One of the greatest benefits of breast augmentation is that you can personalize your implants so that your breasts look the way you want. This includes choosing the type, size, and shape of implant.
6. Breast Lift
While a breast augmentation can help you achieve larger, fuller breasts, augmentation surgery cannot improve sagging breasts, which can be a result of age, lifestyle, or life events.
Sagging breasts can cause women to look older than they are, which can negatively affect their self-esteem. Breast lift surgery (mastopexy) is a procedure in which the position and level of the breasts are adjusted so that you can achieve a higher, perkier, and more youthful breast aesthetic.
For this procedure, Dr. Durand or Dr. Careaga will make an incision known as an inverted-T incision or an anchor incision. This consists of an inframammary incision and another incision that runs from your areola to the bottom pole of your breast.
A breast lift can be performed as a standalone procedure but is often combined with breast augmentation or breast reduction surgery to help give you complete improvement to your breasts.
7. Brazilian Butt Lift
A thin, flat, sagging, or lackluster butt and backside can keep you from looking great in your favorite clothing. A Brazilian Butt Lift (BBL) is a procedure in which the size of your buttocks are augmented with fat from your body.
For this procedure, fat is harvested from your body (usually the abdomen, hips, back, or thighs) with liposuction. Your plastic surgeon will take the fat and then inject it into specific areas of your buttocks to add natural volume.
What makes this procedure even better is that you are able to improve the size and shape of your backside while also achieving better contours from where the fat was extracted.
Combining Procedures for a Total Body Transformation
While any of these procedures can offer you stunning results when performed by themselves, combining procedures can help you achieve full-body contouring.
An example is the Mommy Makeover procedure, a customizable combination of body and breast surgeries.
At your consultation, Dr. Careaga or Dr. Durand will discuss combination options to help you decide what procedure(s) can give you the best results possible.
Want to Find Out More About Body Contouring in Miami, FL?
If you are interested in learning more about any of these procedures, then call Careaga Plastic Surgery at (305) 574-9262 or fill out our online contact form to learn more.