Want to Combine a Facelift With Rhinoplasty? What Dr. Durand Wants You to Know
Posted April 04, 2023 in Emsculpt NEO®, Facelift, Rhinoplasty
3 Min Read: Two of the most popular plastic surgery procedures performed each year are facelift surgery and rhinoplasty (corrective nose surgery). Each of these procedures helps women and men achieve a more balanced, rejuvenated, and youthful appearance.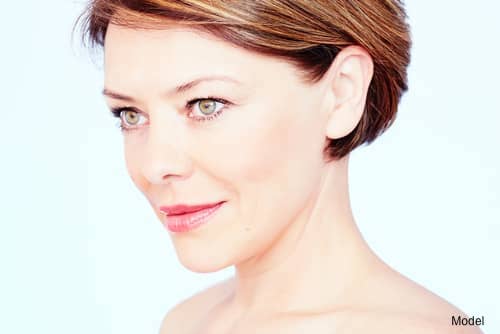 While facelift surgery and rhinoplasty offer stunning results when performed as standalone procedures, combining them into a single cosmetic procedure can transform your facial aesthetic while also helping you feel more confident and comfortable.
Below, we'll explore some of the benefits of each of these procedures and discuss why combining them may be exactly what you're looking for.
What Are the Benefits of Facelift Surgery?
With facelift surgery, your surgeon manipulates the lower face and midface (from the neck to the cheeks) to remove signs of aging (including wrinkles, fine lines, sagging skin, jowls, and even a double chin).
For this procedure, the underlying facial tissue and muscles are elevated and tightened, excess skin is surgically removed, and the remaining skin is pulled tight to create a more contoured and defined facial profile.
Not only can you look years younger after this procedure, but you can find yourself feeling proud of your new appearance.
What Are the Benefits of Rhinoplasty?
Women and men undergo rhinoplasty surgery because they want to change the appearance of their noses. One of the reasons for this procedure's popularity is the fact that the nose is so central (literally and figuratively) to the face.
Whether you were born with a nose whose look and structure frustrate you or an injury negatively affected your nose, rhinoplasty can be used to help you achieve a nose that is balanced with the rest of your face.
While many people undergo rhinoplasty early in life, it is never too late to correct the appearance of a nose you are unhappy with.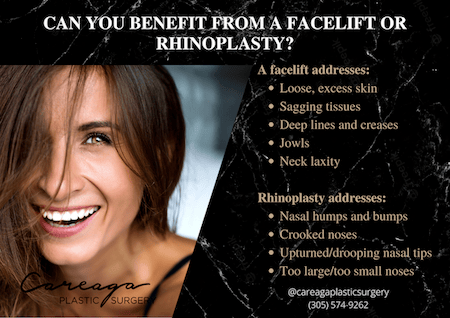 Why Should I Combine Facelift and Nose Surgeries?
For women and men who are frustrated with the aged appearance of their face as well as the look of their nose (even if it is simply an aging nose), a combination procedure can offer dramatic results and maintain a balanced facial aesthetic.
When Dr. Durand performs these combined, he can more easily blend the results of both procedures, seamlessly creating an end result that looks natural with features that are in harmony with each other.
In addition, you will recover from both of these techniques simultaneously instead of having to stagger your downtimes, thus shortening the time you are under the weather. 
What Other Facial Procedures Can I Have Done?
The simple truth is that facelift surgery and rhinoplasty only address the middle and lower portions of the face. This means that the upper third of the face (from the cheeks to the forehead, including the areas around the eyes) are not addressed. This is fine if you do not have any signs of aging on your upper face, but this is common for most women and men.
If you are looking for a complete transformation to your facial appearance, then you may want to consider combining your facelift and rhinoplasty with facial procedures for the upper face, including eyelid surgery (blepharoplasty) and a brow lift (forehead lift surgery).
While eyelid surgery helps to correct sagging skin in the eyelids, which lead to heavy and drooping eyelids, as well as puffiness and bags under the eyes, brow lift surgery addresses wrinkles and lines on the forehead along with the appearance of sagging and furrowed brows.
At your consultation, Dr. Durand will discuss these other procedures and whether they can be beneficial to you.
Interested in Learning More About Facial Procedures in Miami?
If you are interested in learning more about how combining facelift surgery and rhinoplasty can help you in Miami, Florida, please give us a call at (305) 574-9262 or fill out our online contact form.
At Careaga Plastic Surgery, we look forward to helping you look and feel your absolute best!