Not Sure What a Tummy Tuck Can Do for You? Here Are Your 3 Best Options
Posted March 21, 2023 in Tummy Tuck
4 Minute Read:
Many women and men find themselves with excess fat and sagging skin around their midsections. These issues can be caused by a number of reasons, including weight fluctuations, natural aging, lifestyle, and life events (such as pregnancy).
And while the reason for the fat and skin laxity may be unique, the one constant between women and men is that they can feel embarrassed and self-conscious about their appearances.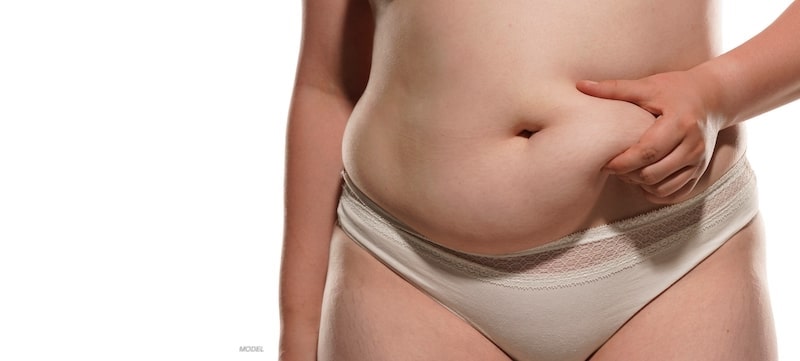 The good news is that a tummy tuck (abdominoplasty) can help patients who struggle with stubborn fat and sagging skin around their abdomen.
But what many people don't know is that there are different types of procedures for the abdomen.
What Are My Options?
At Careaga Plastic Surgery, Dr. Careaga and Dr. Durand are proud to offer several different plastic surgery options to women and men looking to improve their midsections.
At your consultation, your plastic surgeon will help decide which tummy tuck technique is best for you; however, it is always smart to have an understanding of what types of procedures are available.
Tummy Tuck
A traditional tummy tuck is a great choice of procedure for women and men with pockets of subcutaneous fat and moderate to severe sagging skin around the belly. This is the most common technique because it can comprehensively address the midsection from hip to hip, above and below the navel.
With this procedure, liposuction may be used to remove any subcutaneous fat in the area. The abdominal muscles will be tightened (which can help women who are suffering from diastasis recti after pregnancy and childbirth). Lastly, any sagging skin will be surgically removed, and the remaining skin will be tightened to give a more sculpted and toned appearance.
Mini Tummy Tuck
Similar to a full tummy tuck, a mini tummy tuck removes excess fat, tightens underlying muscles, removes excess skin, and tightens the remaining skin.
However, a mini tummy tuck focuses on correcting concerns below the belly button only and does not extend to the lateral hips. Additionally, the navel is not repositioned with a mini tummy tuck.
This procedure is optimal for patients who suffer from localized mild to moderate sagging skin. Because this is a less invasive surgery, a smaller incision will be made for a mini tummy tuck, and patients can look forward to a shorter recovery period.
Full Body Lift
While full and mini tummy tucks are often the best choice for women and men who have skin laxity and excess fat due to age and lifestyle, body lift surgery (panniculectomy) is meant for patients who have lost significant amounts of weight, whether by natural means or weight loss surgery (bariatric surgery).
These patients tend to have large amounts of unsightly sagging skin and excess fat in their midsection and surrounding areas. A body lift removes sagging skin from the abdomen, hips, back, and thighs to give you a more contoured physique. This procedure is often combined with a tummy tuck to tighten abdominal muscles to strengthen the core and help patients achieve a more toned appearance that highlights their weight loss.
*It is essential to choose the technique that is right for your body and concerns, even if it is not the least invasive option. Correcting the full extent of your abdominal laxity initially will result in a more positive and lasting outcome.
Are There Other Options Beside These Procedures?
Women and men are able to achieve some of the most transformative and long-lasting results after a tummy tuck procedure (whether full, mini, or body lift); however, some patients may not require extensive skin removal. For these women and men, liposuction surgery is often the most appropriate cosmetic procedure.
At your consultation, your plastic surgeon will evaluate your condition to help determine if tummy tuck surgery or liposuction is best to address your concerns.
Interested in Learning More About Tummy Tuck Surgery in Miami?
If you are interested in learning more about which tummy tuck procedure may be right for you, or if you have questions about any of the other procedures we offer, please contact Careaga Plastic Surgery in Miami at (305) 574-9262. You can also fill out our online contact form.