Men, Are You Ready to Get Your Confidence Back?
Posted March 01, 2022 in Daddy Makeover, Male Plastic Surgery
4 Minute Read: 
If you're a man, you want to have the kind of body that other people stop and stare at. You know, one with a defined chest and a trim waistline. How great would it be to have the kind of body that you can proudly show off at the pool or on those hot Miami beaches? 
Well, the good news is that with cosmetic surgery, you can get closer to that kind of body. The bad part is that spring and summer are right around the corner, so you need to start thinking about getting the body and look you've always dreamed of having.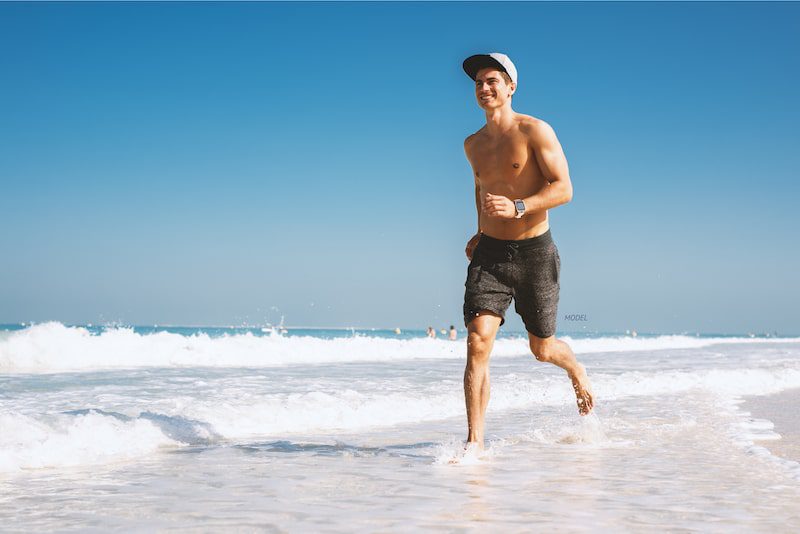 There are several options that you can undergo at Careaga Plastic Surgery where we offer both surgical and non-surgical treatment to get that amazing body that will turn all the heads and have you smiling all summer long. 
Below, you'll find some info on each of these procedures so that you know what can help you get that toned and contoured physique.
Gynecomastia Surgery
Many men suffer from gynecomastia (enlarged male breasts). While "man boobs" can cause many men to feel self-conscious about their body — forcing them to keep their shirts on at the pool or beach — gynecomastia surgery (male breast reduction) can help men achieve a more slim and defined chest. 
Dr. Careaga and Dr. Durand offer two techniques for treating gynecomastia: surgical and ultrasonic liposuction.
Gynecomastia surgery is performed under anesthesia and generally takes around one to two hours to perform. During this procedure, the dense fibrous tissues in the chest are removed. The incisions are usually hidden well within the skin, so unsightly scars should not be a worry. 
Conversely, with ultrasonic liposuction, excess fat is removed from the chest via suction through small incisions. This leaves minimal scars that are generally not noticeable. 
With both techniques, you will have a trimmer and more sculpted chest. No longer will you have to worry about concealing yourself with shirts and towels. Instead, you'll be able to enjoy all the benefits of summer, including showing off your new bod!
Tummy Tuck Surgery
Many people hear "tummy tuck" and think that it is a procedure for women only (commonly performed after pregnancy). However, that is the farthest thing from the truth. 
Tummy tuck surgery is a procedure that tightens the underlying muscles on your waistline while removing any excess skin and fat in the area. After your tummy tuck, you'll have a trimmed and toned look.
Dr. Careaga and Dr. Durand are proud to offer the following variations of tummy tuck surgery: tummy tuck, mini tummy tuck, and extended tummy tuck. 
A mini tummy tuck is meant for patients with mild to moderate sagging skin in the abdominal area, whereas a tummy tuck is meant for patients with more excess skin and fat. Because of this, the length of the incisions will be different. Where a full tummy tuck will require an incision just above the pubic area that stretches from hip to hip, a mini tummy tuck requires a shorter incision, which means that resulting scars will be smaller. An extended tummy tuck, however, is for patients with severe skin laxity and sagging. This excess skin is cut away to leave you with a trimmed and slim look. 
Each of these procedures can be combined with liposuction to give an even more sculpted result.
Liposuction
Liposuction surgery is one of the most common and popular surgical procedures every year. Liposuction removes stubborn pockets of fat from areas of the body, including the chest and abdomen. This minimally invasive surgery allows fat to be targeted and removed easily so that any resulting scars are minimal. Essentially, the fat is vacuumed from your body through the liposuction machine, and the best part is that once the fat is gone, it's gone for good. 
Daddy Makeover
While women have the Mommy Makeover, a Daddy Makeover is just for men. This customizable set of procedures allows you to combine any number of these procedures (gynecomastia surgery, tummy tuck, liposuction) to give dynamic results that will make you feel truly confident and comfortable with your appearance. 
With a Daddy Makeover, your entire midsection will be firm and fit and ready for the water and sun!
The question shouldn't be, "What should I have done?" The question, instead, should be, "With summer coming, how soon can I get myself looking like I've always wanted?"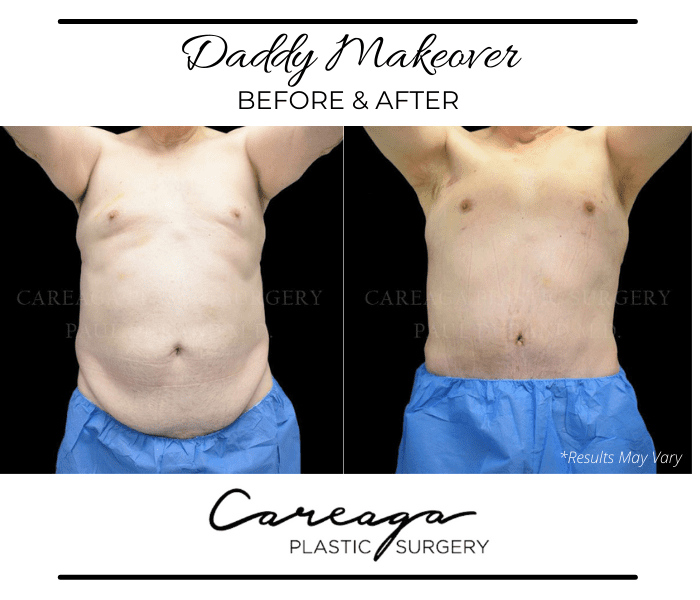 View more of our male patient transformations by visiting our Daddy Makeover before and after photo gallery or our gynecomastia surgery before and after gallery.
Have Any Questions About Male Plastic Surgery in Miami?
If you are interested in learning more about plastic surgery procedures for men at Careaga Plastic Surgery in Miami, Florida, call us at (305) 960-7511 or fill out our online contact form.