Will SculpSure® and Emsculpt® Give Me the Same Results as Liposuction?
Posted March 15, 2022 in Body Sculpting, Liposuction, SculpSure®
4 Minute Read: 
One of the most frustrating things is when you eat well, work out consistently, and still have stubborn fat that won't go away.
Luckily, nowadays, there are many treatments and procedures that can help you reduce that stubborn fat.
However, with so many different fat removal procedures on the market, how do you know which one is right for you? Well, there are two approaches to cosmetic fat removal: surgical and non-surgical.
One of the most popular surgical procedures performed each year is liposuction. In fact, in 2020, liposuction surgery was the fourth most performed cosmetic surgical procedure. But liposuction is surgery, which involves a lengthier downtime, and some people who have stubborn fat in their body would prefer not to undergo a surgical procedure and recovery.
For these people, there are several non-surgical fat removal treatments available. With over 357,000 non-invasive fat reduction procedures performed in 2020, it is clear that these procedures can be trusted to give you the results you're looking for. 
And two of the most effective non-surgical procedures available are SculpSure® and Emsculpt®.
What Is SculpSure®?
SculpSure® is a revolutionary treatment that helps you get rid of unwanted subcutaneous fat. In fact, it is the first light-based body contouring system available to remove fat from your body. 
With SculpSure®, you don't have to worry about anesthesia, incisions, scars, or downtime. 
SculpSure® uses a laser that targets the fat beneath your skin and destroys it. For your procedure, the SculpSure® device is wrapped around the treatment area. Then, the laser is directed onto the skin. This laser alternates between extreme heat and a cooling effect to kill the fat cells without harming the surrounding tissue or skin. 
Over the next 12 weeks, your body will naturally absorb the dead fat and flush it away, leaving you with a trimmer and more contoured look and feel.
The SculpSure® treatment takes about 45 minutes to complete, and the great part is that once the fat is destroyed and flushed away, it is gone for good. 
You may need up to three treatments to achieve optimal results. Depends on Physician's recommendations.
SculpSure® can remove fat in the following areas: 
Abdomen

Flanks

Back

Under the chin
What Is Emsculpt®?
Emsculpt® is a body contouring device that uses energy to remove unwanted fat and build muscle. In fact, EMSCULPT NEO® is the only FDA-approved non-invasive treatment to tone muscle while burning fat. Like SculpSure®, Emsculpt® patients don't have to worry about incisions or recovery time. But where SculpSure® just removes the stubborn fat in your body, Emsculpt® can give you that added muscle definition that you've been desiring, and all without lifting a weight or doing a single crunch.
Emsculpt® uses electromagnetic energy to make the muscles contract at a high rate. This allows the fat to be burned and the muscles to become toned naturally. 
It generally takes about 30 minutes to complete an Emsculpt® treatment, and these treatments are performed weekly for four weeks. Something to keep in mind is that the muscle-gain results obtained from Emsculpt® are not permanent and must be maintained with natural workouts or maintenance treatments.
Emsculpt® can tone muscle and remove fat in the following areas of your body:
Buttocks

Biceps

Triceps

Thighs

Calves
Non-Surgical Fat Removal vs. Liposuction
While there are many positive qualities about non-surgical fat removal options, like SculpSure® and Emsculpt® that don't require invasive surgery, it is important to understand that you will not get the same results with these non-surgical options as you will with liposuction. 
Liposuction is a cosmetic surgery procedure where the fat is removed from your body. Because of this, it can target and treat a larger area with more significant results.
Something to remember is that none of these are weight-loss procedures. Though you will lose some weight from removing fat cells, it will not be a significant number. Instead, these treatments are designed to sculpt and define your silhouette.
After your procedure, it is important that you maintain a healthy lifestyle, which will prolong your results.
In the end, whether you choose non-surgical fat removal or liposuction, you will have long-lasting results and feel more confident in the way you look and feel. The right choice really just depends on what you're looking for.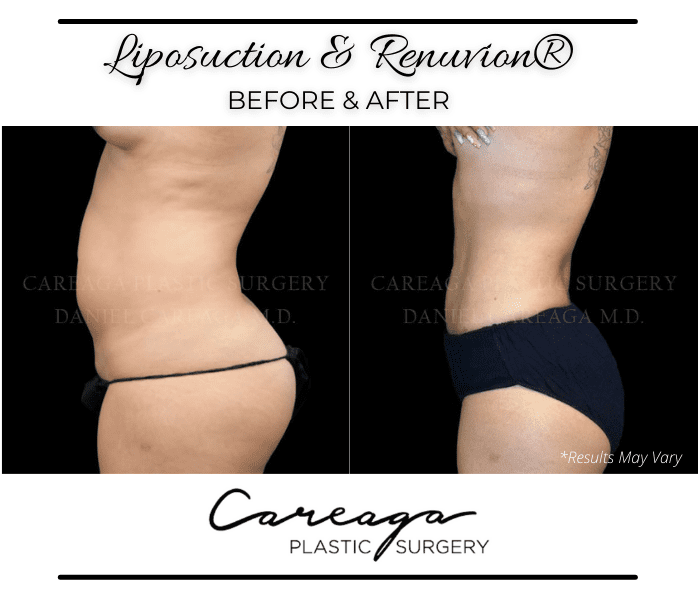 You can see more of our transformations by visiting our liposuction before and after gallery.
Interested in Learning More About Fat Removal Procedures in Miami?
If you are interested in learning more about fat removal in Miami, Florida, whether it be SculpSure®, Emsculpt®, or liposuction surgery, please give us a call at (305) 574-9262 or fill out our online contact form.