How Will Facial Procedures Change My Appearance?
Posted August 07, 2019 in Facial Rejuvenation
Plastic surgery centers have become increasingly popular destinations for women and men who are tired of their aged appearance. Even with diligent skin care, it is challenging to prevent gravity, sun damage, and harsh environments from wreaking havoc on your complexion.
Cosmetic facial procedures can restore a rejuvenated and youthful appearance for qualifying patients. Whether you are looking for something non-surgical or are willing to face the knife for more extensive correction, Careaga Plastic Surgery offers a treatment that will benefit you.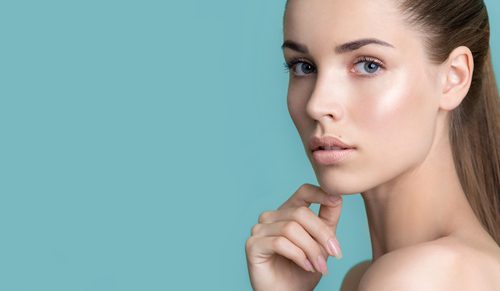 Sunken Cheeks
Noticeable signs of aging aren't limited to fine lines, wrinkles, and loose skin; volume loss also plays a big role. Over time, the fat on your cheeks begins to vanish, and what remains starts to sag. The loss of cheek volume alters the shape of your face by eliminating the appearance of your high cheekbones. When this occurs, your face may start to appear gaunt.
Midface volume can be restored through both invasive and non-invasive means. Facelift surgery lifts the underlying tissues of the midface and restores them to a higher and more youthful elevation. This procedure returns a more rounded facial contour.
For patients who have noticed the visible loss of facial fat, or for those looking for non-surgical improvement, dermal fillers are ideal. Injectable fillers plump the midface and return volume to the cheeks. Potential patients have many options when it comes to dermal fillers; the cheeks benefit from a filler with a thicker consistency, such as Sculptra® Aesthetic and products from JUVÉDERM® or Restylane®.
Jowls
When the fat drops from the cheek area, it has to go somewhere. Unfortunately, that place is the jawline. Jowls are the collection of skin and tissues that fell from higher regions of the face. Like volume loss, the appearance of jowls alters the shape of the face and distorts the appearance of your jaw. Facelift surgery restores a sculpted and angular jawline by lifting the tissues. For patients who also have unwanted submental fat, KYBELLA® can be injected either before or after your facelift to get rid of excess fat beneath the chin. We also offer treatment with SculpSure® to address a double chin.
Aged Eyes
The eyes are one of the first facial features to show visible aging. The surrounding skin is fragile and thin, and the eye area endures constant movement during the day in the way of blinking and other facial expressions. Blepharoplasty surgically treats aging on the eyelids. This procedure trims excess skin and repositions fat from the upper and lower eyelids so that the eyes appear wider and brighter. Upper blepharoplasty reduces upper eyelid hooding, and lower blepharoplasty removes bags under the eyes.
Lines and wrinkles around the eyes do not always require surgical correction. BOTOX® Cosmetic and DYSPORT® are non-invasive injectable treatments that can temporarily smooth lines caused by repeated muscle contractions. These treatments can lessen the appearance of crow's feet, frown lines, and forehead lines.
Nasolabial Folds
Nasolabial folds are also the result of volume loss. These are the parenthesis lines that form between the nose and the corners of the mouth. While nasolabial lines are reduced during a facelift, they can also be lessened with JUVÉDERM®, Restylane®, or Sculptra® Aesthetic.
Thin Lips
The thinning of the lips is another sign of aging that can dramatically alter your facial appearance. Dermal fillers like those from the JUVÉDERM® and Restylane® families can return plumpness and fullness to naturally thin or thinning lips. These injections can be used to define the outline of the lips in addition to adding volume.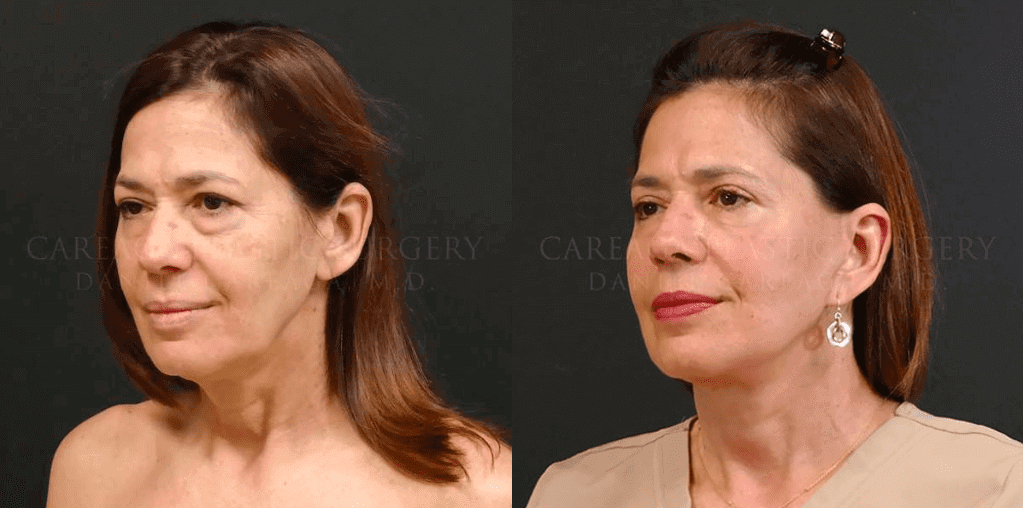 Contact Us Today!
For more information about facelift surgery, injectables, or any of our other facial rejuvenation procedures, contact Careaga Plastic Surgery by calling (305) 574-9262 or by filling out our online contact form.