Eyelid Surgery (Blepharoplasty)
What is a Blepharoplasty (Eyelid/EyeLift) Plastic Surgery?
Dr. Daniel E. Careaga and Dr. Paul D. Durand offer blepharoplasty, commonly known as eyelift surgery, at their state-of-the-art Careaga Plastic Surgery Center. Dr. Careaga's and Dr. Durand's full service plastic (cosmetic/aesthetic) surgery practice is conveniently located in the heart of Miami, Florida, minutes away from the Miami International Airport.
Since eyes are often referred to as "the window to the soul," and are typically the very first thing we notice when we meet someone, it is important that your eyes reflect how you truly feel. If your eyes have a tired and droopy appearance, they may not reflect your vibrant inner self or, in fact, your true age.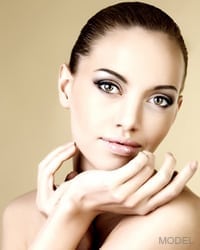 As we age, the skin around the eyelids stretches, muscles weaken, and fat gathers over and under the eyes. This may cause sagging eyebrows, drooping upper lids, under-eye puffiness or bags, and dark circles.
Eyelid surgery is a procedure of the upper and lower eyelids, which helps men and women correct problems associated with loose skin on the eyelid. Eyelid surgery is an excellent procedure that has helped thousands of patients eliminate "hooded or drooping" appearing upper eyelids or the "saggy-baggy" puffy skin of the lower eyes.
Eyelid surgery performed by Daniel E. Careaga or Paul D. Durand can remove some of the signs of aging leaving your facial appearance enhanced and refreshed.
Who is a Candidate for Blepharoplaty (Eyelid/EyeLift) Plastic Surgery?
You may feel that the eyes looking back at you in the mirror seem tired looking, or perhaps co-workers and family members are asking whether or not you had a good night's sleep because your eyes are swollen with bags and you have dark circles. Aging in this area can have a detrimental effect on your appearance and possibly your self-esteem.
Eyelid surgery is not just a purely cosmetic surgical procedure as many younger people are affected with sagging eyelids. Drooping upper eyelids can have a number of causes, including heredity, sun exposure and chronic eye rubbing. For those individuals whose vision is affected by the drooping of the upper eyelid, blepharoplasty can help restore the patient's visual field. If you feel your vision can benefit from upper eyelid surgery, check with your health insurance plan to see if blepharoplasty is a covered procedure. The professional staff at Careaga Plastic Surgery Center can help you with any questions.
Fortunately, under the expert training and surgical expertise of Dr. Daniel E. Careaga or Dr. Paul D. Durand, you can attain dramatically younger eyes and improve your facial appearance.
What Results Can I Expect from a Blepharoplaty (Eyelid/EyeLift) Plastic Surgery?
As previously mentioned, as you age, your eyelids stretch, and the muscles supporting them weaken. Excess fat may also gather above and below your eyelids, causing bags (festoons), sagging eyebrows, and drooping upper lids. Blepharoplasty can reduce or eliminate these problems and also improve your vision if it is impaired by dropping eyelids.
Blepharoplasty is one of the most commonly performed cosmetic surgical procedures. It is a challenging procedure that requires a thorough understanding of the anatomy of the eye and eyelids and a skilled experienced plastic surgeon. You can expect that your eyes will look natural and your facial appearance will be refreshed. Dr. Careaga has performed many eyelid surgeries with remarkable results.
Consultation Process with Dr. Daniel E.Careaga
Dr. Daniel E. Careaga or Dr. Paul D. Durand can help you determine if you are a candidate for eyelid surgery and which procedure(s) will enhance your eyes. Also, your doctor can advise you on the benefits of combining procedures to maximize your desired results. Blepharoplasty can be done as a solo procedure or, if advised, with other facial surgery procedures such as a brow lift, mini or full facelift, or specialized laser resurfacing procedures.
Careaga Plastic Surgery's Blepharoplasty (Eyelid) Surgical Technique and Protocol
Upper Eyelid Surgery
Eyelid surgery removes excess skin and is often performed in conjunction with a brow lift so that the brow is elevated giving you a more "open" and youthful appearance. If upper eyelid surgery is performed in conjunction with a brow lift, Dr. Careaga or Dr. Durand  will perform the brow lift first so that the brow is placed in the correct position. The brow lift will actually tighten up some of the excess eyelid skin. The remaining loose upper lid skin is removed and the skin edges are finely sutured together. Dr. Careaga and Dr. Durand exercises extreme care so that the correct amount of loose skin and tightening is done so that your eyes look natural and can comfortably close after surgery.
Lower Eyelid Surgery
Depending upon the nature of your lower eyelid problem and desired cosmetic enhancement, there are a few surgical options. If you have excess lower eyelid skin, wrinkles, and/or a fatty bag, lower eyelid skin can be tucked to decrease skin excess and wrinkles. If you have eyelid bags or swelling caused by fat, this excess fat can be easily removed.
A minimally invasive lower eyelid surgery is often referred to as a "pinch blepharoplasty." This procedure will reduce excess, lax, or wrinkled lower eyelid skin with minimal tissue disruption within the lid. Dr. Careaga and Dr. Durand advises that the pinch blepharoplasty is not used to fully flatten or tighten the lower lid.
In those individuals who desire to significantly reduce lower eyelid fatty bags, Dr. Careaga and Dr. Durand perform transconjunctival blepharoplasty. With this advanced surgical technique, an incision is made through the lower lid, resulting in no obvious scar. This procedure effectively reduces lower eyelid fatty bulges by removing some of the fat around the lower eyeball. It should be noted that a transconjunctival blepharoplasty could be performed in conjunction with a pinch blepahroplasty when excess and lax skin and fatty bags are both present. Dr. Daniel E. Careaga and Dr. Paul D. Durand will thoroughly review the recommended procedure(s) with you and address all of your concerns.
Asian Eyelid Surgery or Double Eyelid Surgery
If you are looking to create an eyelid crease, Careaga Plastic Surgery can perform a double eyelid surgical procedure. This procedure is often referred to as an Asian Eyelid Surgery as it is typically performed on Asian patients that lack an upper eyelid crease.
Approximately one-half of Asians do not have an upper eyelid crease. Asian Eyelid Surgery or double eyelid surgery can safely contour the skin above the lashes to form a crease or to lift the height of the existing natural crease.
Recovery and Aftercare
Recovery from eyelid surgery typically ranges from seven to ten days. Minimal blurry vision quickly resolves. Dr. Daniel E. Careaga and Dr. Paul D. Durand recommends the following guidelines to aide in eyelid surgery recovery:
Sleep with your head elevated for the first few days to minimize swelling
Use ice packs on your eyes as recommended
Avoid excessive blinking
Wear sunglasses to protect your eyes from the sun
Avoid activities such as reading, watching television, and working on your computer.
Avoid activities that require you to bend or lift, including exercising up to 7 to 10 days after surgery
Avoid drinking fluids that cause you to retain fluids, especially alcohol.
If you would like more information or a consultation, call today to speak with our Patient Care Coordinator.