How Much Will My Facelift Change My Appearance?
Posted September 01, 2020 in Facelift
3 Minute Read: 
A facelift (rhytidectomy) is a procedure aimed at correcting facial contour loss due to aging. The classic version of the treatment can correct sagging jowls, refresh the chin line, tighten skin, minimize wrinkles, and restore the appearance of vitality and youthfulness. When performed by a skilled cosmetic surgeon, the procedure should yield natural-looking and subtle yet long-lasting results.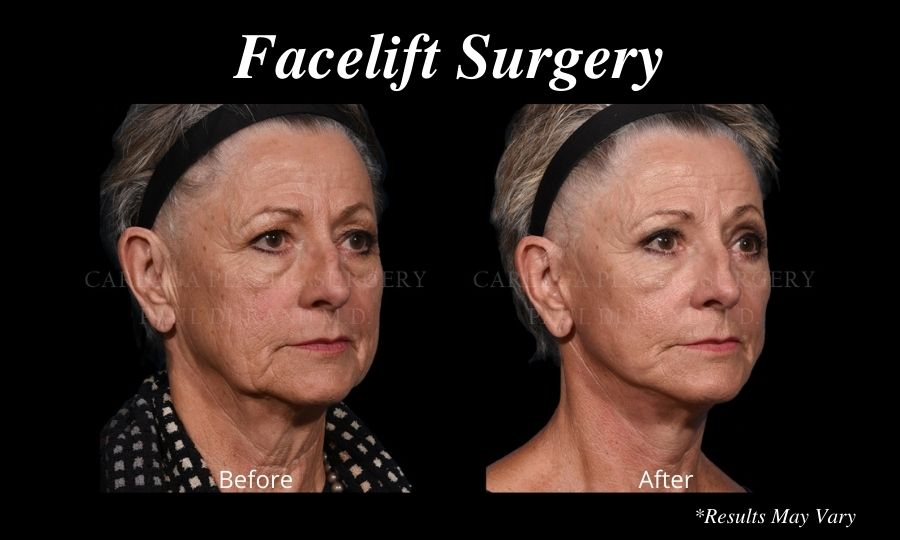 What Exactly Is a Facelift?
A facelift is a surgical procedure that targets age-related laxity on the lower two-thirds of the face. (It can be combined with eyelid surgery to address the skin around the eyes.)
The incision for a conventional facelift begins in the hairline by the temple, continues around the ear, and ends towards the back of the lower scalp. A second incision may be made in the chin area to tighten the neck. Sub-dermal fat is re-distributed, and the skin re-draped before sutures and dressings are applied.
What Are the Latest Facelift Techniques?
As surgical techniques have evolved, the possibility of limited incision procedures has become popular. Be sure to discuss this option with your surgeon during the pre-op consultation.
Compared to the classic full facelift, mini-lifts or partial lifts are more targeted procedures that yield more limited results. Much depends on the extent of skin relaxation and the age of the patient.
The aesthetics of the facelift have changed over time. The tight rictus of past decades is no longer the goal; instead, the objective of a facelift is a natural re-definition that makes the patient appear well-rested and refreshed.
What Can I Expect Post-Facelift?
Because this is an invasive surgery done under general anesthesia, a facelift will likely result in short-term swelling, bruising, and discomfort. There will be stitches and dressings to manage, so it can be helpful to have help at home or consider an overnight supervised stay in the medical facility. Immediate recovery may take several weeks, with the full recovery lasting several months. Results will start to become apparent immediately but will continue to improve as swelling subsides.
How Long Will My Facelift Last?
Results will vary from patient to patient, but facelift surgery offers a significant refinement of facial contours that lasts for several years. Proper sun care and healthy eating habits can certainly help extend that time. Conversely, additional procedures or touch-ups may be required to get desired results.
Will I Still Look Like Myself After a Facelift?
When it comes to facial plastic surgery, potential patients are separated into two categories: those who wish to change their appearance significantly, and those who are afraid that a surgical procedure will do just that. Facelift surgery is not like other facial augmentation procedures that change the angles and skeletal shape of the face. 
Instead, facelift surgery is performed to restore the concept of youthfulness and vitality. Facelift surgery minimizes the appearance of fine lines, wrinkles, and laxity. It restores a "younger" version of yourself; however, that restoration is still you. Facelift surgery cannot make you look like another person, but it can showcase your natural beauty.
Interested in Learning More?
If you are in the Miami, Florida, area and you would like to know about the cost and benefits of the facelift procedure, give the experts at Careaga Plastic Surgery a call at (305) 574-9262. You can also fill out our online contact form.