Have Acne-Prone Skin? Stop Fighting and Start Seeing Clearer Results
Posted November 10, 2021 in Acne Treatment, Facials
2 Minute Read: 
Many teens and adults suffer from recurring acne that just won't go away. As a matter of fact, acne is the most common skin condition in the United States, affecting more than 50 percent of adult women and 25 percent of adult men at some point in their lives. 
Unfortunately, trying countless products or DIY acne-fighting routines may not always help improve your skin's appearance. It does not have to be this difficult. Acne issues can be resolved painlessly with an oxygen facial treatment.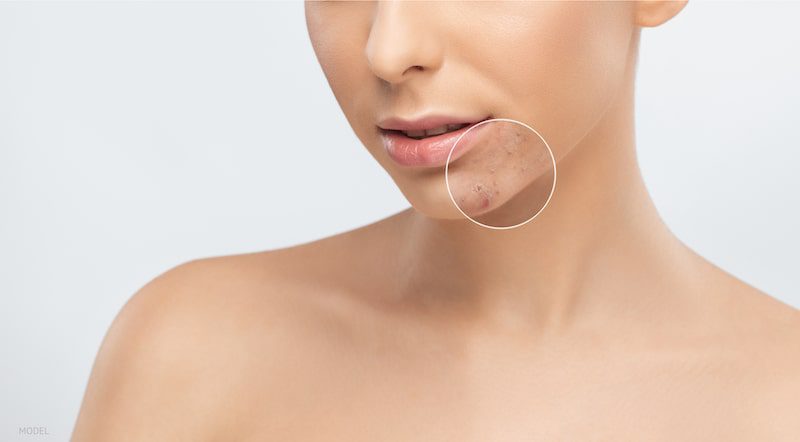 Choose an Oxygen Facial for Acne-Prone Skin!
An oxygen facial is an appropriate treatment option for those with acne/blackhead-prone skin. The treatment uses steam, extractions, and infusion technology of oxygen and vitamins to encourage the growth of new skin cells and collagen. 
Typically, it comprises all the steps of a medical-grade facial in combination with treatment serums and hyperbaric oxygen.
If you have problematic acne, this facial will focus on deep pore cleansing and extraction to remove impurities and open up clogged pores. The infusion of oxygen helps to kill acne-causing bacteria, eliminate toxins, and tighten enlarged pores while defending against any future issues for long-lasting, radiant skin.
If you are dealing with acne scarring, consider a laser treatment to address your unwanted markings. 
What Are the Other Benefits of Oxygen for Skin?
It is no secret your body's cells need oxygen to stay nourished. However, as we age, the oxygen levels in our skin naturally decline, leading to dull-looking, dehydrated skin. 
An oxygen facial allows higher tissue oxygenation levels which aid in deep skin moisturization, faster cell turnover, and collagen production to effectively address common skin conditions like premature aging, severely dry skin, acne scars, and rosacea.
It is an excellent treatment for all skin types and is exactly what you need to restore vitality and freshness to your face.
How Does an Oxygen Facial Work?
Your aesthetician will begin by doing a thorough skin analysis to determine your skin type, areas of concern, and which products will work best for your unique situation. 
View this post on Instagram
Before the treatment, your skin is thoroughly cleansed and exfoliated to remove any surface dirt or impurities.
Next, a high-frequency current with enriched oxygen molecules infuses serums, vitamins, and nutrients into the skin. This allows in-depth hydration to restore the skin's natural radiance and glow. The application of oxygen acts as the catalyst that delivers skin-specific serums into the deeper layers of the skin.
You will notice immediately after the first treatment how refreshed, glowy, plumped, and utterly clean your skin feels.
Tired of Dealing With Acne? Try an Oxygen Facial!
Are you ready to look your best and clear your skin of troublesome pimples? With the help of our talented cosmetic skin care experts, you can achieve a healthy-looking, radiant complexion. 
Contact us today at 305-574-9262 or fill our online form to schedule your consultation and get started.