​​Can PRP Injections Stimulate Hair Growth?
Posted November 02, 2021 in PRP Hair Restoration
2 Minute Read: 
Platelet-rich plasma (PRP) injections have become popular in cosmetic practices over recent years. The innovative treatment uses a patient's own blood cells to promote healing in various areas of the body.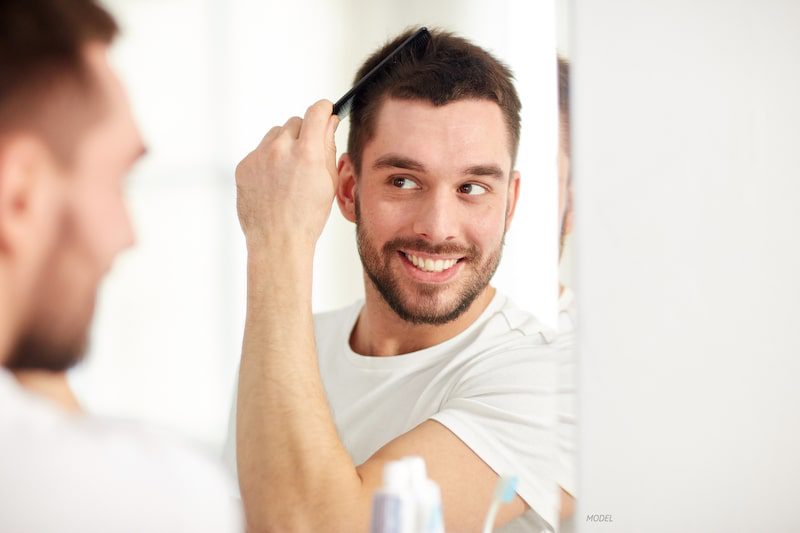 PRP Therapy for Hair Loss
Hair loss becomes inevitable for almost everyone as they age — both men and women. Many patients experience hair thinning, balding, or widening parts. For some, this hair loss may begin early in life — even as soon as your 20s or early 30s. Blame the genetics! 
Thanks to PRP injections, men and women can help change the course of their hair's fate by using the treatment to prevent further hair loss and stimulate new hair growth.
How Does PRP Technology Work for Hair Loss?
A PRP injection is a low-risk injectable treatment that uses your own cells and blood plasma to activate growth factors and awaken damaged and dormant hair follicles to restore hair growth.
During the procedure, our P.A. — Dr. Reana Myers — will draw a blood sample and spin it in a centrifuge to separate the platelets. The isolated platelet-rich plasma (containing abundant growth factors) is injected into the thinning areas of your scalp to stimulate the activity of the hair follicles and promote new hair growth.
After these injections, the old, poorly functioning hair follicles are reactivated to produce more and thicker hair.
Typically, the entire procedure takes less than an hour and results in minimal discomfort. For best results, consistency and patience are key. Therefore, patients are required to undergo multiple treatment sessions, usually performed as three sessions spaced eight weeks apart, depending on an individual's response to treatment. 
Maintenance treatments may be required every six to 12 months for great, optimal results.
Most patients start to notice decreased hair shedding followed by regrowth and improved health, strength, fullness, and volume of hair. 
And the best part? Your results will look natural.
View this post on Instagram
Am I a Good Candidate for a PRP Hair Restoration Treatment?
The use of PRP is a great, non-invasive treatment option for anyone experiencing hair loss, especially individuals with mild to moderate hair thinning (early hair loss). Patients with significant balding may need to consider a more invasive option like a hair transplant.
Stimulate Hair Growth With PRP
If you are struggling with hair loss either due to aging, genetics, stress, or conditions like alopecia, PRP hair restoration therapy may be right for you. At Careaga Plastic Surgery, we perform PRP hair treatment as a stand-alone procedure or in combination with other therapies to reverse hair loss. 
We invite you to contact us at 305-960-7511 or fill out our online form to schedule a consultation with us and determine your candidacy.