Considering Breast Augmentation? Learn Why Sientra® Implants Are the Easy Choice
Posted November 23, 2021 in Breast Augmentation
3 Minute Read: 
Breast augmentation or augmentation mammoplasty is a surgery to enhance breast size. During the procedure, a surgeon places a breast implant under the breast tissue or chest muscles. Breast augmentation is an effective way to boost your confidence. It is also an integral part of rebuilding the breast for various conditions.
Various companies manufacture breast implants (both saline and silicone breast implants). And while the general construction of implants is similar, not all breast implants are the same. 
If breast augmentation is in your mind, consider going for Sientra® breast implants.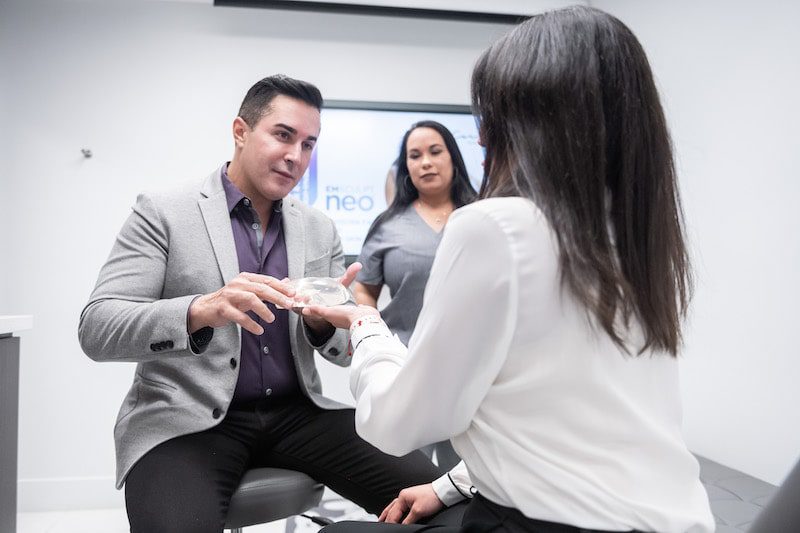 What Are Sientra® Implants?
Sientra® implants are highly cohesive silicone gel implants designed to resemble the look and feel of natural breasts. Approved by the FDA, Sientra® breast implants boast unmatched strength and durability compared to other products in the same category. 
Notably, Sientra® implants are only available through plastic surgeons certified by the American board of plastic surgeons and are considered a premium implant option for patients in the USA.
Why Are Sientra® Implants the Best Breast Implant Choice?
Also referred to as "gummy bear implants," Sientra® breast implants offer many advantages compared to traditional silicone and saline breast implants. 
These include:
Safety

: Sientra® implants offer the highest safety standards. The highly cohesive gel inside the implants adds strength, therefore reducing the risks of leakages. In a rare occurrence of a rupture, the silicone gel center will not leak through the implant's outer shell. Additionally, the gel used in these implants is safe should it come into contact with muscles in case of rupture.

Vast options

: Sientra® implants offer extensive choices in terms of sizes and shapes. These shapes include round, conical, and oval. They also provide smooth or textured surfaces and different degrees of projections based on your preference and body type.

Exclusivity

: Only board-certified plastic surgeons are licensed to use Sientra® breast implants. This means you will get the highest quality breast augmentation from certified experts.

20-year warranty

: Sientra® implants offers a warranty of 20 years. You get free implant replacement for life in case the implant ruptures. The warranty program helps with the replacement process to guarantee the most remarkable results.

Low capsular contracture rate

: A ten-year clinical study reveals Sientra® implants have low complication rates, including a reduced risk of capsular contracture. The study published in the

Aesthetic Surgery Journal

also shows a very strong safety profile and continued patient satisfaction with Sientra® implants.
View this post on Instagram
Don't Miss Out on Getting the Breasts You Dream Of!
If you want to learn more about how Sientra® implants can help you achieve your ideal shape, contact our practice to schedule a consultation with Dr. Careaga or Dr. Durand. At Careaga Plastic Surgery, we provide Sientra® cohesive gel breast implants for all breast augmentation surgeries. 
Our skilled and board-certified plastic surgeons are committed to offering high-quality breast augmentation treatments that allow you to achieve the natural look and feel you desire for your breasts. Contact us today to schedule your consultation with Dr. Careaga and Dr. Durand.