5 Most Popular Cosmetic Surgical Procedures for Men
Posted June 14, 2022 in Male Plastic Surgery
5 Minute Read: 
Despite the common belief that plastic surgery is only for women, more men are choosing to undergo cosmetic procedures to give themselves the body and facial aesthetic they desire. 
In fact, in 2020 alone, over 13 million surgical and minimally invasive procedures were performed on men. 
Like women, men struggle with the appearance of their body and face, and like women, men feel a sense of pride and confidence when they achieve the aesthetic that they've been looking for.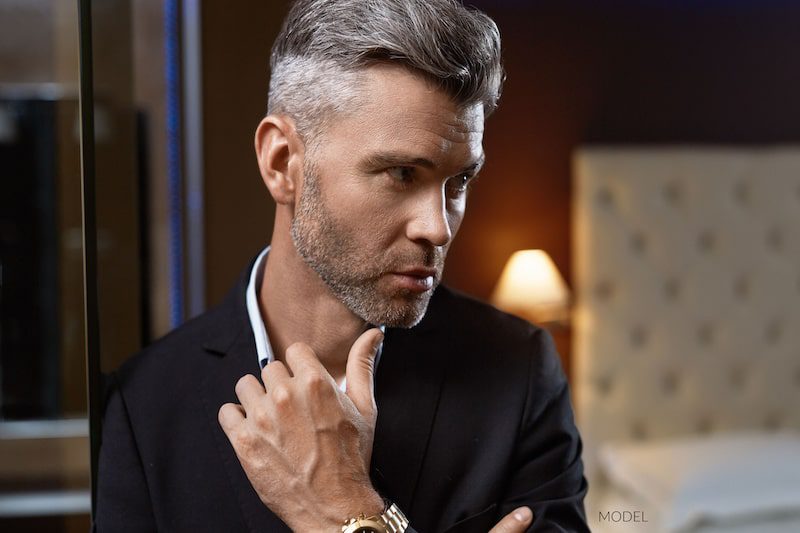 While there are many, many plastic surgery procedures to choose from (making the choice a bit daunting at times), below you'll find some information about five of the most popular plastic surgery procedures for men.
1.
Nose Surgery (Rhinoplasty)
The appearance of the nose completely affects the look and composition of your face. 
Whether you were born with a nose that bothers you (maybe it's too wide or long, or it has a drooping or elevated nasal tip) or you suffered an injury, causing it to become crooked, rhinoplasty (corrective nose surgery) is the procedure for you. 
After your rhinoplasty, you will hopefully feel comfortable with your facial aesthetic. With successful surgery, no longer will you feel the need to hide your nose and face from others. 
Our goal is for you to be able to smile, feeling confident that you look as good as you've always wanted. 
Dr. Durand also offers revision rhinoplasty for patients displeased with their previous nose surgery.
2.
Eyelid Surgery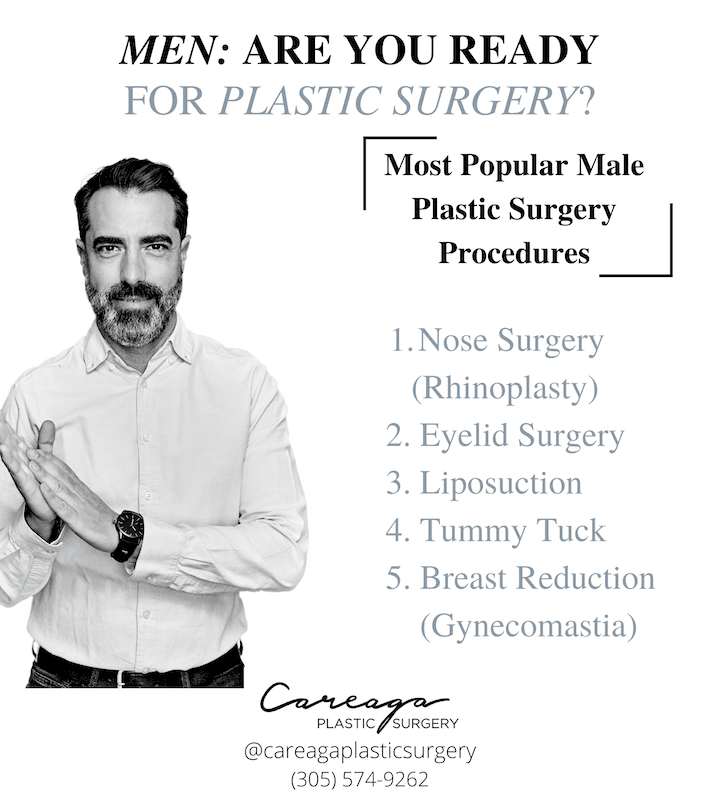 Eyelid surgery (blepharoplasty) is one of the most transformative cosmetic surgeries that you can undergo. 
Many men suffer from excess skin on their eyelids and puffiness around their eyes, which makes them look tired and much older than they are (and definitely older than they feel). 
Eyelid surgery can be performed on the upper eyelid (upper blepharoplasty), lower eyelid (lower blepharoplasty), or a combination of both, depending on the correction needed. Dr. Careaga or Dr. Durand will remove any troublesome excess skin in the eyelids.
Eyelid surgery can let your eyelids and the area around your eyes feel smoother and look more refreshed. 
3.
Liposuction
There are some areas of fat in the body that don't go away, no matter how healthy you eat or how much you exercise. Plastic surgery is the only way to get rid of this kind of fat, and one of the most versatile and effective cosmetic procedures is liposuction surgery. 
Liposuction removes these pockets of stubborn fat from the body, and once the fat is removed, those cells are gone for good. Some of the most common areas for male liposuction are the abdomen, love handles, back, neck, and chin.
For liposuction, a small incision is made in the treatment area. A cannula (a small, thin tube) is inserted through this incision to loosen up the fat. Then, this fat is vacuumed out of the body. Therefore, it is important to choose an experienced plastic surgeon, such as Dr. Careaga and Dr. Durand.
Once your liposuction is complete, you will have a more defined and contoured aesthetic so that you can feel confident walking around without a shirt on and knowing that you're looking good! 
Liposuction can be performed as a standalone procedure or combined with other procedures for a more transformative appearance. 
4.
Tummy Tuck
Many people hear "tummy tuck" and think of female plastic surgery patients after childbirth, but men suffer from excess fat and sagging skin in the midsection, too. 
Whether it be getting rid of a beer gut or trimming up your physique, tummy tuck surgery (abdominoplasty) is the procedure for you.
For a tummy tuck, an incision is made across the waist, just above the pubic area. This incision usually stretches from hip to hip. If there is stubborn subcutaneous fat, then liposuction will be used. Then, Dr. Careaga or Dr. Durand will tighten the abdominal muscles with internal sutures and remove any excess skin. The remaining skin is tightened, and then the incision is closed. The belly button can also be repositioned, if needed.
Your tummy tuck results will leave you feeling more confident than ever. You'll be counting the days until summer so that you can show off your new and defined body at the beach or pool!
5.
Gynecomastia Surgery
Many men suffer from gynecomastia (enlarged male breasts). This condition is linked to a hormone imbalance, which means that your body is sometimes able to balance the levels of testosterone and estrogen. However, when your body isn't able to correct this issue naturally, then gynecomastia surgery is recommended. For your gynecomastia surgery (male breast reduction), breast tissue is removed and reshaped, often with the use of ultrasonic liposuction. 
After your surgery, you can feel proud of your new, contoured chest, which will give you that masculine look you've always wanted. 
Combining Procedures
Many times, men desire a more complete transformation, choosing to combine various procedures. A Daddy Makeover is one of the most popular combination procedures available. 
Rather than a single procedure, Daddy Makeover surgery is a customizable combination of procedures that includes tummy tuck, liposuction, and gynecomastia surgeries. 
Whether you choose a single procedure or a combination of different procedures, you can trust Careaga Plastic Surgery to give you the stunning results you want!
Interested in Learning More About Cosmetic Surgery for Men in Miami?
If you are interested in learning more about how plastic surgery can help you in Miami, Florida, please give us a call at (305) 574-9262 or fill out our online contact form.