What Is a Daddy Makeover?
Posted January 13, 2021 in Daddy Makeover, Male Plastic Surgery
3 Minute Read: 
Full Body Contouring for Men
It may seem like most plastic surgery procedures are targeted specifically for women. You may be familiar with a Mommy Makeover that combines multiple procedures to correct areas of the body affected by childbirth, but have you ever heard of a Daddy Makeover?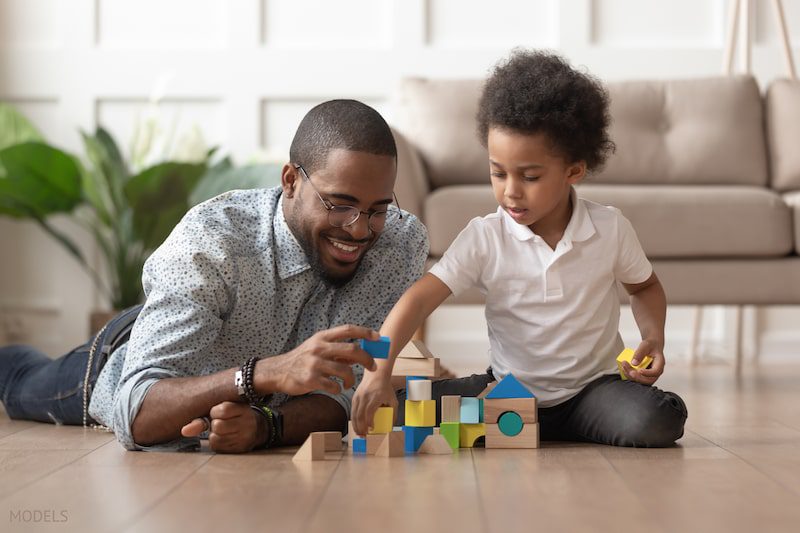 Similar to the Mommy Makeover, a Daddy Makeover combines male plastic surgery procedures to achieve full-body contouring. 
What Procedures Are Included in a Daddy Makeover?
When deciding to undergo a Daddy Makeover, you have many procedural options. 
Tummy Tuck Surgery 
A tummy tuck helps men attain a slimmer, more contoured midsection. Many men experience excess skin—specifically after weight loss—that cannot be removed with diet and exercise alone. Tummy tuck surgery removes excess skin while tightening the abdominal muscles to achieve a stronger, more toned core.
Gynecomastia Surgery 
Gynecomastia is a condition where men develop excess fat and tissue on their chest, giving the appearance of male breasts. Gynecomastia may be the result of weight gain, hormonal changes, or steroid use. Whatever the cause may be, there are options available so that you can achieve the appearance you have always wanted. Gynecomastia often causes emotional and physical discomfort for men. Gynecomastia surgery, or male breast reduction, removes the excess fat and glandular tissue on the chest to provide men with a firm, masculine chest appearance. 
To achieve your ideal results, gynecomastia surgery can be performed using an excision method or liposuction. 
Liposuction
Despite all your diet and exercise efforts, you may still experience excess fat deposits that seem impossible to remove. This can be frustrating because, although you are doing everything right, you cannot achieve the results you desire. 
Liposuction helps remove excess fat from various areas of the body, such as the abdomen, neck, thighs, and knees. Contrary to popular belief, liposuction is not a weight-loss procedure. Before undergoing liposuction, you should be at or near your ideal weight. Liposuction will not necessarily help the number on the scale go down, but it will help remove fatty deposits to provide you a slim, contoured appearance. 
Will My Daddy Makeover Work? 
Understandably, you may be concerned about the efficacy of your Daddy Makeover results. Rest assured, Dr. Careaga and Dr. Durand have been performing these procedures for many years and have seen exceptional results. Many men who undergo a Daddy Makeover are satisfied with their new, more masculine appearance. 
These procedures have been proven to successfully remove unwanted fat and tissue from the body to help remove excess fat and tissue. To see real-life results of Daddy Makeover procedures performed by Careaga Plastic Surgery, please visit our before and after gallery. 
Interested in Learning More? 
If you are interested in learning more about how you can benefit from a Daddy Makeover, please give us a call at (305) 574-9262 or fill out our online contact form.
Careaga Plastic Surgery offers a Daddy Makeover to provide men with a masculine appearance. Dr. Careaga and Dr. Durand are both certified by the American Board of Plastic Surgery (ABPS).