Should I Combine a Breast Lift With My Breast Augmentation?
Posted March 29, 2022 in Breast Augmentation, Breast Lift
4 Minute Read: 
Many women desire large and full breasts that fill out shirts, dresses, and bikinis. We see our favorite celebrities on the screen with that perfect chest contour, and we wonder what that might feel like for ourselves? 
Well, with plastic surgery, the perfect chest aesthetic that you are looking for can be possible. The first question you need to ask yourself is: "When can I make the change I want for my body?" However, the next question you want to ask yourself as you decide to have cosmetic surgery is, "What type of change do I actually want?"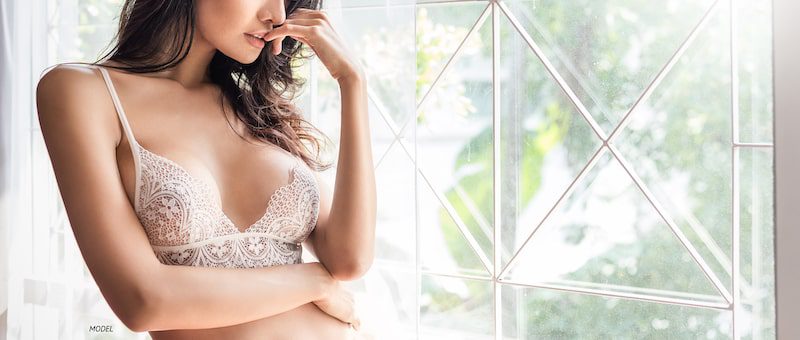 Two of the most common breast procedures are breast augmentation and breast lift surgeries. 
Each is a unique procedure that women can have as a standalone surgery. However, they can also be combined to provide a more complete and dramatic aesthetic transformation if recommended by your plastic surgeon.
Below is some information to help you better understand these procedures and when it might be smart to combine them.
What Is the Difference Between Breast Augmentation and Breast Lift?
When people think of a "boob job," they are generally thinking about breast augmentation surgery, which increases the size, and volume of the breasts using saline implants, silicone implants, or gummy bear implants. 
With breast augmentation surgery, not only are you able to increase the size of your breasts, but you are also able to transform them into the shape you want. This procedure can help correct breast asymmetry, depending on the severity of your asymmetry and desired results.
After your augmentation, your breasts will look and feel closer to how you have always wanted them to be. 
As the name suggests, breast lift surgery (mastopexy) helps lift the breasts to a higher position. As we grow older, our skin begins to sag, and for women, that means our breast skin loosens and sags. The nipples may point downward because of the sagging breasts, and asymmetry can develop. Additionally, many women suffer from discomfort with their sagging breasts, which rub on the skin below their breasts, that may cause a rash to form. 
A breast lift can help correct these issues by lifting the breasts to a perkier and more youthful height.
How Are These Surgeries Performed?
Breast Augmentation
Breast augmentation surgery is usually performed under general anesthesia and it generally takes less than two hours to perform. 
During your consultation, you and either Dr. Careaga or Dr. Durand will choose the right type of implant for you and decide which implant placement is best: submuscular (subpectoral), where the implant sits under the pectoralis muscle, or subglandular, where the implant rests under the breast tissue but over the pectoralis muscle. 
During the surgery, your plastic surgeon will make an incision along the inframammary crease on the underside of your breast and then place the implant. After that, the doctor will close the incisions.
Breast Lift
Breast lift surgery is performed under general anesthesia and can take anywhere from one to several hours to complete, depending on the extent of sagging skin. 
For your breast lift, your plastic surgeon will make incisions. The type of incision used depends on the extent of correction needed. After the incision is made, your plastic surgeon will remove any excess breast tissue and reshape the remaining tissue. 
Additionally, excess skin will be removed, and the nipples will be repositioned. Lastly, the incisions will be closed.
When Should I Combine Procedures?
Some of the most dynamic breast correction results happen when patients combine their breast augmentation and breast lift surgeries. While combining these procedures is not necessary for all patients, combining a lift with augmentation surgery is often a great choice for mothers and weight-loss patients. 
These patients tend to have more significant sagging in the breasts, from either breastfeeding or the amount of weight they lost, respectively. If sagging is severe and a patient only has a breast augmentation, then the results will generally be lackluster, and that is the last thing you want.
Instead, if you have sagging, whether from pregnancy, weight loss, age, or genetics, then combining a breast augmentation and lift will give you the look you've always wanted, and you'll be turning heads in no time!
Have More Questions About Breast Augmentation or Lift in Miami?
If you are interested in learning more about the benefits of combining breast augmentation and breast lift surgeries offered by Careaga Plastic Surgery in Miami, Florida, call us at (305) 960-7511 or fill out our online contact form.