Which Laser Treatments Are the Safest for Darker Skin Tones?
Posted May 25, 2021 in Laser Hair Removal, Laser Treatments
3 Minute Read: 
Some of the patients we see who are considering laser resurfacing or laser hair removal worry that their skin tone isn't a good match for the treatment. 
This is with good reason. 
For decades, women and men with skin of color have been discouraged from using laser treatments since darker skin tones are more prone to hyperpigmentation and skin damage when exposed to injury or inflammation.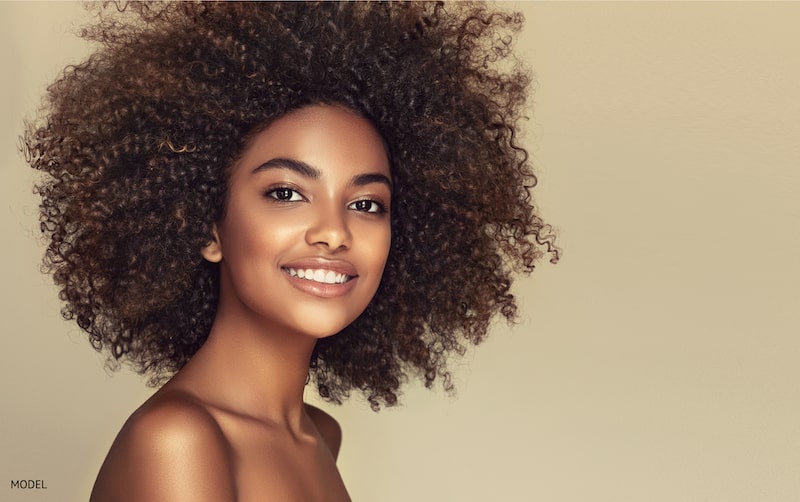 While these concerns may have once been valid, it only applies to the use of outdated laser technologies that were not appropriate for all skin types. These lasers did not differentiate between the melanin in the skin and hair, causing hyperpigmentation or even scarring.
Rest assured, laser therapy has since made significant advancements. Patients can now take advantage of innovative laser technologies that give maximum results with minimal damage to the surrounding skin tissue, especially in individuals with ethnic skin.
What Is the Most Suitable Laser Treatment for Darker Skin Tones?
Currently, the most effective and safest laser for darker skin tones uses Nd: YAG laser technology. 
The wavelength of this laser goes deep into the skin, so it effectively bypasses the pigmentation in the skin. This means that the technology doesn't affect the melanin in your skin or damage the surface layer, making it a safe option for medium to dark skin tones.
Gentle YAG Pro-U
Our Gentle YAG Pro-U is one of the safest hair removal laser systems for darker skin tones as it uses Nd: YAG technology. It is a long-pulsed laser with a weaker melanin absorption rate that safely and permanently reduces hair growth. 
The treatment is painless and features a cooling system for increased comfort.
PiXel8-RF 
While the PiXel8-RF uses radiofrequency energy instead of laser energy, the technologies between the treatments are similar, and they target similar concerns. Both radiofrequency and laser energies focus on treating common signs of aging in the upper layers of skin, such as discoloration, texture concerns, and wrinkles. 
Fortunately, radiofrequency energy, such as that used by the PiXel8-RF, is safe for all skin types, including skin of color. The PiXel8-RF combines fractional bi-polar RF energy with microneedling to improve skin texture, tone, and smoothness.
It should be noted that laser treatment services that use broadband light (BBL) should never be used on darker skin tones, as these can cause post-inflammatory pigmentation.
The Right Expertise
Besides using the most suitable lasers for darker skin tones, it is essential to work with an expert who is knowledgeable in the use of lasers in ethnic skin and understands how treatment modalities can impact the outcome.
The specialists at Careaga Plastic Surgery have that experience.
Your ideal treatment plan may sometimes be a combination of non-surgical therapies to ensure optimal results.
Working with a highly-trained medical professional will help you realize a customized treatment plan designed to safely and effectively deliver optimal results for whichever skin tone you have—from the fairest to the darkest.
Interested in Learning More?
At Careaga Plastic Surgery, we understand that there is no one-size-fits-all when it comes to laser treatment plans. We offer a fantastic range of laser technologies available to help with your skin needs. 
Contact us today at 305-960-7511 or fill our online form to schedule a consultation with our expert skin technicians. We will evaluate your skin and recommend the correct treatment for your skin type.