What Countries Are Leading in Plastic Surgeons?
Posted May 13, 2021 in Plastic Surgery, Plastic Surgery Trends
3 Minute Read: 
Plastic surgery is a worldwide phenomenon, with patients traveling all over the world to get the surgery of their dreams. 
Many countries are known for their expertise in plastic surgery; however, some lead the pack in terms of having the highest number of plastic surgeons.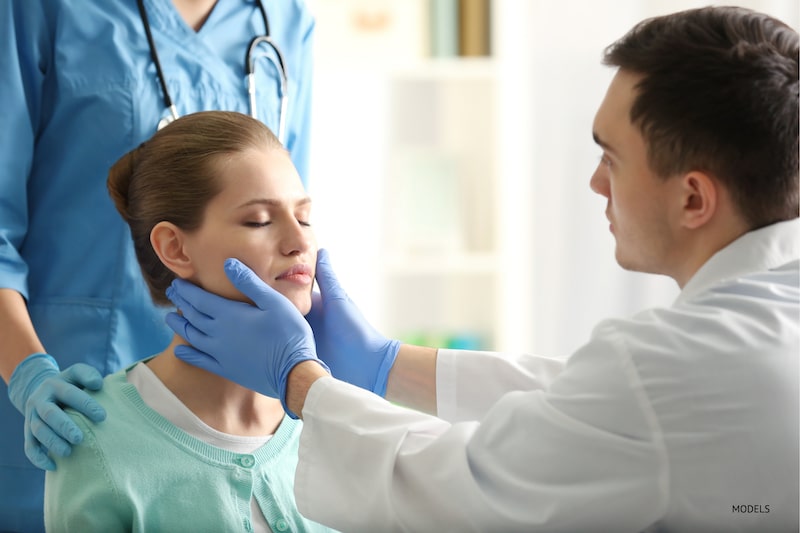 South Korea
South Korea is among the top countries that continue to lead in first-class cosmetic medicine techniques. The country boasts the highest number of cosmetic procedures per capita globally, with many top-ranking plastic surgeons specializing in face and body transformations.
One of the most commonly performed procedures here is double eyelid surgery which inserts a crease in the eyelid to make the eye look bigger and more defined. Other popular procedures include eye revision surgery, liposuction, jaw surgeries, and nose jobs as patients seek to have a more natural, attractive, and healthier appearance.
Brazil
Having plastic surgery in Brazil is quite the norm, so it is not surprising to see it come up among the top countries with the most plastic surgery procedures. Some of the best and most prepared Brazilian plastic surgeons are in Rio de Janeiro. Considering that Brazil exempts plastic surgery procedures from tax, citizens of the middle class can access cosmetic surgery at affordable prices. 
This has also contributed to medical tourism in the country as individuals travel to take advantage of the fairly affordable prices.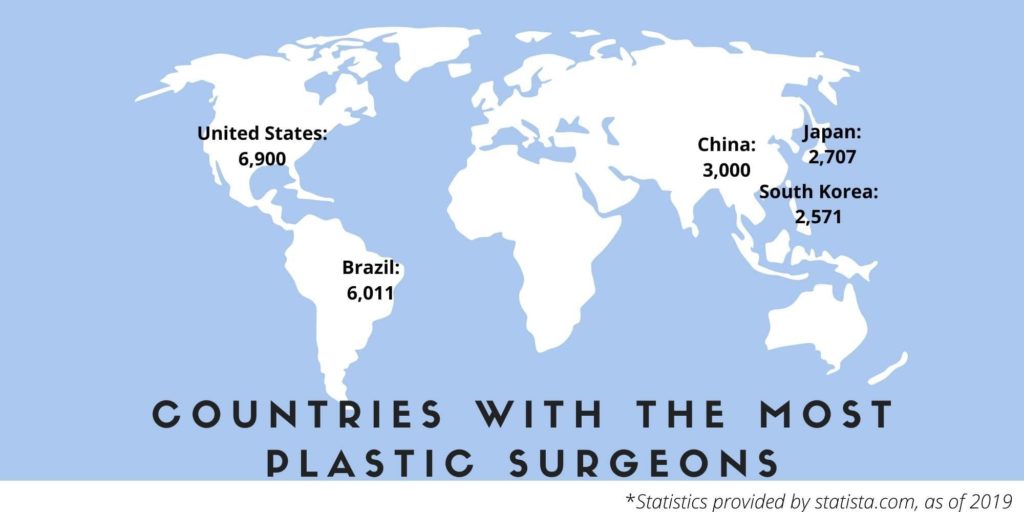 United States of America
Cosmetic plastic surgery has been on a steady rise in the U.S in recent years as technological advancements expand to offer services that are safe for a greater range of people. The growing acceptance to enhance an individual's appearance has also fueled the rise in demand for aesthetic treatments.
As of 2019, there were 6,900 plastic surgeons in the U.S., far more than any other country in the world. According to the Aesthetic Society, in 2020, the most performed surgical procedure was liposuction, with breast augmentation coming in a close second. Other popular procedures include facial plastic surgeries like rhinoplasty (nose surgery) or facelift surgery.
According to new data from the Aesthetic Society, Americans spent over nine billion dollars on surgical and minimally invasive cosmetic procedures in 2020. 
When it comes to the cities with the highest number of plastic surgeons, Miami, Los Angeles, New Orleans, and New York top the list. 
Patients have access to the most talented and highly ranked plastic surgeons with top-quality professional skills in surgical and non-surgical enhancements.
If you are currently considering plastic surgery, the choice of the right plastic surgeon is imperative. Not every surgeon is qualified or experienced in every procedure, so ensure you carefully evaluate your options before you make a choice.
Interested in Learning More About Choosing a Plastic Surgeon in Miami?
Dr. Careaga and Dr. Durand are board-certified plastic surgeons providing advanced and innovative cosmetic surgery and a wide range of non-invasive and minimally invasive procedures in Miami. 
With a delicate approach and advanced techniques, we offer patients the next level of industry excellence and great results. Contact us today at 305-960-7511 or fill our online form to schedule a consultation.