Unhappy With Your Nose Job? Revision Rhinoplasty Can Help
Posted July 05, 2023 in Plastic Surgery, Revision Rhinoplasty
Your rhinoplasty does not have to be "botched" for you to be unhappy with the results. Sometimes the healing process does not go quite right due to not complying with post-operative instructions or unavoidable complications. Or, you may be experiencing disappointment when your results don't match your expectations.
The nose is an important focal point of the face, and alterations can make a huge difference. Sometimes minor tweaks can completely alter your overall appearance, and it's not always good.
The good news is that you're not stuck: with a skilled plastic surgeon's expertise, revision rhinoplasty can repair or improve your nose after an initial rhinoplasty.
How Can Revision Rhinoplasty Help?
Revision rhinoplasty is a secondary nose surgery to finesse or correct previous irregularities. Initial rhinoplasty is a delicate procedure that takes great skill and experience; a revision rhinoplasty is even more complicated, requiring much more skill.
It's important for your plastic surgeon to consider your facial symmetry and structure and the impact that additional changes to your nose will have on the rest of your face.
With revision rhinoplasty, your consultation is key. At Careaga Plastic Surgery, our board-certified plastic surgeon and facial and rhinoplasty specialist Dr. Paul Durand will consider the current appearance of your nose, assess the primary issues, and plan how to make adjustments.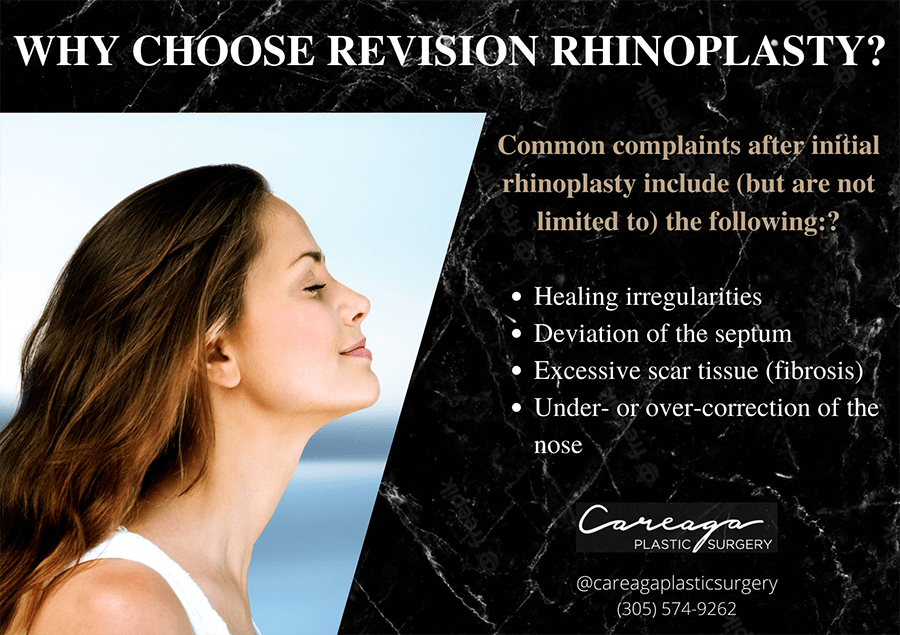 How Does Revision Rhinoplasty Differ?
During initial rhinoplasty, cartilage tissue is often taken from the septum to build up a small nose or better shape the nasal form. Because of this, the septum is no longer a viable option for additional cartilage (which is often needed).
Rib cartilage is commonly used in revision rhinoplasty to provide additional structure, but if that is not an option, a rib allograft (cadaveric material graft) is also possible.
There is no denying that revision rhinoplasty is more complicated than an already complex initial rhinoplasty. This is largely due to the fact that there is more scar tissue. Scar tissue forms after any surgical procedure. Unfortunately, it's unpredictable. Surgeons cannot guess how much scar tissue will form nor where it will form, and it can interfere with secondary surgeries. Because of this, choosing a highly skilled revision rhinoplasty specialist is essential.
Specialists will know how to work with and around scar tissue to give you the best chance of desirable results that meet or exceed your expectations.
Choose Your Revision Rhinoplasty Plastic Surgeon With Care
Deciding to undergo a subsequent rhinoplasty can be intimidating, especially if you have had a negative experience. It can be hard to trust another plastic surgeon, even if the first surgery was performed correctly.
That's why choosing a board-certified plastic surgeon with expert skills in rhinoplasty is important for both the success of your surgery and your emotional well-being. At Careaga Plastic Surgery, Dr. Paul Durand specializes in facial plastic surgery and is highly skilled in revision rhinoplasty.
Who Can Have Revision Rhinoplasty?
While you may be ready to jump back in, revision rhinoplasty is not always an option for patients.
Even if you are unhappy with your previous rhinoplasty, you may not be a candidate. Some aesthetic issues might not be able to be remedied, or sometimes damage may be too extensive to safely proceed with a second procedure.
Additionally, as with any cosmetic procedure, the results are never guaranteed. It is important to go into the revision procedural process with an open mind and moderate expectations.
The good news is that Dr. Durand is highly skilled with revision rhinoplasty and will be able to advise you on the best course of action in your consultation.
Interested in Revision Rhinoplasty in Miami, FL?
To find out if you are a candidate for revision rhinoplasty, call us at (305) 574-9262 or fill out our online contact form.