How Does EMFACE® Reduce Wrinkles and Tighten Facial Skin?
Posted June 28, 2023 in Facial Rejuvenation, Non-surgical Facial Rejuvenation
Wrinkles, skin laxity, and loss of facial definition are some of the most common effects of age. And while there are numerous cosmetic procedures available (both surgical and non-surgical) to combat facial aging, one of the most revolutionary techniques is EMFACE®.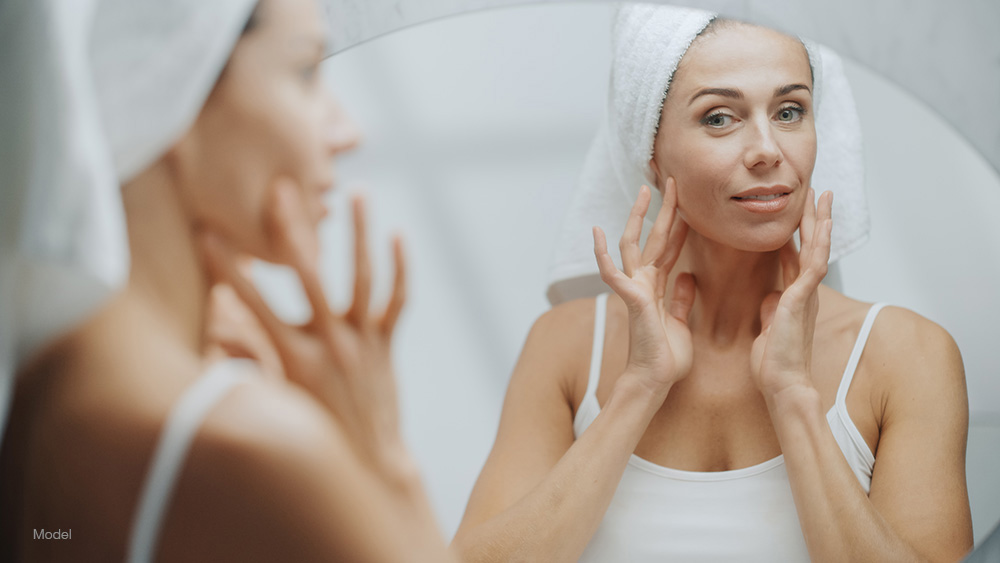 How Does EMFACE® Work?
EMFACE® is a non-invasive procedure that combines radio frequency (RF energy) and electromagnetic stimulation (high-intensity facial electrical stimulation, or HIFES™) to contract and elevate the facial muscles while tightening the skin.
During the EMFACE® treatment session, thousands of electrical pulses are directed at various treatment areas on the face (including the forehead, eyebrows, cheeks, and jawline). These pulses are applied to both major and minor facial muscles (frontalis and zygomaticus), which causes the muscles to contract. This process essentially gives the muscles an intense workout, creating a more defined appearance.
In addition to toned muscles, the radio frequency portion of the treatment heats the underlying tissue to increase the production of collagen and elastin in the skin. Since these proteins are responsible for the health, strength, and elasticity of the skin, you will see less wrinkling and tighter skin after your EMFACE® treatment.
What Are the Benefits of EMFACE®?
EMFACE® treatments can help women and men achieve a more youthful facial appearance by creating smoother, tighter, and wrinkle-free skin. After your treatment, you can look forward to having more defined and elevated muscles to create a sculpted facial aesthetic.
Whether you are looking to improve the overall appearance of your face (by lifting the muscles that support the brows, corner of the mouth, and the lower face) or you want to correct a specific concern (such as the presence of jowls), EMFACE® is a fantastic treatment option.
Why Is EMFACE® a Good Alternative to Other Procedures?
Unlike many other surgical and non-surgical facial procedures, such as facelift surgery, blepharoplasty (eyelid surgery), brow lift surgery (forehead lift), and injectable treatments (dermal fillers and neuromodulators), EMFACE® does not require any downtime. Instead, you can have your EMFACE® treatment performed and continue on with your normal, daily activities immediately. And because EMFACE® only takes 20 minutes to complete, you can get back to your life without missing a beat.
Another reason why many patients choose EMFACE® over other surgical and non-surgical options is that EMFACE® is completely non-invasive and pain free. Rather than needles or surgery, the EMFACE® applicator is placed directly on your skin to shape, contour, lift, and tighten your face so that you can look and feel your absolute best.
Want to Learn More About EMFACE® In Miami, FL?
If you are in or around Coral Gables, Florida, and you are interested in learning more about EMFACE®, then call Careaga Plastic Surgery at (305) 574-9262 or fill out our online contact form to learn more.