4 Facts to Help You Choose Between Saline and Silicone Breast Implants
Posted January 31, 2023 in Breast Augmentation
4 Minute Read:
Dissatisfaction with having small breasts pushes women of all ages and lifestyles to consider breast enhancement surgery. After all, push-up bras and padding can only do so much to increase your bust size. Because of this, breast augmentation continues to be one of the most popular plastic surgery procedures in the world.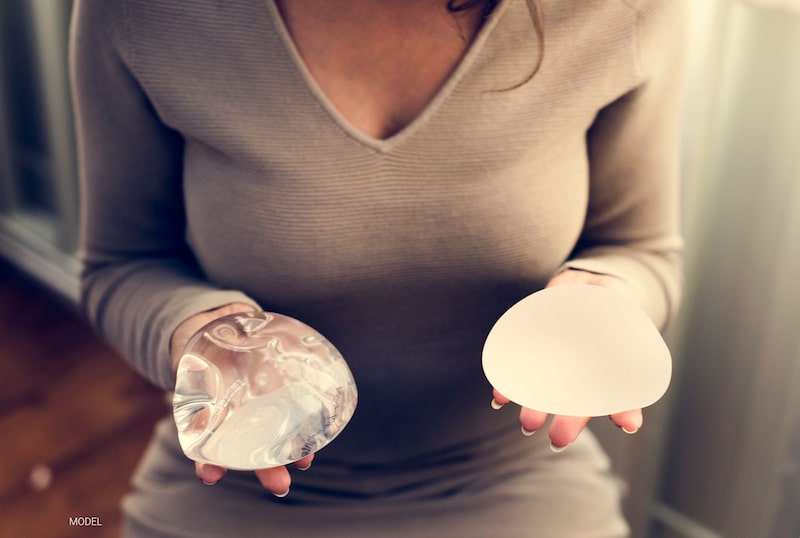 If you are considering a breast size increase, you face several decisions, including:
How large do you want your breasts to be?
Is it better to choose a gummy bear breast implant or a silicone implant?
Do you also need a breast lift?
All of these are great questions to review with your Miami board-certified plastic surgeon during your consultation. But, one of the most important questions (not listed above) is do you want saline or silicone breast implants?
Breast implants are widely available in both materials, and like anything, they both have their pros and cons. Because of that, there is no universal "best breast implant" or "better breast implant." Instead, there is the "right implant for your body."
To get a head start on your options, the following five facts about silicone and saline breast implants can help you understand their differences (and what appeals most to you).
The final decision will be made after you have had a chance to discuss the specifics with Dr. Careaga or Dr. Durand before your Miami breast augmentation.
1. Breast Implant Cost
When planning for plastic surgery, cost is always a consideration. Implants vary widely in price; however, the choice to get breast augmentation is significant as the results are long lasting. It is more important to choose the implant you want and the one that will work with your body than it is to choose the "cheapest price."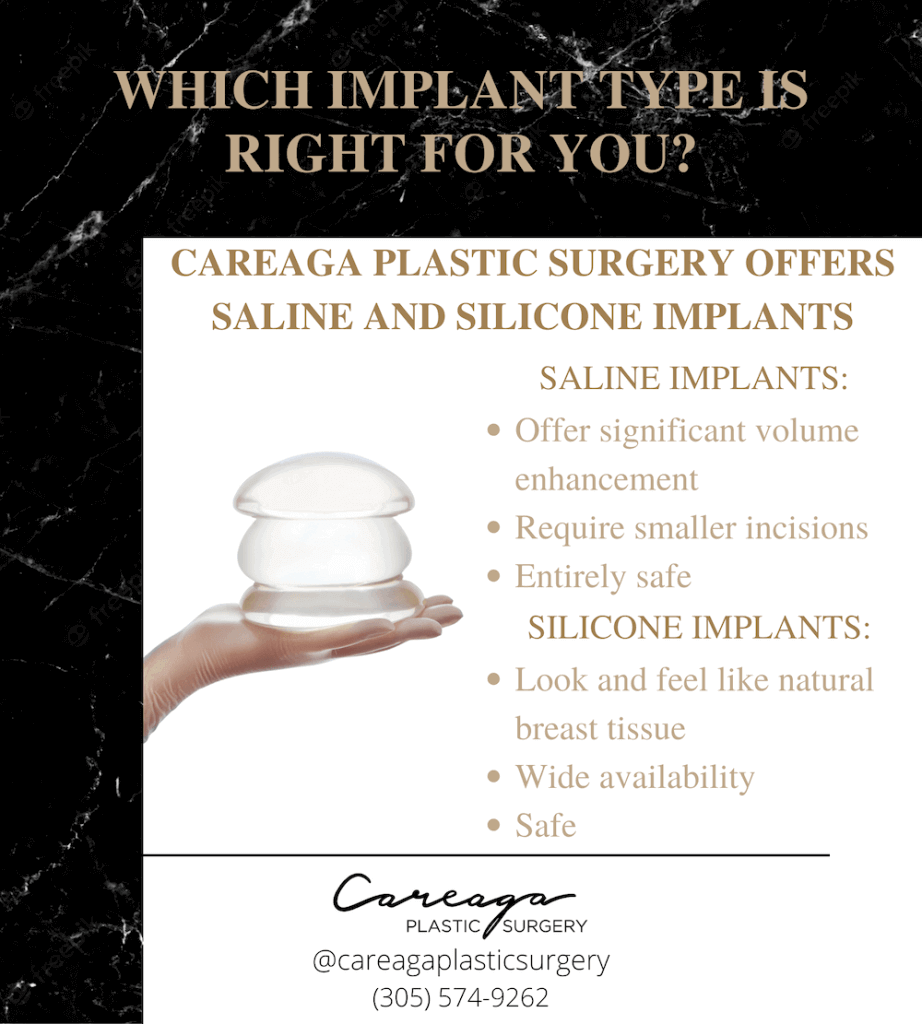 Saline implants are less expensive than silicone but may not look as natural and can sometimes ripple, becoming visible under the breast skin (especially when there is little natural breast tissue).
Silicone implants are more expensive but are not prone to rippling and typically appear more like natural breasts. Maintenance costs are also higher since an MRI is required periodically to check for silent implant ruptures.
2. Creating a Natural Breast Contour
Saline implants often provide more dramatic cleavage and have more projection than silicone. Because of the risk of rippling, they are not recommended for women with very small breasts unless placed under the muscle. Placing saline breast implants under the chest muscle can also help provide a more natural breast appearance.
Silicone implants are known to better replicate the look and feel of natural breast contours when placed above or below the chest muscle and often work better when less breast tissue exists.
3. Breast Implant Complications
Breast implants are incredibly durable and are expected to last for many years — if not longer. However, there is still a possibility that the implant might eventually rupture, requiring a revision breast procedure.
Saline breast implants are more likely to rupture than silicone, but if a tear does occur, the breast will flatten, making the rupture obvious. No health risks are associated with a leaking saline breast implant because the body absorbs the saline and processes from the body naturally.
Silicone implants require MRI imaging to detect ruptures, which are recommended every two years or when a rupture is suspected. Silicone implants are filled with a cohesive gel that resists leaking, so the silicone should remain in the implant shell.
4. Age of Breast Augmentation Patient
Many young women want to get breast augmentation as soon as possible. However, the younger you are, the more limited you may be with your implant options.
Saline breast implants are FDA approved for patients 18 and older.
Silicone breast implants are FDA approved for patients 22 and older.
Ask a Miami, Florida, Breast Augmentation Specialist
The highly respected plastic surgeons at Careaga Plastic Surgery in Miami, Florida, can help you navigate all your breast implant options, including material, incision, and placement.
Careaga Plastic Surgery is equipped with the Crisalix 3D virtual reality simulator, so you can try different breast augmentation options to clearly see which will best meet your needs.
Call our Coral Gables office at (305) 615-4987 to schedule your breast augmentation consultation today!