Laser Hair Removal Treatments – Miami Depilation
Posted March 07, 2014 in Plastic Surgery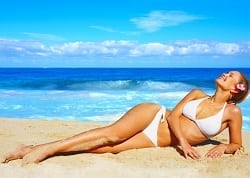 Laser hair removal treatments are a high-tech method of getting rid of unwanted hairs efficiently and cleanly.
Note that laser hair removal treatments may not be advised for those patients who have darker skin tones. The laser's energy targets and damages the melanin in cells, which is particularly effective on dark hairs but can also affect the pigment in skin.
Lighter skin tone, on the other hand, allows more of the laser energy to pass through the skin, making it easier to remove hair at the root. Want to find out more about laser hair removal treatments? Set up an appointment with our office! Dr. Daniel Careaga, a board-certified plastic surgeon, will answer any questions you may have. Contact us today!