Hair Removal – Laser Depilation Treatments Miami
Posted April 11, 2014 in Plastic Surgery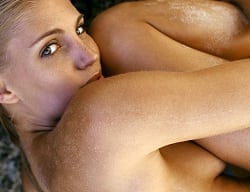 Beach season's not far away, and if you want to show off some skin, you'll first need to do some plucking. Or waxing. Or any of the other hair removal methods that you're dreading. Or this year, you could try a better way: laser hair removal! This high-tech depilatory option will get rid of your excess hair and make sure it doesn't return.
The targeted area or areas may be mildly irritated for up to two days following the laser hair removal treatment. The skin may also have a slightly sunburned appearance. Various topical creams and ice packs can be used to return the skin to its normal appearance and soothe any discomfort.
Your skin will be looking smooth and hair-free in no time with the help of laser hair removal from Dr. Daniel Careaga. Dr. Careaga is a skilled surgeon in the Miami area and has a great deal of experience with aesthetic procedures. To arrange an appointment with Dr. Careaga, contact us and set up a date and time.