How Is the Daddy Makeover a Response to the Mommy Makeover?
Posted July 08, 2020 in Male Plastic Surgery
3 Minute Read: 
Even though fathers do not experience the rigors of childbirth as mothers do, they still often experience physical changes after becoming a father. Having children and a spouse to care for may not leave time for some dads to hit the gym and maintain their fabulous pre-parenthood bodies. A Daddy Makeover—similar to a Mommy Makeover—can help you improve your body and increase your confidence.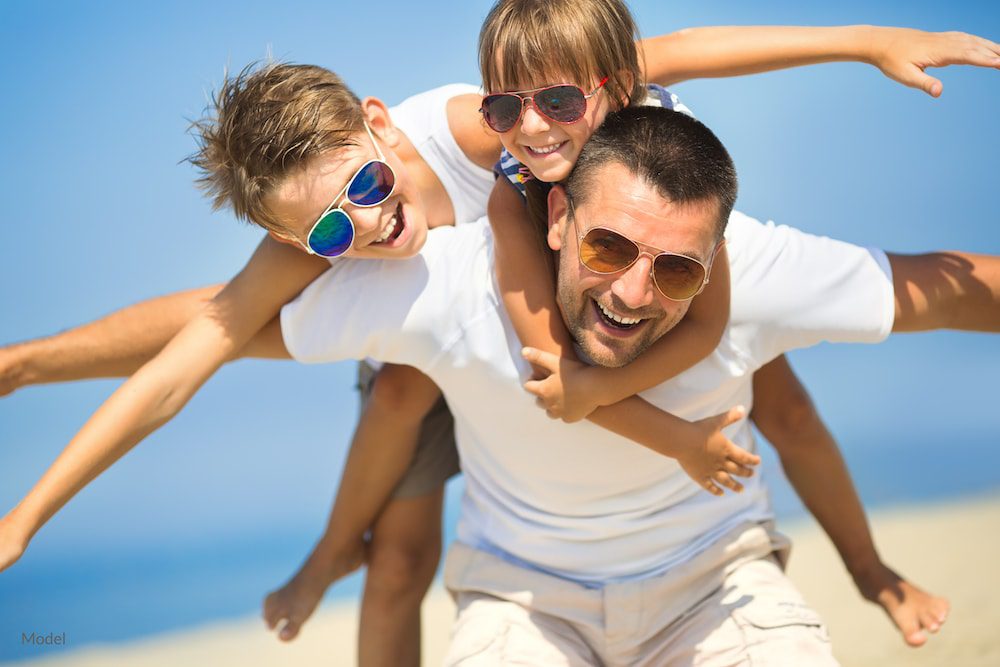 Why Do New Dads Gain Weight?
If you are a new dad, chances are you don't have as much free time as you did before your baby came along. This can lead to unhealthy habits that cause unwanted weight gain, such as:
Eating unhealthy food due to the time crunch

Skipping exercise to spend more time with your growing family

Sleeping poorly due to late-night feedings
No worries, the surgeons at Careaga Plastic Surgery can help you restore your masculine physique.
How Can I Get Rid of the Dad Bod?
Like women, many men tend to gain a little extra cushion around the midsection following parenthood.
Male Tummy Tuck
According to the American Society of Plastic Surgeons, men now account for four percent of all tummy tuck surgeries. After your family welcomes a new baby, you may start to collect fat around your midsection. This is one of the hardest areas to tone with diet and exercise.
A tummy tuck trims away loose skin, eliminates some of the fatty deposits, tightens abdominal muscles, and reduces stretch marks (if they are on the skin that is removed). This surgery requires an incision that runs from hip bone to hip bone, but it results in a flatter, trimmer, and more defined stomach area. 
You can also opt for a mini-tummy tuck for the lower abdomen.
Liposuction
Many men suffer from unwanted fat pockets in the waist (love handles). These pesky pockets tend to be visible in most styles of clothing, especially in slim-fitting shirts. While tummy tuck surgery removes excess skin on the abdomen, it doesn't address the waist unless liposuction is performed in combination. 
Liposuction removes a portion of the fat cells in love handles, resulting in a smoother, flatter oblique section.
Gynecomastia Surgery
If you have excess breast tissue and chest fat following rapid weight loss or weight gain, you may have physical and psychological discomfort. Gynecomastia surgery (male breast reduction) can rid your chest of excess skin and fat, creating a more masculine contour.
During this surgery, your surgeon will remove dense fibrous tissue and fat around the chest through a combination of liposuction and excision methods.
Combined Procedures
When you combine surgical procedures, you shorten the overall recovery period and fast-track your Daddy Makeover considerably. Traditionally, total recovery time for combined body contouring procedures is four to six weeks, depending on how your body heals.
Don't Forget About Facial Enhancement
Fatherhood often comes sleeping less and stressing more. These two factors can wreak havoc on your youthful facial contours, such as the area around your eyes or midface. 
Male eyelid surgery (blepharoplasty) and male facelift surgery can help eliminate the tell-tale signs of sleeplessness and stress and restore your skin to the taut youthfulness of your pre-daddy days.
While facial enhancement cannot be performed at the same time as a body contouring procedure, the combination of these techniques can help keep you looking fit and youthful when running around with your kids. 
Interested in Learning More?
To find out more about how you can customize your Daddy Makeover, contact Careaga Cosmetic Surgery by calling (305) 960-7511 or by filling out our online contact form.