Five Areas That Can Benefit From Liposuction With Renuvion®
Posted October 02, 2023 in Plastic Surgery
Liposuction is the number one most requested cosmetic surgery in the U.S., with over 325,000 procedures performed in 2022. Its popularity continues to rise, especially as new techniques and innovations make the body contouring process even more effective.
The board-certified surgeons at Careaga Plastic Surgery pride themselves on staying on the cutting edge of advancements in cosmetic surgery. They're committed to continuing education and training on devices whose capabilities benefit patients and promise stunning results. One of the newest innovations in body contouring is Renuvion®, an FDA-cleared device used with liposuction to smooth and tighten lax skin.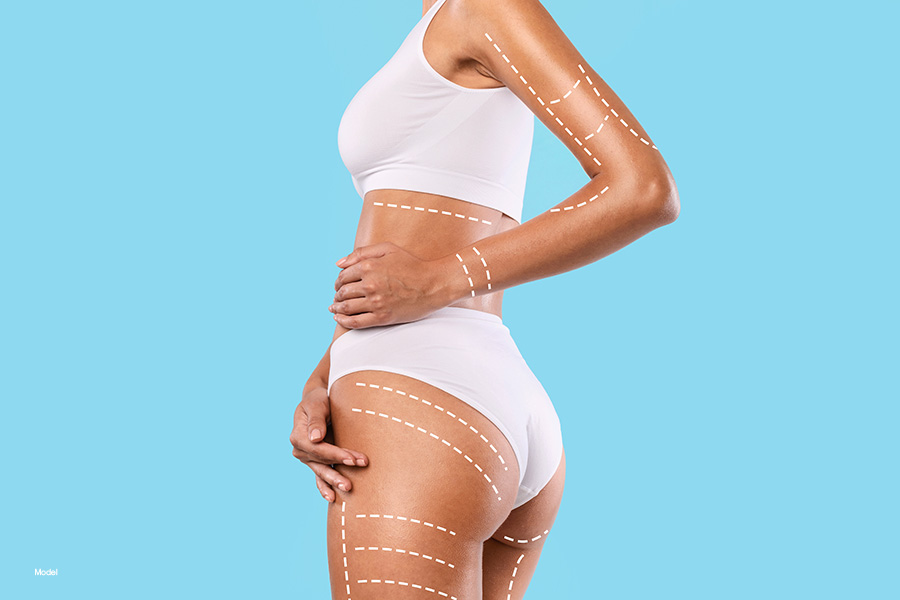 How Does Renuvion® Work?
Renuvion® utilizes a combination of radiofrequency energy (RF) and helium plasma. The RF energy heats the tissues in the area, while the helium plasma provides simultaneous cooling to target the RF energy more precisely. The heat from the RF energy causes the collagen fibers in the skin to contract, tightening and smoothing away laxity and wrinkles. Renuvion® also activates neocollagenesis, which boosts collagen production, so your results continue to shine.
Will Renuvion® Optimize My Liposuction Results?
One of the common issues with liposuction is that it only removes fat; it doesn't tighten the skin. As a result, you may notice that the skin around the treatment area is looser than before. Adding Renuvion® to your liposuction surgery can enhance your liposuction outcome, eradicating pesky fat and tightening your skin in one treatment to make your newly toned contour more visible.
Areas That Can Benefit From Liposuction With Renuvion®
Since Renuvion® tightens your skin, it also eliminates the need to undergo a skin tightening procedure like a tummy tuck, thigh or arm lift, or neck lift after liposuction. Some areas that can benefit from liposuction with Renuvion® include:
Abdomen
If you have loose or droopy skin on your stomach, Renuvion® is the solution. Unlike a tummy tuck, Renuvion® is minimally invasive, requiring no deep incisions and virtually no downtime for recovery.
Waist
Using Renuvion® to tighten the skin on your waist after liposuction will also give you a more "snatched" figure, enhancing your liposuction results.
Thighs
If you undergo liposuction to reduce fat on the insides of your thighs, no amount of inner thigh workouts will help firm up any loose skin. Renuvion® saves you from hours of frustration in the gym by tightening your skin and giving your thighs a new look.
Arms
No one wants the dreaded "bat wings" under their arms after liposuction, so consider adding Renuvion® to your arm contouring procedure. Show off those toned triceps and wave to your neighbors without shame after Renuvion®.
Neck
If you have excess fat on your neck or under your chin (submental fat), Renuvion® is an excellent option for tightening your skin after liposuction. Renuvion® is the only device that has been FDA-cleared for tightening and improving the appearance of loose skin under the chin and neck.
Remember that Renuvion® provides the most favorable results for patients with mild to moderate skin laxity.
When Will I See Results After Liposuction With Renuvion®?
Although you will experience some swelling from liposuction, you can see the Renuvion® skin tightening results almost immediately. Your complete liposuction with Renuvion® results will be visible within 1-3 months, but you may notice your skin continuing to improve for up to nine months after your procedure. An additional advantage to Renuvion® is that you only need one treatment to see optimal results.
Learn More About Liposuction With Renuvion® in Coral Gables
If you've been thinking about liposuction but weren't sure about the potential for sagging skin after your procedure, Renuvion® is the answer. Schedule a consultation with one of the skilled surgeons at Careaga Plastic Surgery to learn more about Renuvion® and discover if it's right for you by calling 305-574-9262 or filling out our online contact form.