Dr. Careaga and Dr. Durand's Approved Skin Care and Rejuvenation Treatments
Posted September 08, 2022 in Skin Care, Skin Health
3 Minute Read: 
There are many non-surgical cosmetic and skin rejuvenation treatments available, some more effective than others. This is why it's wise to look for treatments recommended by a board-certified plastic surgeon. 
Dr. Daniel Careaga and Dr. Paul Durand are well-respected board-certified plastic surgeons who recommend a wide variety of approved non-surgical treatments offered at Careaga Plastic Surgery in Miami, Florida. 
Top 11 Ways to Improve Your Facial Skin With or Without a Facelift
There may come a time when facial plastic surgery (like a facelift) is the best way to address your facial aging concerns; however, even facial plastic surgery doesn't address your complexion. These procedures are intended to tighten and lift the skin and underlying tissues, not improve the tone or texture of the skin.
Therefore, additional skin treatments are needed for truly transformative results. And even if you are not ready for or wanting a facelift, skin treatments can refresh your complexion, leaving you with glowing, healthy skin. 
The following treatments can effectively improve the condition of your facial skin and help delay certain signs of aging: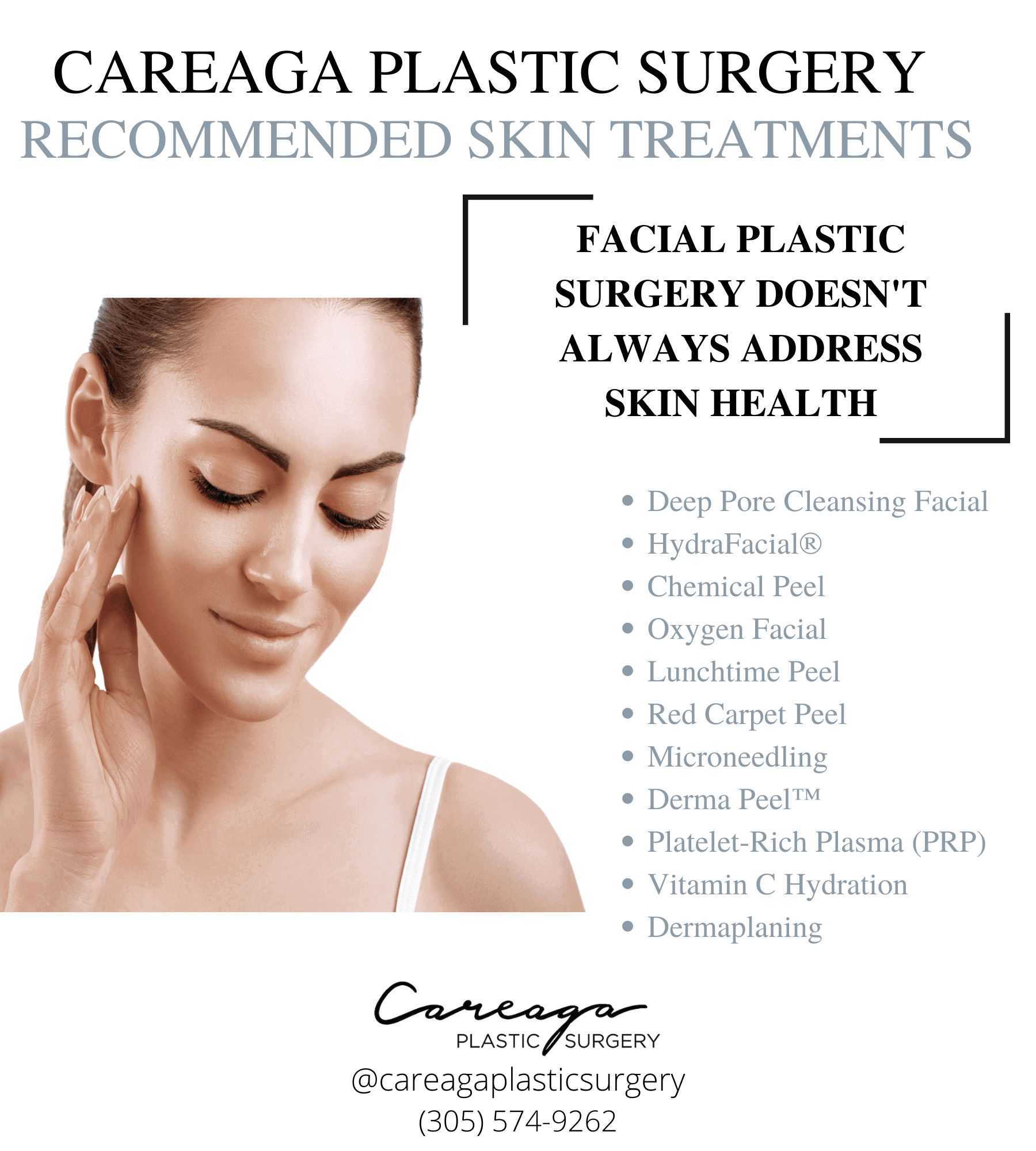 1. Deep Pore Cleansing Facial
This manual exfoliation treatment targets clogged pores, blackheads, pimples, and milia while detoxing, balancing, and brightening your skin. 
This facial uses advanced extraction techniques and can be followed by sulfur medication masks or acne peels which purify pores and absorb excess oil.
2. HydraFacial®
A fresh layer of glowing skin is revealed by using gentle exfoliation and extraction before super serums, including antioxidants and peptides, are applied to relax and resurface skin. 
3. Chemical Peel
Hyperpigmentation, sun damage, clogged pores, fine lines, and wrinkles can all be addressed with medical-grade peels. This treatment can be tailored to your skin's superficial or deep correction needs.
4. Oxygen Facial
This calming and cooling facial uses a stream of high-pressurized oxygen infused with nutrients, botanicals, vitamins, and minerals to deliver intense hydration and reduce visible signs of aging.
5. Lunchtime Peel 
This mini peel exfoliates deeply for a face that looks bright and healthy. This is an excellent option for those without the time for a more intensive skin resurfacing procedure.
6. Red Carpet Peel
This chemical peel is designed to prepare you for a special occasion by cleansing, detoxifying, hydrating, and lifting your skin for instant facial rejuvenation.
7. Microneedling
This highly effective, minimally invasive procedure stimulates a natural healing response by using microscopic needles to create superficial wounds. These micro-injuries stimulate collagen and elastin production to improve skin tone and texture and reduce facial scars.
8. Medical Microdermabrasion/Derma Peel™
This deep exfoliation technique uses crystal-free, medical-grade microdermabrasion to make skin brighter, softer, and more vibrant. It boasts a high patient satisfaction rate by improving the overall condition of facial skin.
9. Platelet-Rich Plasma (PRP)
This minimally invasive treatment uses your own plasma and its healing properties to improve hyperpigmentation, dark under-eye circles, wrinkles, fine lines, and skin texture. PRP can be used by itself or in combination with microneedling.
10. Vitamin C Hydration
This vitamin C treatment provides immediate hydration, brightening, and a radiant glow.
11. Dermaplaning
This tried and true procedure is a safe and straightforward exfoliating treatment that targets the epidermis, ridding facial skin of all its layers of dead skin (and unwanted peach fuzz) and preparing it to receive hydrating products.
Finding the Most Effective Skin Care Treatments in Miami, FL
Careaga Plastic Surgery is committed to providing beneficial skin treatments to its patients and welcomes you to call our Coral Gables office to learn more or schedule an in-depth consultation. 
You can also reach us online by scrolling down to our contact form.