Does Cellulaze™ Really Work? The First FDA-Approved Laser for Cellulite
Posted January 05, 2021 in Cellulite Treatment
2 Minute Read: 
Cellulite is a common aesthetic concern for many men and women. Patients often come into Careaga Plastic Surgery wondering what their options are for eliminating the appearance of cellulite to achieve a firm, smooth appearance. Cellulite is often associated with those who are overweight. However, this is a common misconception. Cellulite can occur on anyone whether they are overweight, at their ideal weight, or underweight.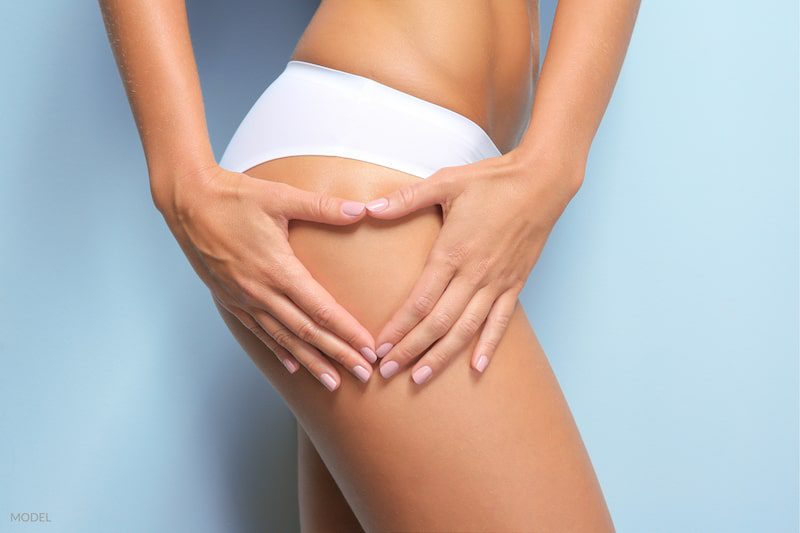 Cellulaze™ is an FDA-approved laser that eliminates cellulite by targeting the causes of cellulite underneath the skin. 
How Long Does Cellulaze™ Last? 
Cellulaze™ results are permanent and only take one treatment session to achieve. Results will usually begin to appear three to six months after your treatment. However, the full results may take one year to be fully visible. 
For optimal results, you will be provided with a compression garment to wear over the treatment sites for two weeks. To keep your results fresh and new, you should maintain a healthy lifestyle by eating right and exercising. 
Is Cellulaze™ Really Effective? 
Unlike other cellulite treatments, Cellulaze™ attacks the structural problems beneath the skin that cause cellulite. Cellulaze™ is the only cellulite treatment that treats the fibrous bands beneath the skin while thickening and adding elasticity to the skin. It is clinically proven and FDA approved to significantly reduce the appearance of cellulite on various areas of the body, such as the thighs, hips, buttocks, and abdomen. 
How Does Cellulaze™ Work? 
At the beginning of your Cellulaze™ treatment, you will be given a numbing injection and oral sedation to ensure you do not feel any pain. Your specialist at Careaga Plastic Surgery will make tiny incisions and insert the Cellulaze™ laser. The laser technology will deliver energy directly under the skin to increase the thickness and quality of your skin. The laser energy releases the fibrous bands that pull the skin down and create the appearance of cellulite. The Cellulaze™ laser is then used to reduce the lumpy deposits of fat under the skin to provide a smooth, firm appearance. 
How Is Cellulaze™ Different From Other Treatments For Cellulite? 
Most cellulite treatments are temporary and involve massaging the skin to create a firmer appearance. Cellulaze™ is different from other cellulite treatments because it focuses on the underlying causes of cellulite. Unless the causes of cellulite are addressed during your treatment, your results will not be long lasting. 
Interested in Learning More About Cellulaze™ in Miami?
If you are interested in learning more about how you can benefit from the Cellulaze™ treatment in Miami, Florida, please give us a call at (305) 960-7511 or fill out our online contact form.