6 Liposuction Treatment Areas That Will Leave You Smiling
Posted January 30, 2020 in Liposuction
6 Minute Read
Table of Contents
What Are the Best Liposuction Treatment Areas?
What Can I Do With This Removed Fat?
What If I Have Loose Skin After Liposuction?
Why Should I Choose Careaga Plastic Surgery?
How Can I Learn More About Liposuction?
This time of year, many women and men are considering new ways to trim and tone their physiques, whether they are starting diets or trying to make the most out of their gym memberships.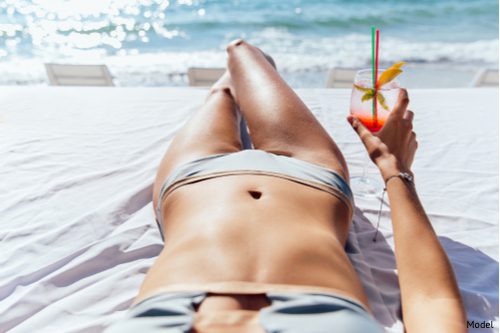 While these practices are essential to a healthy lifestyle, they are not always powerful enough to achieve the body contouring results you desire. Unfortunately, not all fatty deposits are the same, and some do not respond to diet and exercise the way you want them to.
Cosmetic body contouring surgery with liposuction can improve those stubborn areas by targeting and removing diet- and exercise-resistant fat pockets.
How Does Liposuction Work?
Liposuction enhances the shape and definition of the body by selectively removing fat cells from specific regions of your physique.
This surgery requires small incisions to be made near the treatment area(s), through which a small cannula (a thin, hollow tube) is inserted beneath the skin. This tube targets and breaks up the fat cells with the assistance of tumescent fluid (traditional liposuction), ultrasound energy combined with ultrasonic waves (ultrasonic liposuction), or laser energy (Smartlipo®).
Once the fat cells have been separated from the muscles and surrounding tissues, they are suctioned out through the cannula.
Careaga Plastic Surgery offers:
Is Liposuction Right for Me?
We understand the frustration of being unable to achieve your desired body contours.
Liposuction is designed for women and men who have tried to lose their fatty deposits naturally but have been unable to do so. The best results are seen with patients who are near to their ideal weight and have proven to be able to maintain a stable weight.
Liposuction is not ideal for patients hoping to lose a large amount of weight. This is a body sculpting procedure, not a weight loss procedure. 
Even at its highest, liposuction can only remove up to five liters of fat cells, which equals about 10 to 12 pounds—or one clothing size.
Even though this amount of fat can be removed safely, it is not always recommended to eliminate that much. Your current weight and BMI (body mass index) will impact the amount of fat that can be removed. You can discuss all of your liposuction options with Dr. Careaga or Dr. Durand during your consultation.
What Are the Best Liposuction Treatment Areas?
Liposuction can be performed nearly anywhere on the body that is obstructed by the presence of unwanted fat.
The most common areas for liposuction include the:
Abdomen
Excess fat pockets gather on the abdomen after weight gain, pregnancy, or the aging process. These fatty deposits result in a pooched stomach appearance and can make some women and men feel self-conscious about wearing bathing suits or form-fitting clothing.
The abdomen is one of the most common treatment areas for liposuction. Liposuction removes fat cells from the lower and upper stomach to create a slimmer and more toned midsection.
Waist
While it is more commonly associated with men, both men and women can develop love handles, and despite their affectionate name, there is nothing desirable about them.
Love handles protrude above waistbands and obscure the smooth contours of the waist. Liposuction removes excess fat to restore an hourglass shape for women and an athletic physique for men.
Thighs
Saddlebags collect at the top of women's thighs and are often worsened by sedentary lifestyles.
Liposuction targets excess fat pockets on the outer and inner thighs.
Liposuction on this area reduces the circumference of the thighs and increases your clothing options.
Neck
Excess fat develops under the chin with age and weight fluctuations. These small deposits can result in the appearance of a double chin, which not only obstructs an angular jawline but also makes your face appear more round.
By undergoing liposuction on the neck, you can restore more angular jawline features that will make you appear younger and more fit.
Back
Many women develop excess pockets of back fat that bulge out around their bra bands. While this fat may not seem like much when you are not wearing a bra, the pressure of the band can create an indentation that shows when wearing shirts or dresses.
Liposuction of the back lessens or eliminates the bra fat roll so that your bra remains flat with your natural back contour.
Upper Arms
Many aging women experience excess pockets of fat on the upper arms that are notoriously difficult to tone with exercise.
Liposuction removes fat from the upper arms, which reduces the circumference and gives the appearance of a more muscular arm.
What Can I Do With the Fat Removed With Liposuction?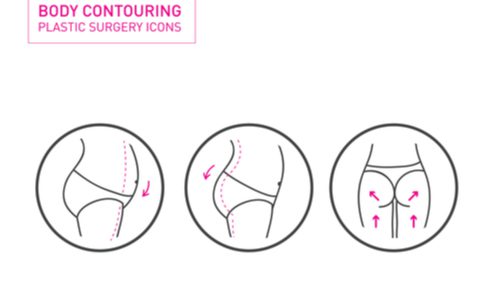 While some patients wish to be rid of their excess fat forever, others see the benefit of using this removed fat to create contour in other areas of the body, such as the hips or buttocks.
The Brazilian Butt Lift is one of the ways that you can put your unwanted fat to good use. The Brazilian Butt Lift is a buttock augmentation technique that injects your harvested fat back into various regions of the buttocks.
These fat transfer injections enhance shape and volume, and in doing so, provide a subtle or dramatic "lift" to the derrière.
What If I Have Loose Skin After Liposuction?
Liposuction only removes excess fat cells; it does not remove or tighten loose or sagging skin. Individuals with excess skin may benefit from combining their liposuction with a skin tightening procedure.
This can be accomplished both surgically or through minimally invasive techniques.
Tummy tuck surgery eliminates sagging or hanging skin on the abdomen while repairing separated abdominal muscles.
Renuvion® is a minimally invasive skin tightening treatment that targets loose skin on the abdomen, face, or other parts of the body.
Why Should I Choose Careaga Plastic Surgery?
Careaga Plastic Surgery uses state-of-the-art technology to provide safe and stunning physical transformations. Whether you are looking to remove your fat cells or augment your backside, liposuction with or without a Brazilian Butt Lift At Careaga Plastic Surgery can achieve your body contouring wishes.
Dr. Careaga and Dr. Durand have years of experience in body enhancement procedures and look forward to helping you achieve your goals.
How Can I Learn More About Liposuction in Miami?
To learn more about liposuction or to set up a consultation, contact Careaga Plastic Surgery by calling (305) 574-9262 or by filling out our online contact form.