Will I Need a Breast Lift After Implant Removal?
Posted February 01, 2021 in Breast Implant Removal, Breast Lift
2 Minute Read: 
Women who had large breast implants or implants for long periods may discover that their breasts sag once the implants are gone. Fortunately, breast lift surgery is an effective surgery to restore breast shape after implant removal.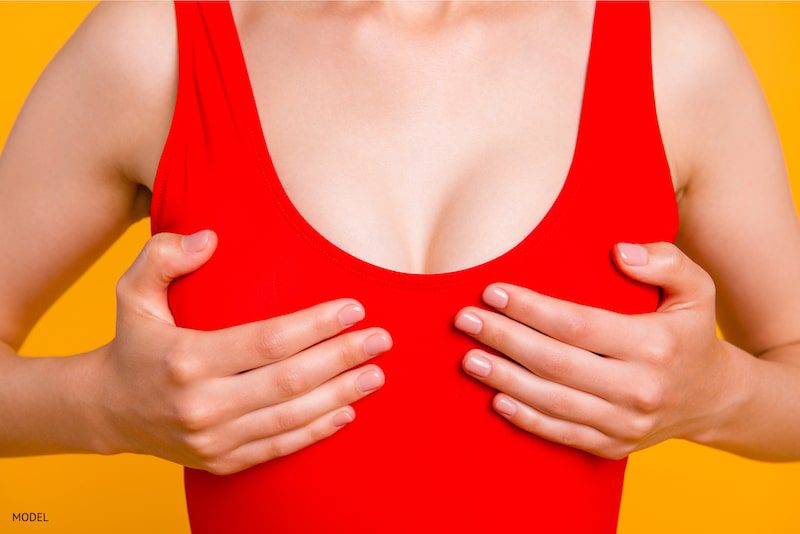 Breast lift surgery (mastopexy) is commonly combined with breast implant removal to reposition sagging breasts and address weakened breast tissue and skin. 
For patients who do not wish to lose the attractiveness of their breasts after implant removal, a breast lift can restore a natural and perky appearance.
Why Do I Need Breast Implant Removal?
A woman may consider breast implant removal for various reasons. Some patients have breast implants experiencing wear from several years of use, while other patients develop implant complications weeks or months after placement.  
Here are some reasons why you may require breast implant removal:
Capsular contracture

: Develops when the surrounding scar tissue contracts and squeezes the implant. 
Breast implant rupture

: Occurs when a faulty implant or older implant develops a puncture/tear. This may occur from a sudden impact.  
Desire to restore natural aesthetic

: Occurs when women are no longer happy with

their breast augmentation

results and wish to return to their natural aesthetic. Implants could clash with beauty ideals or interfere with day-to-day activities. Some women who still desire augmentation decide to change the size or specifications of their implants.
How Will My Breasts Change After Implant Removal?
Your breasts may appear deflated, droopy, or misshapen after implant removal. This is because the surrounding breast skin and tissue stretch to adapt to the breast implants. When the implants are removed, the skin and tissue do not always shrink to the natural breast shape.
This is more prevalent with large implants or implants that were in place for several years. 
Breast implant removal may also include removing scar tissue, which could result in an altered breast shape. 
How Will My Breasts Change After a Breast Lift With Implant Removal?
A breast lift is an excellent procedure to combine with your breast implant removal to ensure your breasts maintain a youthful and attractive appearance. A breast lift eliminates excess skin and tightens the remaining tissue to provide better support. 
Your surgeon will elevate and reshape the underlying breast tissue to improve breast contour and firmness. The nipple and areola can also be relocated to a more youthful position and projection. If necessary, excess skin is eliminated around the perimeter of enlarged areolas to normalize their shape and size. 
Want to Learn More About Breast Implant Removal in Miami?
If you are interested in learning more about breast implant removal, breast lift, or other breast enhancement surgeries offered by the board-certified plastic surgeons at Careaga Plastic Surgery in Miami, Florida, call us at (305) 574-9262 or fill out our online contact form.