What to Expect From Laser Hair Removal
Posted September 21, 2018 in Laser Hair Removal
Miami is known for its beautiful weather, and almost every day is a good day to go to the beach and show off your bikini body. If you are wanting to expose some skin to beat the heat, you will likely want to prepare with hair removal techniques. Many patients dread the thought of plucking, waxing, shaving, and other at-home depilatory treatments that tend to be painful as well as time-consuming. That bothersome and unsightly hair is not going anywhere in the long run if all you are doing to achieve bare, silky skin is repetitive, uncomfortable methods of hair removal.
Instead of enduring cringe-worthy, and temporary, solutions to your body hair concerns, maybe this year you can try a long-lasting and comfortable alternative: laser hair removal! This high-tech depilatory option is on the cutting edge of hair removal technology, and it will eliminate your excess hair permanently.
Why Should I Consider Laser Hair Removal?
Laser hair removal is a far more convenient and high-tech approach to reducing unwanted hair than other depilation options on the market. With laser depilation therapies, you can keep the stray hairs at bay for good! Seeking treatment by an aesthetic professional with refined skills and a history of satisfied patients can make all the difference in your results. As a highly trained, board-certified plastic surgeon with many years of experience, Dr. Daniel Careaga can provide quick and efficient laser hair removal on almost any part of the body that grows hair. You'll be able to get rid of annoying hair and enjoy smooth, hairless skin at any season with the help of laser hair removal treatments. Some of the most significant advantages of laser hair removal include:
Long-lasting results
Non-invasive procedure
Appropriate for all skin types
Eliminate the necessity to shave, wax, or pluck unwanted hair
How Does Laser Hair Removal Work?
Laser depilation treatments are performed by delivering quick pulses of laser energy to the root of the targeted hair follicles, ultimately disabling hair growth. Rather than focusing only on individual hair follicles, like with electrolysis treatment, one pulse of laser energy can affect many hairs in an area the size of a quarter. Patients can achieve the best results by scheduling multiple laser hair removal sessions.
Why Are Multiple Sessions Necessary?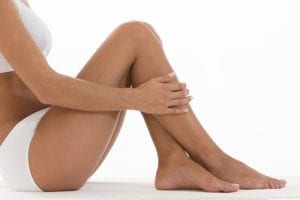 All hair grows in three stages (anagen, catagen, and telogen), and not all of the hair follicles are going through the same phase at the same time. Laser hair removal works by targeting melanin, the substance that controls pigment in the hair and skin, which is most prevalent in strands that are in the anagen phase. A single patch of skin can contain follicles in various stages of hair growth, so not all of them are affected by the first round of laser treatment. The good news is that every time a patient goes in for laser hair removal, the treated hair becomes thinner and thinner until it disappears completely. Most patients see their desired results after three to eight laser hair removal treatments.
Does Laser Hair Removal Hurt?
At Careaga Plastic Surgery, we have an amazing machine called the GentleYAG Pro-U™ that that not only removes hair on all skin types, but it is completely painless! Before the laser hair removal treatment begins, a topical numbing gel or lotion that cools the skin may be applied to the target region. This preparation is done to minimize any discomfort and other side effects that may occur at the treatment site during the procedure. Alternately, some lasers have a cooling apparatus attached to them, which creates the same soothing effect. You may still experience a mild stinging sensation while being treated with the laser.
What Will My Recovery Be Like?
After any laser hair removal procedure, it is helpful to apply lotion to soothe and hydrate the treatment area or areas. Cleansing with soap and water can help prevent any potential infections, but it is crucial to be very gentle when touching the skin for the first few days after the procedure. The targeted area or areas may be mildly irritated for up to two days following the laser hair removal treatment. The skin may also have a slightly sunburned appearance. Various topical creams and ice packs can be used to return the skin to its normal pigment and soothe any post-treatment discomfort. However, it is important to ask your doctor or specialist for recommendations before using any over-the-counter products.
To begin your journey to smooth, hairless skin, please schedule your consultation at Careaga Plastic Surgery by calling 305-574-9262.