What Dr. Durand Wants Every Patient to Know Before Revision Rhinoplasty
Posted May 12, 2022 in Revision Rhinoplasty, Rhinoplasty
2 Minute Read: 
When it comes to revision rhinoplasty, there are many misconceptions that need clarification. Dr. Durand, our primary rhinoplasty and revision rhinoplasty specialist, wants all of his nose surgery patients to be prepared for their upcoming procedure.
If you are unhappy with your previous nose job, he encourages you to read the following information and visit his detailed revision rhinoplasty page before scheduling a consultation.
Reasons to Undergo Revision Rhinoplasty
There are several reasons one may seek a second surgery following an initial rhinoplasty. 
Some patients are dissatisfied with their primary rhinoplasty results after surgery. Others may be happy with their outcome at first, but problems develop during or after the healing process (often due to scar tissue formation).
Common cosmetic issues involve the tip of the nose, the bridge of the nose, and shrinking skin. 
Functional problems include difficulty breathing due to an obstruction in the nasal passage or collapse of the lateral walls of the nose. This impairment can be due to a persistent deviated septum or insufficient structural integrity.
Functional impairment and lack of structural integrity following rhinoplasty can be due to insufficient strength of the remaining framework or persistent nasal septum deviation.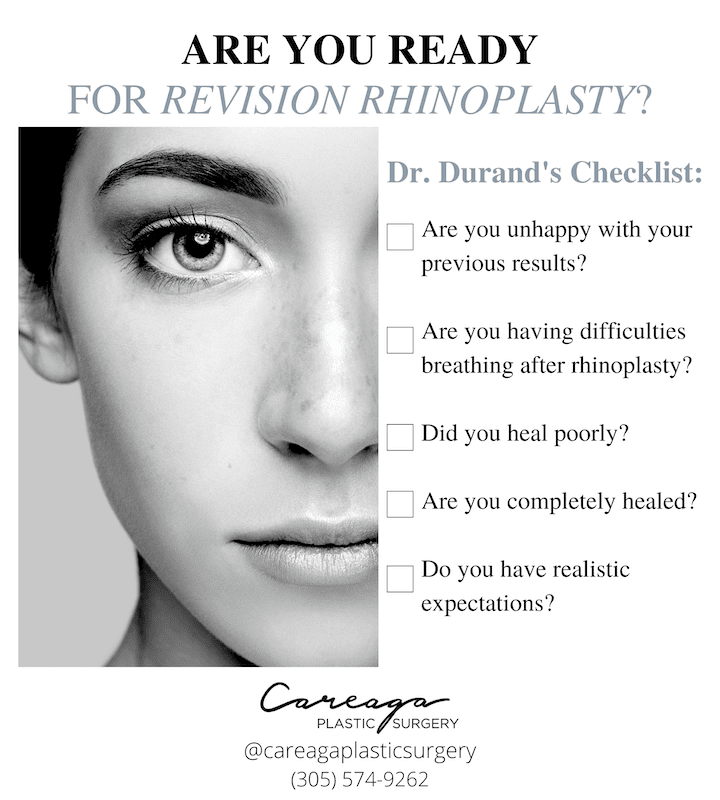 Addressing Sinus Issues During the Rhinoplasty Procedure
If sinus problems are an issue and the first surgery either didn't address this or made it worse, it makes sense to correct this condition with revision rhinoplasty.
When Should You Seek Revision Rhinoplasty?
Waiting until your healing from the initial surgery is complete and all swelling, bruising, and fluid build-up has dissipated is required. 
This often takes a full year. Taking this time allows your nose to reveal its new appearance and will help the surgeon performing the revision have more control when manipulating the tissues of the nose. This helps ensure the best results.
What to Look for in a Rhinoplasty Revision Surgeon
When deciding on the right surgeon to perform revision rhinoplasty, it's crucial to pick a plastic surgeon specialized in this procedure.
Create a list of questions to ask at your consultation, and don't be afraid to question the doctor's experience with revision rhinoplasty specifically. 
Be sure to look at their before and after photos of revision surgery.
Why Choose Careaga Plastic Surgery for Rhinoplasty Revision in
Miami, FL
?
Dr. Paul Durand of Careaga Plastic Surgery is a meticulous plastic surgeon dedicated to performing customized procedures and delivering results that meet or exceed his patients' expectations. He specializes in many facial surgeries, including revision rhinoplasty.
Please make sure to check out Dr. Durand's before and after photos and scroll down to contact us for a consultation or call our main office today at (305) 574-9262.