Is a Facelift the Best Way to Address My Facial Wrinkles?
Posted April 27, 2022 in Facial Plastic Surgery, Facial Rejuvenation
5 Minute Read: 
One of the most common complaints that men and women have about their faces is the presence of wrinkles and fine lines on the cheeks, around their mouths and eyes, and on their forehead. 
Even though these are natural signs of aging that normally occur, we understand how these wrinkles and fine lines can be frustrating, especially since they can easily make you look years older than you actually are. 
Instead, why not just get rid of them?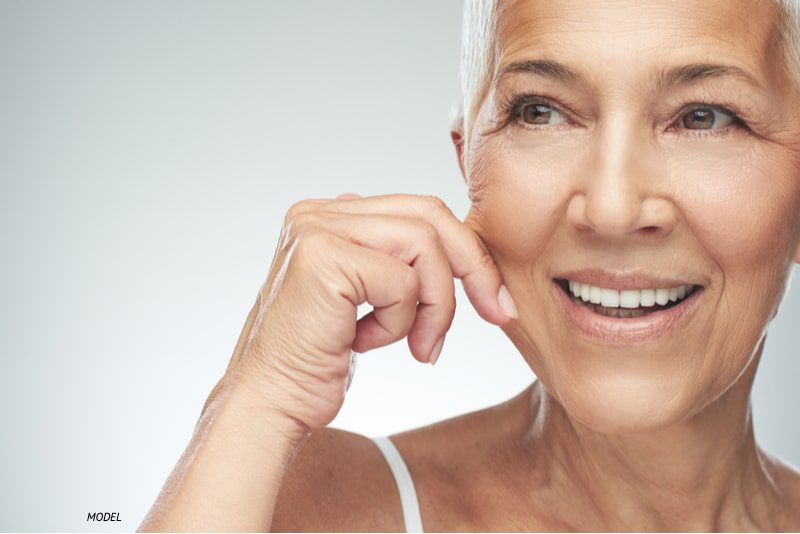 For many people, when they are asked which plastic surgery or cosmetic treatment will best help the appearance of their face, they automatically answer with "a facelift!" 
But is that actually true? 
Well, the answer is, "maybe, but not necessarily." 
While a facelift can definitely give you great results, it is not the only option for treating your facial wrinkles, and sometimes it's not even the best option — depending on the location and type of correction you seek. 
There are so many other choices you have (both surgical and non-surgical), so let's explore what these are.
What Does a Facelift Treat?
Facelift surgery is one of the most tried and true plastic surgery procedures available for addressing sagging skin and fine lines on the face. In 2020, it was one of the top five cosmetic surgical procedures performed. 
For this procedure, the underlying tissues and facial skin are tightened, while excess skin is removed. 
Wrinkles and fine lines will be smoothed out with a facelift, but it is important to understand that facelift surgery only addresses the lower two-thirds of your face. 
The skin around your eyes and on your forehead are not affected at all by a facelift. Additionally, a facelift is an extensive surgical and invasive procedure, which means that it is not always the go-to procedure for addressing wrinkles on your face.
Besides Facelift Surgery, What Are My Facial Rejuvenation Options?
At Careaga Plastic Surgery, we are proud to offer facial rejuvenation treatments and procedures (both surgical and non-surgical) to help you get rid of unwanted wrinkles and fine lines on your face that make you look older than you are — or ones that you simply do not like.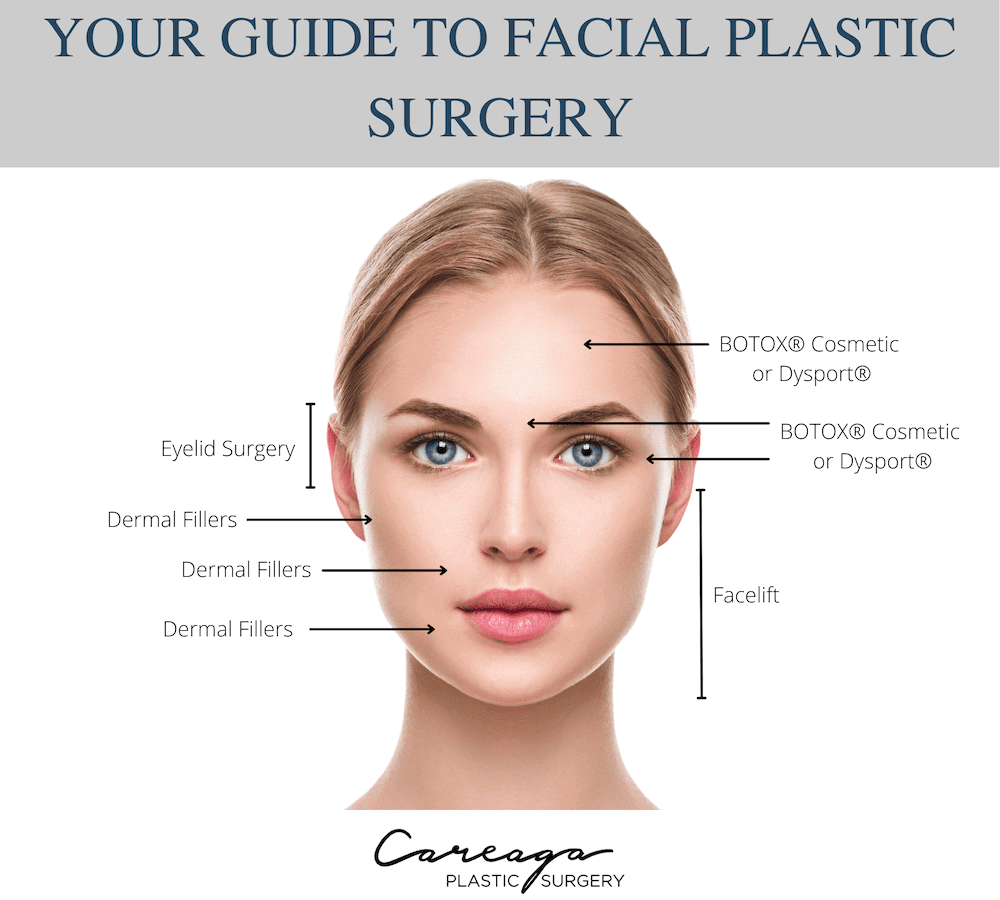 1.Blepharoplasty
While a facelift helps to correct wrinkles and other skin issues on the lower two-thirds of your face, blepharoplasty helps take care of the upper third by focusing on the eyes. Blepharoplasty (eyelid surgery) addresses the wrinkles around your eyes and sagging skin on your eyelids. 
Some patients undergo upper blepharoplasty, which helps correct issues with the upper eyelid, while other patients have a lower blepharoplasty, which focuses on correcting issues on your lower eyelid. Some patients require both an upper and lower blepharoplasty. 
During your blepharoplasty, Dr. Careaga or Dr. Durand will make incisions in hidden areas of your eyelids to minimize any visible scarring. The underlying tissues are tightened, and excess skin is removed. 
This allows your upper face to look smoother, healthier, and more youthful.
2. Injectable Treatments
Injectable treatments are a fantastic option for women and men who want to correct signs of aging on their face but don't want — or need — to go under the knife. 
At Careaga Plastic Surgery, we offer several different injectable treatments that help correct wrinkles and fine lines on different portions of the face. It is important to understand that the results from injectable treatments are not permanent and require maintenance treatments every few months (or years).
BOTOX® Cosmetic
and
DYSPORT®
These injectables are two of the most well-known and trusted treatments available. 
Both are neurotransmitter inhibitors, which means that they force the injected muscle to relax and not contract. 
This allows the skin to remain smooth, meaning these will reduce the appearance of wrinkles and/or fine lines. These injectables are FDA approved to treat skin issues in the upper part of the face, including crow's feet, frown lines, and forehead lines. 
JUVÉDERM®
and
Restylane®
These injectable treatments are composed of hyaluronic acid, which helps to stimulate collagen production in your facial skin. This new collagen helps to keep the skin smooth and healthy. 
Both JUVÉDERM® and Restylane® are used to correct the presence of wrinkles in the lower portion of your face, which includes nasolabial folds, marionette lines, and lip lines. These fillers can also increase the fullness of your lips and cheeks.
3. Laser Treatment
For patients who struggle with fine lines and wrinkles on their face but do not want to undergo an invasive treatment, then laser treatment is a great potential option. 
At Careaga Plastic Surgery, we offer many laser and energy-based treatments to help you achieve smoother and softer facial skin. These treatments include:
Fractional laser

: This laser light helps new tissue to be created in the lower layers of your skin, helping to smooth out wrinkles and fine lines

CO2 laser

: Short, continuous bursts of light heat the various layers of your skin to promote tightening of the skin and improved texture

PiXel8-RF laser

:

Radiofrequency

(RF) is used to stimulate the production of collagen and

elastin

, which help the skin tighten and become healthier
Non-surgical treatments may not achieve the same level of results as surgical procedures
Combining Procedures and Treatments
By combining procedures and treatments (including surgical and non-surgical), you can have an even more dynamic facial transformation. One of the best reasons to combine procedures is that in doing so, your entire face is addressed rather than a single portion, which can make you look unbalanced. 
Additionally, at Careaga Plastic Surgery, we are proud to offer various other skin care treatments and procedures that can help you have the facial appearance that you've always wanted. 
Interested in Learning More About Addressing Facial Wrinkles in Miami?
If you are interested in learning more about the various procedures and treatments available to help correct facial wrinkles at Careaga Plastic Surgery in Miami, Florida, please give us a call at (305) 574-9262 or fill out our online contact form.