MedSpa Treatments for Your Face
Posted December 11, 2018 in Non-Surgical MedSpa Treatments
While surgical procedures like a facelift, eyelid lift, or brow lift are great ways to temporarily halt the progression of aging, they are not your only options. At Careaga Plastic Surgery, we offer an extensive line of non-surgical and non- or minimally-invasive procedures that will leave you with glowing, rejuvenated, youthful-looking skin without the need for surgery. With no real downtime, you can spend less time worrying about getting through your recovery and more time enjoying your rejuvenated appearance.
With age, sun damage, and other lifestyle factors, our skin is left riddled with a host of skin concerns. Fine lines, wrinkles, age spots, rosacea, hyperpigmentation, acne scars, melasma, and enlarged or congested pores can all affect the condition of your skin. Non-surgical MedSpa treatments can address almost any facial skin concern while providing needed relaxation.
Common Skin Concerns
Fine Lines and Wrinkles
Fine lines and wrinkles are an expected result of aging, and additional factors such as sun damage, smoking, and excessive alcohol intake can only speed this process along. Many patients turn to cosmetic surgery to address these unwanted lines and wrinkles; however, invasive surgery isn't the only way to handle these. MedSpa treatments can target unwanted lines and wrinkles without a single incision. Treatments that can benefit fine lines and wrinkles include:
Microneedling
Platelet-rich plasma
Chemical peels
CO2 laser therapy
Hyperpigmentation
Hyperpigmentation is common after years of excessive sun damage. Most individuals learn the hard way that the years of sun-worshipping during their youth have resulted in dark spots and discoloration. Other types of discoloration include rosacea, melasma, and freckles. All of these instances of skin discoloration can be reduced with:
Chemical peels
Microneedling
Platelet-rich plasma
Congested Pores
Congested pores are common among men and women with oily skin. When enlarged pores become congested, you are left with acne and the resulting scars, as well as puffy, discolored, or dull skin. Treatments for congested pores not only allow your skin to relax, but they can hydrate and detoxify your complexion and include:
Facials
Chemical peels
Microneedling
Don't Forget About Comfort
One of the greatest benefits of MedSpa treatments is that you are at a spa. With surgical procedures, you are at a sterile facility surrounded by surgical tools. This makes for an environment that is anything but relaxing. MedSpa procedures, on the other hand, are designed to not only provide skin rejuvenation but emotional rejuvenation as well. All of these procedures, whether it be facials or peels, are designed to relax and rejuvenate your soul so that you can leave feeling refreshed inside and out. At Careaga Plastic Surgery, all facials are combined with a scalp massage and aromatherapy to soothe your tensions away while targeting your skin concerns.
MedSpa Treatments for Your Body
Many patients only consider MedSpa treatments for the face, not realizing the intense and deeply rewarding benefits of MedSpa body treatments. Just as your face is affected by lifestyle choices and the passing of time, so is your body; and once in a while, your body could use a little extra attention. Careaga Plastic Surgery offers many different massages and therapies that will not only reduce tension but ensure that your body is receiving overall care. These relaxing, stimulating massages will be sure to leave your body feeling as rejuvenated as your face.
Common Body Complaints
Sore Muscles
Sore muscles can happen at any time. Whether you worked out too hard, were on your feet too long, had a bad day at work, didn't get a good night's sleep, or are just getting older, sore muscles can pop up out of nowhere and make every movement feel like a chore. Ease your body with therapies meant to increase circulation and ease muscle tension. Massages that can benefit sore muscles include:
Swedish Flow Therapy
Deep Tissue Massage
Reflexology
Back Pain
A sore back can feel completely debilitating, and most of us have experienced more days with back pain than we'd like to remember. It doesn't take much to pull something in your back, even something as small as turning your waist a little too fast can be enough to leave you sore and unhappy for days. Instead of soldiering through the pain and discomfort, let massage therapies do the work for you. Treatments for the back include:
Swedish Flow Therapy
Hot Stone Massage
Reflexology
Sports Injuries
Whether you were actively playing a sport, working out at the gym, or just messing around with friends and family at the park, injuries can happen. Strained muscles and pulled ligaments are common sports-related injuries, and while they will eventually heal, you can help them along with MedSpa body treatments. Massage therapy works to improve flexibility and range of motion while decreasing your recovery time.
Deep Tissue Massage
Sports Bodywork Massage
Reflexology
Stress and Tension Headaches
Most of us can relate to feeling entirely worn out and sore after a stressful day, even if that day didn't involve any intense physical activity. Stress affects your entire body and disregarding it can lead to headaches and other symptoms. While some stress is normal, it still needs to be relieved once in a while. To do this, Careaga Plastic Surgery offers massages and other therapies to ease both your body and your mind by flushing out toxins and improving circulation, including:
Swedish Flow Therapy
Hot Stone Massage
Reiki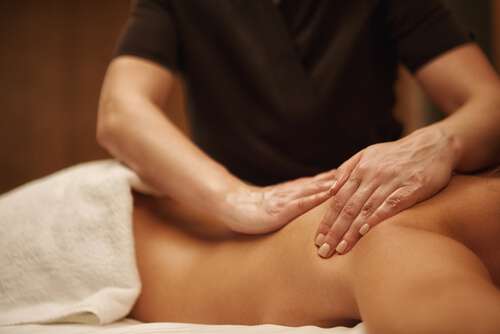 Contact Us Today
To learn more about MedSpa treatments for the face and body that are offered by Careaga Plastic Surgery, contact our office today by calling (305) 574-9262 or filling out our contact form to set up a consultation.