Can Men Benefit From Non-surgical Facial Treatments?
Posted June 02, 2020 in Non-surgical Facial Rejuvenation
3 Min Read: 
Trends known as "brotox" or "daddy-do-overs" are becoming well-known as more men turn to surgical and non-surgical cosmetic treatments. The American Society for Aesthetic Plastic Surgery (ASAPS) reported that men accounted for 10 percent of all plastic surgery treatments in 2015, which has more than tripled since 1997. And, the male facelift is in the top five cosmetic surgeries for men. For men who aren't quite ready to go under the knife, a non-surgical facial treatment with Careaga Plastic Surgery may be the answer.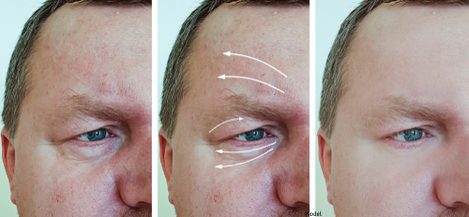 What Is a Non-surgical Facial Treatment?
Non-surgical treatment is a non-invasive option for men who are looking to restore their youthful contours. As you age, changes to the face and skin are inevitable. Your body produces less collagen, resulting in wrinkles, loss of facial volume, and changes in skin tone. The facial fat that you once had, which gave you a youthful glow, is now gone, leaving you looking worn.
Non-surgical facial treatment includes fillers and neurotoxins, laser, facials, massages, and PRP for hair loss. Your cosmetic surgeon may choose to combine a variety of these treatments to achieve long-lasting results.
None of these treatments require you to go under the knife, allowing you to achieve younger-looking skin without surgery.
What Are the Types of Non-surgical Facial Treatment?
Fillers and Neurotoxins
Fillers and neurotoxins, often called injectables, insert liquid solutions into the face to restore volume in the temples, nasolabial folds, lips, and cheeks (fillers) or lessen expression-causing wrinkles (neurotoxins). Injectables are great for lines, volume loss, excess fat, and thin lips. These in-office injections are performed at Careaga Plastic Surgery by our PA Reana Myers and can be completed in a matter of minutes and require no downtime, allowing you to get back to work and normal activities the next day (if not the same day).
Laser
Laser skin resurfacing technology delivers varying intensities of heat to different parts of the skin, triggering cell regeneration and new collagen production. Laser facial treatments with our PA Reana Myers at Careaga Plastic Surgery are often used to treat acne and acne scarring, wrinkles, textured rough skin, hyperpigmentation, and uneven skin tones.
Facials
A facial is the deep-cleansing and massaging of your face with high-quality skincare products. Facials can help prevent aging as they've been proven to boost cell regeneration, promote collagen development, nourish the skin, and improve blood circulation. Facials are often a great supplementary procedure on top of one of the other non-surgical facial treatments.
Platelet-Rich Plasma (PRP)
PRP therapy for hair loss is a three-step treatment where an individual's blood is taken, processed, and then injected back into the scalp to stimulate hair growth. Men struggling with thinning hair on their scalp or face may consider PRP as a solution.
Massages
Stress tends to show on our faces and increase the look of tiredness and being worn out; face and body massages can be powerful anti-aging treatments and overall wellness treatments. Facial and body massages with our aesthetician Vicky at Careaga Plastic Surgery can provide stress relief, promote circulation, flush out toxins, and aid in athletic recovery.
Contact Us Today!
Contact Careaga Plastic Surgery for your non-surgical facial treatment consultation by visiting online or calling 305-960-7511.