7 Ways the PiXel8-RF Can Improve Your Skin
Posted March 01, 2023 in PiXel8-RF, RF Microneedling
3 Minute Read:
While wisdom may come with age, so do skin blemishes. These cosmetic concerns can take a toll on your confidence, potentially causing you to cover your skin with makeup, clothing, or accessories and even make you refrain from participating in activities you love, including social gatherings.
The good news is that these age-related skin issues don't need to be permanent or cause you more frustration than they already have.
With the revolutionary PiXel8-RF treatment, you can achieve the smooth and youthful skin you desire, which can help you smile with pride, knowing that you look as great as you feel!
What Is PiXel8-RF?
PiXel8-RF is a state-of-the-art, non-surgical cosmetic treatment that offers stunning and long-lasting facial rejuvenation.
This treatment combines the restorative power of microneedling (where tiny needles penetrate the skin to create micro-injuries and stimulate a natural healing response) and bi-polar radiofrequency energy (RF), which heats the epidermis, dermis, and subdermal layers of the skin to promote collagen and elastin production.
Most patients require three treatments, after which they can see noticeable rejuvenation in their skin.
What Skin Concerns Can the PiXel8-RF Correct?
One of the best aspects of the PiXel8-RF treatment is that this minimally invasive treatment can be used on multiple areas of the body, including the face, neck, arms, and hands.
Below are seven specific ways that this treatment can help you look and feel younger than you have in years:
1. Wrinkles
Our collagen levels decrease as we age, resulting in fine lines and wrinkles, especially on the face. These skin creases are a sure sign of age and can make you feel self-conscious.
The PiXel8-RF treatment boosts the body's collagen production, which helps to strengthen the skin and create new cell growth.
2. Loose Skin
In addition to increased collagen production, the PiXel8-RF treatment stimulates elastin, a protein responsible for skin elasticity. Like collagen, the amount of elastin decreases as we age, but with more elastin present in the skin after your treatment, you will see tighter, firmer skin on your face and body.
3. Acne Scars
Regardless of age, scars on the face and chest caused by acne can be embarrassing. But the increased collagen from the PiXel8-RF treatment can help to minimize the appearance of acne scars (along with stretch marks) since new and healthier skin is promoted in the area.
4. Aging Hands
Our hands can become plagued with wrinkles and sagging skin as we age. However, with the increased collagen and elastin caused by the PiXel8-RF treatment, your hands can look fuller, smoother, and more youthful.
5. Chest Wrinkles
For some, age-related wrinkles extend beyond their face and neck and continue onto their chest. This can be unsightly, especially for women who intend to wear low-cut tops and dresses.
Like facial wrinkles, the PiXel8-RF treatment can help to minimize (and even eliminate) wrinkles on the chest to revitalize your décolletage.
6. Enlarged Pores
Along with tightening the skin and reducing wrinkles, the PiXel8-RF treatment helps shrink large pores to help you achieve healthier skin that looks and feels better than ever.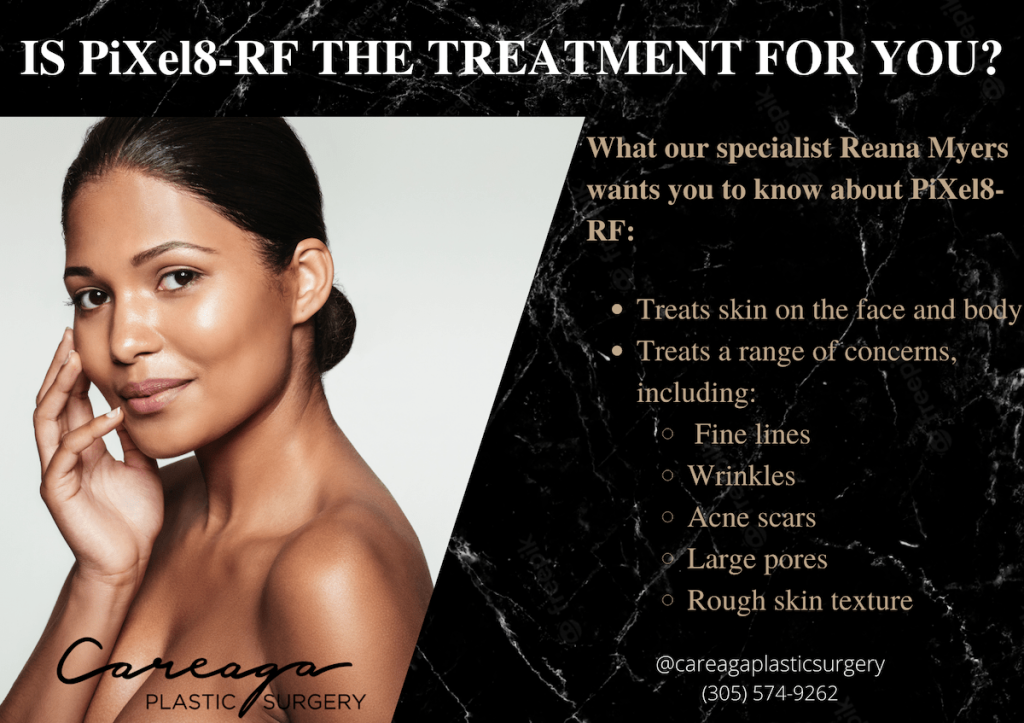 7. Poor Skin Texture
Whether you struggle with uneven skin tone, pigmentation issues, or textural concerns, the increased collagen and elastin produced from the combination of radiofrequency heat and microneedling of the PiXel8-RF treatment can give you smoother, softer skin.
You won't be able to wait to show off your new and beautiful skin to the world after your PiXel8-RF treatment series is finished.
Want to Learn More About PiXel8-RF Microneedling?
If you are interested in learning more about how radiofrequency microneedling with the PiXel8-RF device can help you in Miami, Florida, please give Careaga Plastic Surgery a call at (305) 574-9262 or fill out our online contact form to schedule a consultation with our skilled PA, Reana Myers.