Will Body Contouring Be the "It" Procedure in 2021?
Posted July 06, 2021 in Body Sculpting, Non-surgical Body Contouring
4 Minute Read: 
Over the last few decades, breast augmentation was the most popular procedure in the United States. Hundreds of thousands of women were choosing to enhance their breasts with implants every year — and while that number is still significant, 2019 and 2020 did demonstrate a decrease in yearly breast augmentations performed. 
At the same time, both surgical body contouring procedures, such as tummy tuck surgery and liposuction, and non-surgical body procedures have significantly increased in popularity. 
So, why the sudden change? And why are more and more people choosing to undergo body sculpting procedures?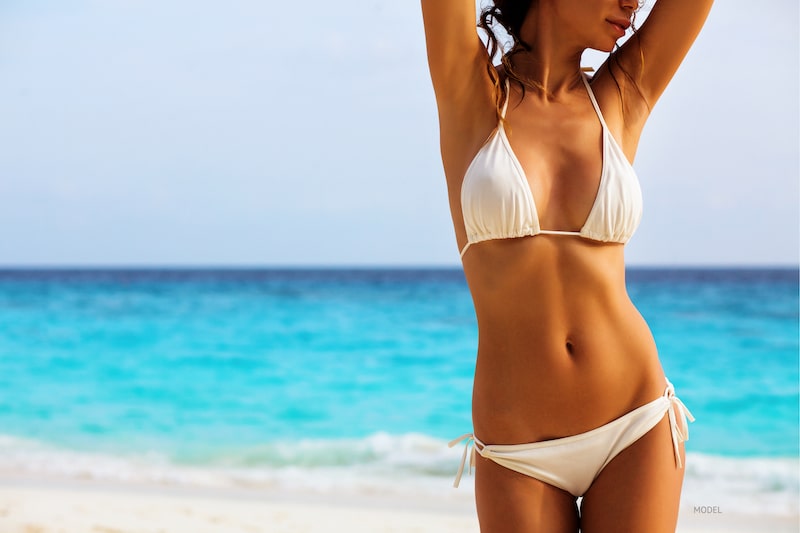 Why Have
Body Contouring Procedures
Become More Common? 
As we all know, life has drastically changed over the last year and a half. Many people were quarantined in their homes, being forced to attend work and other events virtually. Gyms and sporting clubs closed, leaving many people out of their fitness routines. 
With all the free time we were given and nowhere to go, it makes sense that many of us put on a few extra pounds. However, with the world opening back up, people are starting to realize that they are unhappy with their post-quarantine bodies. 
As a result, people are now turning to liposuction, tummy tuck surgery, and non-surgical body contouring treatments to help them achieve their ideal appearance. 
What Are the Benefits of Liposuction? 
Liposuction is beneficial for patients with fat deposits that are resistant to diet and exercise. However, this procedure will not help you lose significant amounts of weight. Rather, it is for individuals at or near their ideal weight who need a little extra help contouring their bodies. 
Check out our liposuction photo gallery. 
What Are the Benefits of Tummy Tuck Surgery? 
Tummy tuck surgery removes excess skin and fat from the abdomen. This procedure is often performed after childbirth or significant weight loss to contour the body, creating a slimmer, more attractive appearance. Similar to liposuction, this procedure is not intended for weight loss. 
It will only eliminate excess, sagging skin, remove localized pockets of fat, and tighten abdominal muscles — if necessary.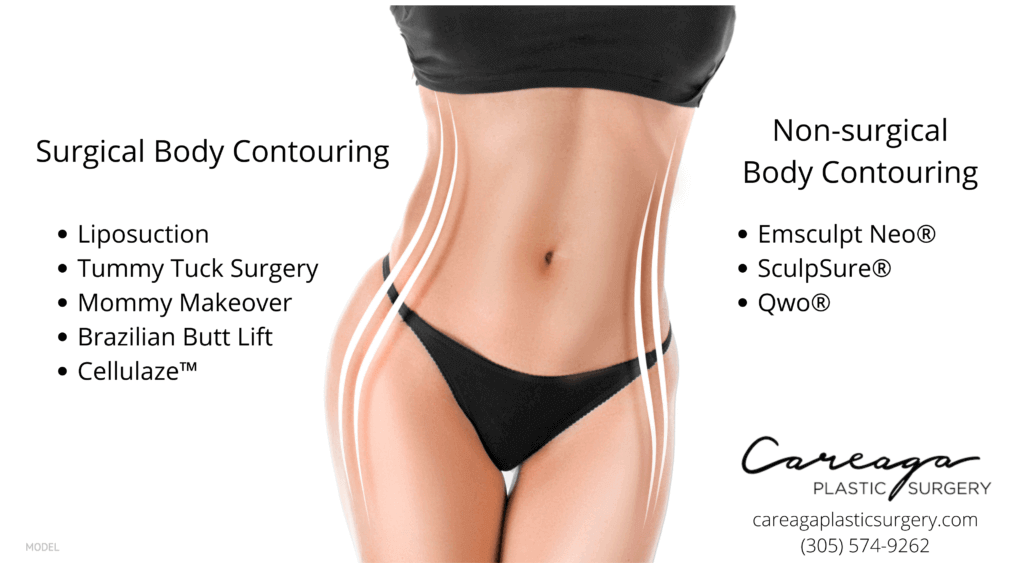 What Are Some Non-Surgical Alternatives to Liposuction? 
Not all patients looking to contour their bodies are ready to undergo invasive plastic surgery. Careaga Plastic Surgery offers various non-surgical alternatives that can yield similar (and satisfactory) results. 
Emsculpt Neo® 
Emsculpt Neo® is an FDA-approved, non-invasive treatment used to tone muscles and burn fat. This treatment uses electromagnetic energy to stimulate muscle contractions (mimicking the exercise process), thereby strengthening your core and building muscle. With just four weekly sessions, you can be on your way to a toned, slim body. 
SculpSure® 
SculpSure® is a non-invasive body contouring treatment used to eliminate stubborn fat deposits. Like liposuction, this treatment can be used on various body areas, such as the abdomen, flanks, thighs, back, and under the chin. 
Will Body Contouring Procedures and Treatments Reduce Cellulite? 
While you may see a slight improvement in the appearance of cellulite after cosmetic body contouring, it will not be major. This is because cellulite is not solely due to excess fat. Anyone can develop cellulite — regardless of their current weight — making cellulite impervious to weight loss. 
People with significant cellulite will benefit more from one of these cellulite solutions: 
Cellulaze™
Cellulaze™ is a surgical cellulite option that uses laser technology under the skin to sever the tissue bands that cause cellulite, thereby addressing cellulite at the source. This treatment also stimulates collagen production to tighten the skin and level out the bumps and indentations. 
Qwo®
Qwo® is a non-surgical injectable cellulite treatment that uses collagenase enzymes to reduce cellulite in the butt. This treatment can redistribute fat and stimulate new collagen growth to eliminate the look of "cottage cheese" pockets. 
How Can Body Contouring Improve My Life? 
People who are unhappy with their bodies often miss out on all that life has to offer. Confidence plays a significant role in a person's overall happiness, and feeling insecure can make life less enjoyable. You deserve to have the body you have always wanted and enjoy time with the people you love. 
By choosing one of these procedures or non-invasive treatments, you can feel more confident in all aspects of life. 
Contact Us Today!
If you are interested in learning more about how you can regain your pre-quarantine body with surgical or non-surgical body contouring, please call our Miami, Florida, office at (305) 960-7511 or fill out our online contact form.