Get Ready to Show Off Your Curves With Breast Augmentation in Miami
Posted August 30, 2022 in Breast Augmentation
4 Minute Read: 
When people think of Miami, they tend to think of beaches, sun, and bikinis. However, women in and around Miami who do not have the chest to fill out the bikini of their dreams can feel extremely frustrated. 
The reality is that no type of diet or exercise plan can tone your way to a full, rounded bust. But with breast augmentation, women are able to get the breast and body aesthetic they are looking for.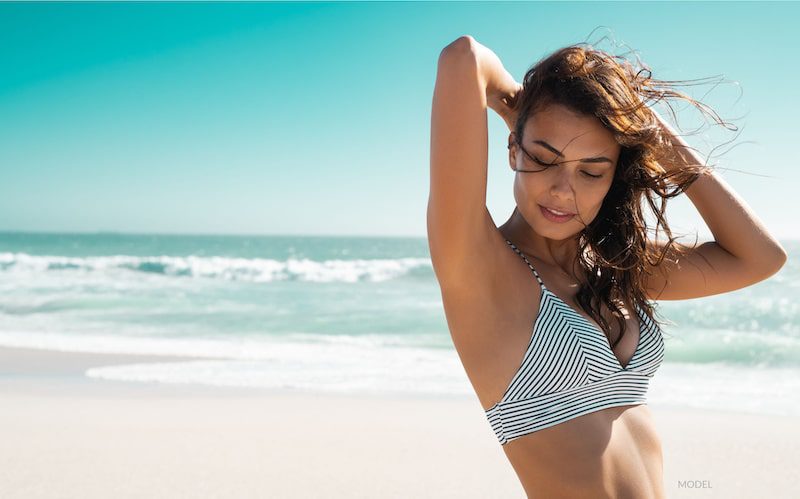 There's no wondering why breast augmentation surgery was one of the five most performed cosmetic surgical procedures in 2020. 
Breast augmentation allows women of all ages to achieve the stunning and dramatic transformation they have been looking for. Not only are women able to achieve bigger, fuller, and more symmetrical breasts with breast augmentation surgery, but these improvements can also help improve a woman's self-confidence, allowing her to feel proud of the way she looks.
What Is Breast Augmentation?
Breast augmentation surgery is a procedure in which breast implants made of either saline or silicone are inserted in a woman's chest to improve the size, volume, and shape of the breasts. 
Breast augmentation surgery is ideal for women of all ages who are frustrated with the size and/or shape of their breasts. Whether the breasts are too small or are asymmetrical, breast augmentation can help. 
At your consultation at Careaga Plastic Surgery, Dr. Careaga or Dr. Durand will help you choose the right implant type and size as well as decide on the right placement.
This procedure is completed under general anesthesia and usually takes one to two hours to perform. 
Once the anesthesia has been administered, your plastic surgeon will usually make an inframammary incision (along the natural crease that runs underneath the breast). The implant will then be placed and the incisions closed. 
Most patients can expect a total recovery time of four to six weeks. During your breast augmentation recovery, you will experience some discomfort, swelling, and bruising. It is important that you refrain from strenuous activity, including exercise and heavy lifting, during this time.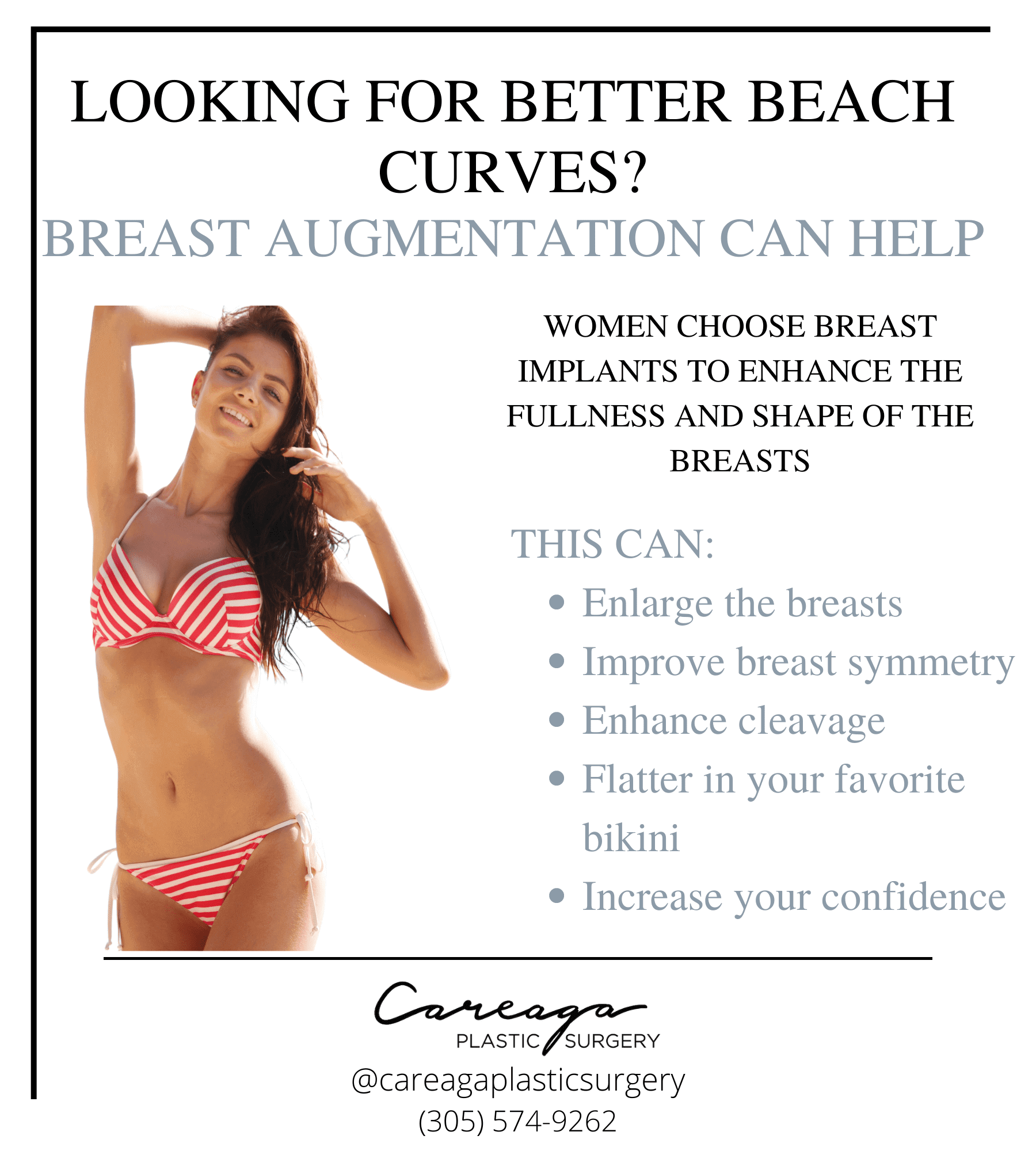 How Can Breast Augmentation Benefit Me?
In today's day and age, large and full breasts have become the standard for many women. This means that having smaller breasts can cause women to feel self-conscious and embarrassed. This is especially true at the beach, where bikini tops help to flaunt what a woman's got! 
If you are looking to turn heads as you walk on the Miami beaches in your favorite bikini, then breast augmentation is the procedure for you. But it isn't just bikini bathing suits that look and fit better after a breast augmentation. You'll be able to wear those low-cut tops and dresses you've always wanted but never had the full figure to pull off.
Many women notice a significant improvement in their body appearance as well as their confidence after breast augmentation surgery. If you are looking for this kind of dynamic improvement, then call Careaga Plastic Surgery today to schedule your consultation.
What Other Procedures Can I Have Along With Breast Augmentation?
While breast augmentation can help give you the larger, fuller, breasts you've always wanted, this procedure does not address breast ptosis (sagging breasts). 
For women who want to not only increase the size and shape of their breasts but also raise their bust to a higher level, breast lift surgery (mastopexy) can help. With a breast lift, you can achieve a more youthful appearance with perkier breasts. While you can undergo a breast lift as a standalone procedure, combining it with breast augmentation can give you a more complete and dramatic improvement to your breast aesthetic. 
Additionally, for women looking for an even more dramatic transformation to their appearance, liposuction surgery and/or tummy tuck surgery can be performed in conjunction with a breast augmentation to complete a Mommy Makeover procedure. 
At your consultation, you will be able to discuss your overall aesthetic goals, which can allow Dr. Careaga or Dr. Durand the opportunity to help you decide which procedure(s) will be best for you.
Interested in Learning More?
If you are interested in learning more about breast augmentation or any other breast and body contouring procedures offered by Careaga Plastic Surgery in Miami, Florida, or have more questions about replacing older implants, call us at (305) 960-7511 or fill out our online contact form.