What Should I Look for in a Plastic Surgeon?
Posted April 15, 2021 in Better Plastic Surgery Results, Choosing a Surgeon
3 Minute Read: 
Plastic surgery provides a way to change features about your body that you feel insecure about.
The reasons women and men turn to plastic surgery vary from person to person, and every reason is valid. You care about your appearance, and you want to put your best face or best physique forward. 
Because of the personal nature of plastic surgery, it is essential that you only let the best surgeons work on your body. No matter what type of body contouring procedure or facial plastic surgery you are considering, choosing an experienced and qualified plastic surgeon should be a priority.
If you are in the Miami area, you need to look no further than the experts at Careaga Plastic Surgery.
Why Does the Plastic Surgeon I Choose Matter?
Plastic surgeons receive extensive specialized training. Not all doctors receive this training. 
Many are not aware of this, but plastic surgeons are different from cosmetic surgeons. Plastic surgeons are trained in reconstructive and cosmetic procedures. Cosmetic surgeons may have unrelated specialties, such as dermatology or gynecology, but be approved to perform cosmetic surgeries.
There have been many reports of physicians performing cosmetic procedures, such as breast augmentation, with adverse outcomes because they were not properly trained on how to do so. 
This will never be the case with a skilled plastic surgeon.  
Knowing what to look for in a plastic surgeon will help you choose a doctor with the training, qualifications, and experience to ensure your procedure is performed safely and achieves the results you desire.
What Qualifications and Experience Should My Plastic Surgeon Have?
According to the American Society of Plastic Surgeons for board-certified surgeons, plastic surgery training consists of 16 years of post-high school education. Surgeons receive specific training in reconstructive surgery as well as cosmetic surgery under direct supervision.
Education for plastic surgeons is rigorous. They must meet demanding requirements to sit for their boards. In addition to this, they must pass a written and two-day oral examination. They will be critically evaluated for their knowledge, ethics, and safe and effective approach to multiple plastic surgery procedures.
A board-certified plastic surgeon is trained to uphold the highest standards of the profession. They use their extensive knowledge and training to perform procedures safely and ethically. 
Both Dr. Careaga and Dr. Durand are board-certified plastic surgeons, certified by the American Board of Plastic Surgery.
When choosing a surgeon, you will also want to choose a surgeon who specializes in the type of procedure you are seeking.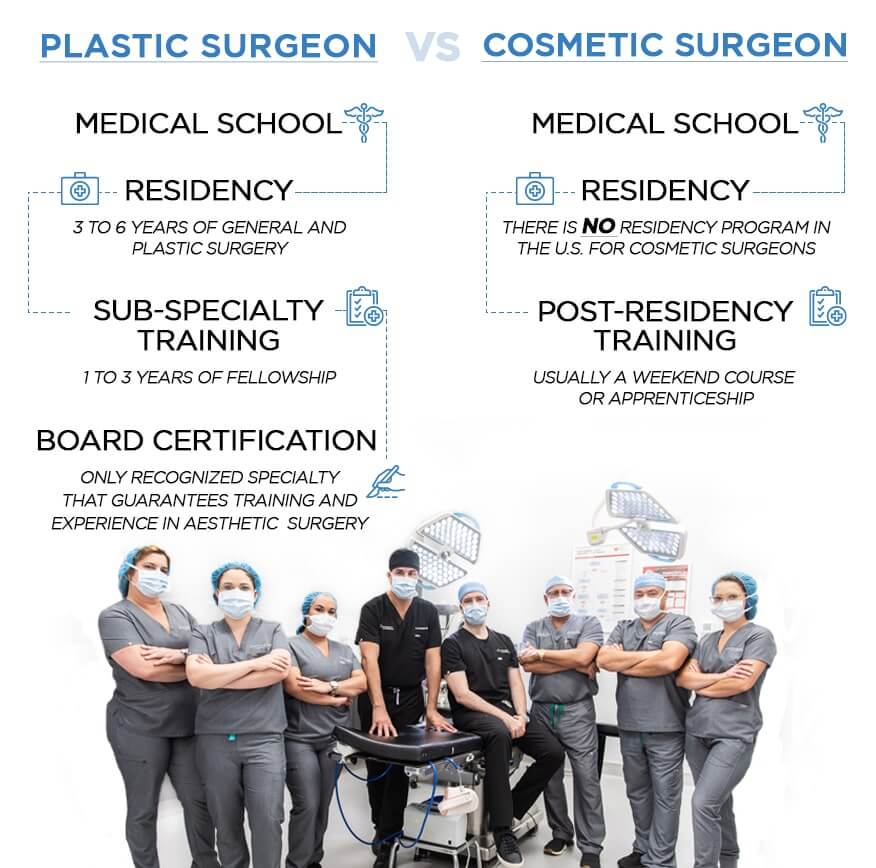 What Procedures Does My Chosen Plastic Surgeon Typically Perform?
Plastic surgeons perform contouring and enhancement procedures for the face, breasts, and body. While most plastic surgeons are trained on multiple—if not all—of these procedures, some surgeons tailor their practices. 
It is important to choose a surgeon with an extensive background and experience in the procedure you are seeking. 
During your consultation, be sure to ask your prospective surgeon about their experience with your surgery and ask to see before and after photos from that procedure.
No matter which procedure you are seeking, it is important to choose a plastic surgeon with the education and experience to safely and competently perform the procedure.
Both Dr. Careaga and Dr. Durand perform plastic surgery for the breasts, body, and face, and Dr. Durand is a specialist in nose surgery (rhinoplasty). 
Are You Ready to Take the Next Step?
If you are ready to take the next step, give Careaga Plastic Surgery a call. We will be glad to answer your questions and address any concerns you may have. 
We can set up a consultation to discuss the procedure that you are interested in once you make that call. We are here when you are ready.