Radiofrequency Skin Treatments Vs. Laser Therapy: What's the Difference?
Posted September 29, 2021 in Facial Lasers, Facial Rejuvenation, Radiofrequency Skin Tightening
4 Minute Read: 
Today, there are non-surgical skin therapies available to treat nearly any cosmetic concern. Some of the most innovative techniques include laser and radiofrequency treatments.
Both of these treatments use heat, and because the devices look somewhat similar and are used to combat aging signs, they are often combined into one category.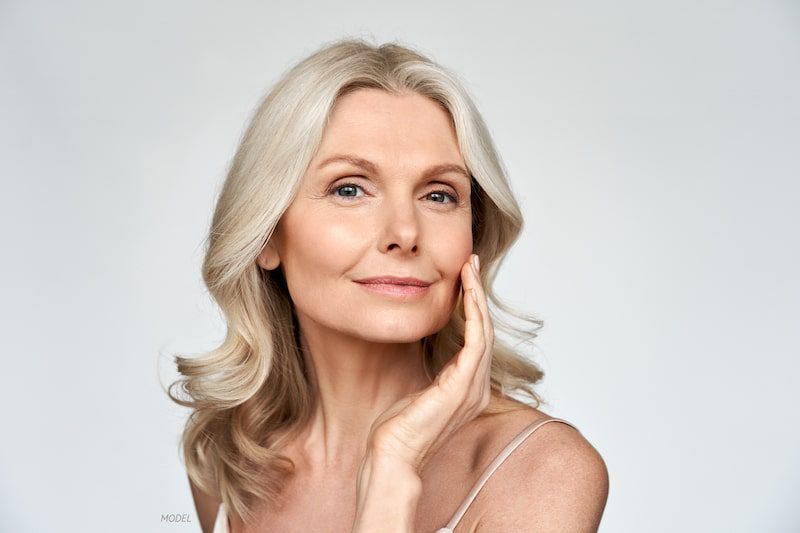 However, these treatments are not the same. Laser treatments do one thing; radiofrequency does another. And while their results can overlap, they are not interchangeable.
So, which treatment is better for which concern?
What Is Laser Therapy?
Laser therapy is a broad category for devices that improve cosmetic concerns using laser energy. 
Designed to improve the tone and texture of the skin, laser resurfacing treatments primarily target the surface of the skin, including the epidermis and the top layer of the dermis. 
Using a handheld device, these treatments pulse concentrated light energy into the skin. 
Depending on the type of device and the wavelength of the emitted energy, these treatments can either be non-ablative or ablative. Non-ablative treatments penetrate the skin but will not remove the outermost layer(s). Ablative laser treatments do remove the outermost layer, revealing fresh, healthy skin underneath.
What Can Lasers Treat?
Laser treatments are used to address a variety of cosmetic concerns. 
These include:
Fine lines and wrinkles

Hyperpigmentation

Sun damage

Vascular lesions

Unwanted hair

Tattoo removal
Are Laser Treatments Safe?
Laser technology has developed significantly over recent years. While laser treatments were once very invasive (including the original CO2 laser resurfacing technology) and required days or weeks of downtime (including significant redness and peeling), this is no longer the case. 
Laser treatments now require less downtime and are appropriate and safe for all skin tones and types (although patients with darker skin tones will still want to discuss their options with a skilled laser provider).
Which Laser Treatments Are Offered at Careaga Plastic Surgery?
Careaga Plastic Surgery offers several types of laser therapies. These include the CO2 laser (to address acne scars, deep wrinkles, and other skin concerns by stimulating collagen), fractional lasers (to treat pigmentation), and laser hair removal with the GentleYAG PRO-U™.
What Is Radiofrequency (RF) Therapy?
Radiofrequency is gaining prominence in the non-surgical cosmetic industry. Radiofrequency therapy is primarily used to tighten the skin on the face and body, not specifically address topical, tonal concerns, such as hyperpigmentation or vascular lesions (birthmarks, cherry angiomas, spider veins, etc.). Additionally, it is not used to reduce unwanted hair or remove tattoos (like laser treatments can).
RF treatments emit energy waves to heat the deepest layers of the skin (the dermis) to stimulate collagen production. 
Traditionally, RF treatments heat the skin to a temperature between 50 and 75 degrees Celsius (122 and 167 degrees Fahrenheit). When your tissues maintain this temperature for over three minutes, your body releases heat-shock proteins that kick your body's collagen production into overdrive. And since collagen is the protein that gives your tissues and skin its strength, structure, and elasticity (along with elastin), it can promote tighter, younger-looking skin.    
What Can Radiofrequency Treat?
Radiofrequency is performed to tighten the skin; however, there are other uses because the treatment stimulates collagen.
Thanks to the additional collagen, RF has also been shown to:
Reduce wrinkles

Fight sun damage
Is Radiofrequency Safe?
While RF is a type of radiation, RF skin tightening is very safe, especially when performed by trained professionals like our team at Careaga Plastic Surgery. RF skin tightening devices release nearly one billion times less energy than x-rays (this is comparable to the energy released by cell phones and other everyday-use devices). 
What Radiofrequency Treatments Are Offered at Careaga Plastic Surgery?
Careaga Plastic Surgery is proud to offer the PiXel8-RF. This device combines RF skin tightening with microneedling to give you the best of both treatments. 
Because both RF and microneedling are known to stimulate collagen for tighter, healthier, and more youthful-looking skin, the PiXel8-RF can produce higher volumes of collagen than either treatment alone. This can be used to reduce wrinkles, tighten skin (including jowls), and reduce facial (acne) scars. 
Interested in Learning More?
Be sure to consult with your cosmetic surgeon about which of these very effective skin improvement treatments will work best for your skin.
If you are in the greater Coral Gables, Florida, area and would like to learn more about the differences between radiofrequency and laser skin therapies, get in touch with the knowledgeable team at Careaga Plastic Surgery. 
They can answer all your questions to help you make an informed choice about which type of treatment is right for you. Call (305) 574-9262 now or use the online contact form.