Watch Your Cellulite Disappear With Avéli™
Posted May 10, 2023 in Cellulite Treatment
3 Minute Read:
It can be staggering to learn that cellulite affects over 90% of adult women.
While cellulite is not a health concern, the unsightly dimples and pockmarks on the thighs, stomach, and backside can make women feel self-conscious and embarrassed about their skin.
And while covering cellulite-affected areas with clothing can keep them from being seen when you're out in public, these dimples are constantly there.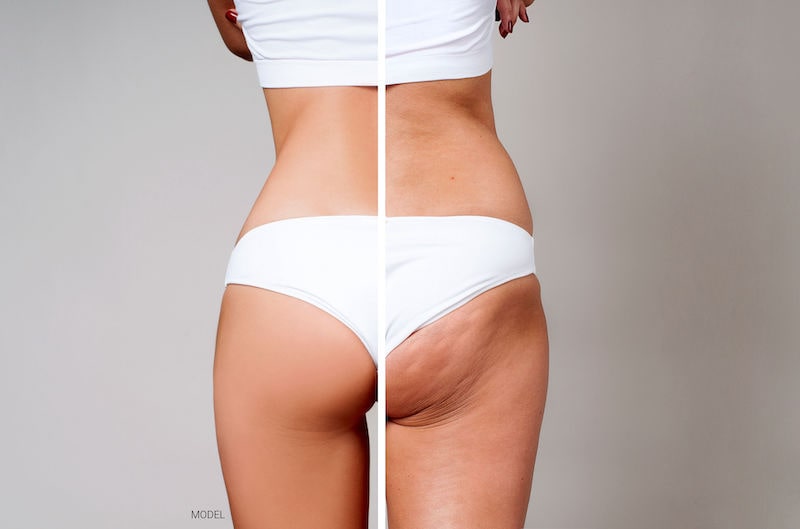 Fortunately, cosmetic procedures are available that can reduce and even eliminate the presence of cellulite on your skin, and one of the most effective on the market is Avéli™.
Below, we'll take a look at cellulite, including how it forms, as well as the Avéli™ treatment.
What Is Cellulite?
Cellulite is a condition in which fat pushes against collagen bands (called fibrous septae) under your skin. These bands connect the muscle and skin. Fat surrounds these bands, and if the fat cells enlarge, then the fibrous septae can thicken and pull downward on the skin, causing cellulite dimples to form.
Besides the appearance of cellulite, what makes this condition even more frustrating is that there is really no way to diet or exercise cellulite away (even though it is ultimately caused by specific fat cells).
Instead, cosmetic treatments must be performed to relieve the fibrous septae of their downward pull on the skin.
How Does Avéli™ Work?
Avéli™ is the latest FDA-approved cellulite treatment available on the market.
With this minimally invasive procedure, Reana Myers (our trusted and talented PA-C at Careaga Plastic Surgery) will make a small incision in the treatment area. Then, she will insert the Avéli™ device beneath the skin. A microblade on the end of the device will cut the troublesome fibrous septae to release the skin of its downward pull.
This allows the skin to relax, giving you the smooth skin you desire.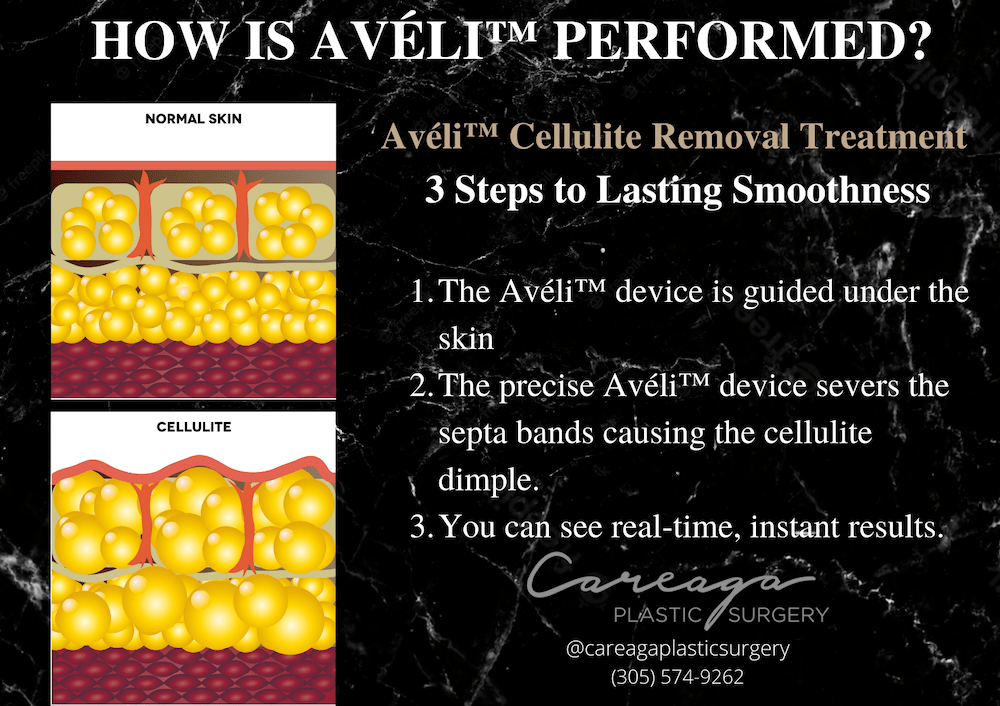 What Are the Benefits of Avéli™?
With Avéli™, you can achieve long-lasting relief from cellulite. In fact, the results are permanent, meaning that you can enjoy and show off your smooth and contoured skin for as long as you like.
And while Avéli™ is one of many cellulite treatments available to women, the truth is that Avéli™ has a leg up on the competition.
The precision allowed with the Avéli™ treatment ensures that only the troublesome connective bands are cut while the good and healthy fibrous septae are kept intact. This can help keep your skin looking even more youthful and beautiful.
Can I Combine My Avéli™ Treatment With Other Procedures?
While Avéli™ can be performed as a standalone procedure, many women choose to combine Avéli™ with other surgical procedures and non-surgical treatments.
Doing so can improve the overall appearance of the buttocks, stomach, and thighs by transforming the entire area at the same time. Some of the most popular procedures and treatments to combine with Avéli™ include:
If you struggle with cellulite and think you may be a candidate for a combination procedure, make sure to schedule your consultation with Careaga Plastic Surgery today.
There's no reason to be embarrassed of your skin, and with Avéli™, you can have the smooth and dimple-free skin you desire!
Interested in Learning More?
If you are interested in learning more about the Avéli™ treatment and how it can help you get rid of those pesky cellulite dimples in Miami, Florida, please give us a call at (305) 574-9262 or fill out our online contact form.