Breast Augmentation and Recovery
Posted February 21, 2019 in Breast Enhancement Recovery
If you feel like you've always been lacking in the chest area and wish you had larger breasts, breast implants may be right for you. A breast augmentation can give patients more desirable proportions. Have you always been interested in a breast enhancement procedure but are curious about the recovery process? If so, it's time to find out more about post-operative healing for this procedure.
Your Surgery
Before breast augmentation, you'll have a consultation with Dr. Careaga to talk about the various options available to you. Breast implants are highly customizable, making it easy to get the results you're looking for. You can decide on many factors, including the shape, texture, size, and filling of your breast implants, along with the location and type of incision used. You will also be able to view before and after photos of Dr. Careaga's previous breast surgeries.
After making the incisions that will be used to insert the breast implants, the surgeon must create spaces called "pockets" in the chest tissue. These tissue pockets are made to snugly fit the implants and keep them in place while the tissues of the area heal. Once these pockets have been created, the implants can be inserted.
At the end of your procedure, your surgeon will seal your incisions using medical stitches and cover them with dressings. This aids in the healing process and helps to keep your incisions free of germs. After around 10 days of recovery, you will come in for a follow-up appointment to have your stitches taken out.
The Recovery Process
It will be necessary during your recovery to stay home from your job and heal for a short period. Typically, patients need to spend at least three days away from work, longer if it is a physically taxing job. After this, if they are feeling up to returning to their work, they can check with their surgeon to ensure that it is advisable.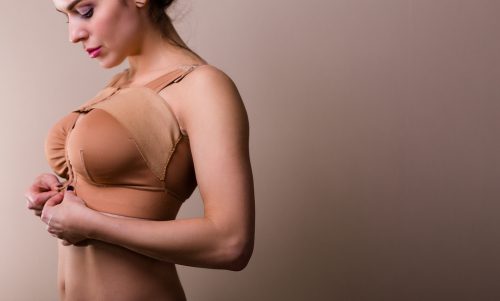 For the first few days after your surgery, you will experience swelling, bruising, and some pain. You will be prescribed medications to help alleviate any discomfort. You will wear a compression bra after your surgery to support your new breasts and help with healing and circulation. Dr. Careaga will give you detailed aftercare instructions, and it is important to follow them closely to minimize your risk of complications and ensure a smooth recovery.
Recovery Tips
There are a few things to make your recovery as comfortable as possible.
Be sure to stay hydrated.
Don't try to push yourself to do too much too quickly, stick to the recovery timeline given to you by Dr. Careaga.
Loose-fitting clothing will be much more comfortable, especially for the first week or so, when you may have difficulty raising your arms due to swelling.
Sleeping on your back with pillows to prop you up in a reclining position will help minimize swelling.
Contact Us Today
Arrange a consultation today by contacting our office at (305) 960-7511 or fill out our online contact form for an appointment. Dr. Careaga, a skilled surgeon with years of breast surgery experience, will be happy to explain the breast enhancement recovery process in further detail.