7 Reasons You May Consider a Tummy Tuck
Posted February 01, 2022 in Tummy Tuck
3 Minute Read: 
As more men and women aim to get rid of excess belly fat and skin, the tummy tuck procedure (abdominoplasty) has been increasing in popularity. According to the American Society of Plastic Surgeons, nearly 100,000 abdominoplasties were performed in the U.S. in 2020.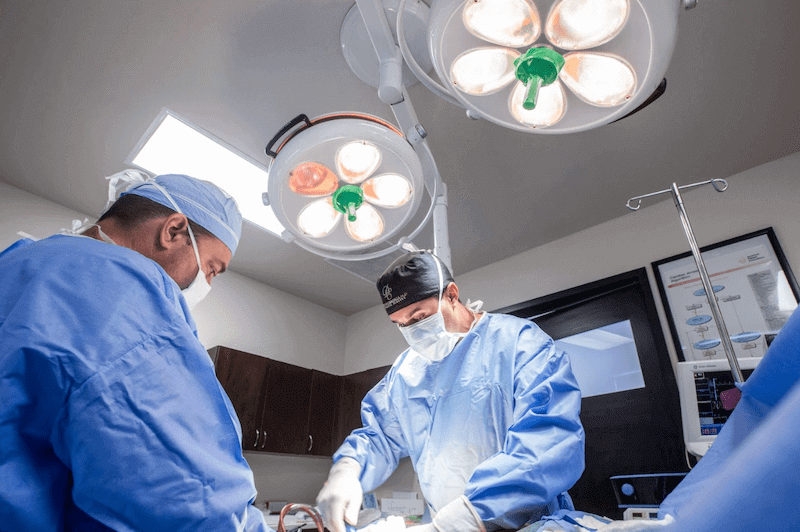 If you're looking to tighten and tone your midsection, a tummy tuck can be an excellent option. It aims at getting rid of excess fat, tissue, and skin from the abdominal area, resulting in a flatter stomach. However, this is not the only reason to undergo this procedure.
Read this quick guide to discover seven reasons you may want to consider a tummy tuck.
1. Getting Rid of Excess Skin After Pregnancy or Weight Loss
Pregnancy and weight fluctuations can cause your stomach's skin to lose elasticity. After stretching this skin, it becomes challenging to restore it to its previous state, even with exercise and diet. 
Fortunately, you can consider tummy tuck surgery and achieve your desired results.
 2. Sculpting the Stomach by Getting Rid of Excess Fat
Many patients may struggle with excess fat in and around the stomach following a significant weight loss or a pregnancy. Reducing this can be difficult or nearly impossible — even with a healthy lifestyle. 
This is where abdominoplasty comes into play. This procedure can help reduce stubborn fat deposits so you can achieve a more sculpted-looking core.
Some patients choose to follow up their tummy tuck with Emsculpt Neo® to help build abdominal muscle. Tummy tuck surgery does not increase muscle. Typically, patients will need to wait 90 days post surgery to begin Emsculpt® or as recommended by their surgeon.
3. Addressing Muscle Separation
Many women (and some men) experience a condition known as diastasis recti after weight gain/loss or pregnancy. This is the physical separation of the abdominal muscles, and its only remedy is surgical intervention.
If you have damaged or stretched abdominal muscles, you may turn to tummy tuck as a solution. During this surgery, the two halves of the abdominal muscles (rectus muscles) are repositioned and tightened to eliminate the excess bulge caused by this condition.
4. Minimizing Stretch Marks
Patients may develop stretch marks due to fat loss, weight gain, or pregnancy. Apart from tightening and toning your belly muscles, a tummy tuck can sometimes minimize stretch marks in the abdomen. This is because the skin where these often develop is the skin removed during the procedure. 
All remaining stretch marks are usually less noticeable after the procedure; however, they will still be there.
5. Treating Umbilical Hernia
A hernia is a phenomenon that occurs when an organ pushes through a tissue or muscle opening (an umbilical hernia describes a hernia in the abdomen). Unfortunately, it does not repair itself. 
Treatment for an umbilical hernia is similar to a tummy tuck, and it can be corrected by the abdominoplasty procedure. This allows patients to treat their hernia and restore a tighter abdomen.
6. Helping to Improve Posture and Decrease Back Pain
A bulging abdomen can strain the back, causing pain and forcing men and women to shift their posture. Since a tummy tuck surgery eliminates excess fat and repairs abdominal muscles, back pain caused by poor posture (due to the abdomen) can be lessened, and your posture may improve.
This will not correct all instances of back pain, just discomfort associated with poor posture due to a bulging abdomen.
7. Helping With Stress Urinary Incontinence
Did you know that a tummy tuck can improve stress urinary incontinence (SUI)? The condition occurs due to excessive pressure on the bladder and urethra. It can lead to uncontrolled bladder leakage due to actions such as coughing, laughing, sneezing, and exercising.
Let Experienced Professionals Help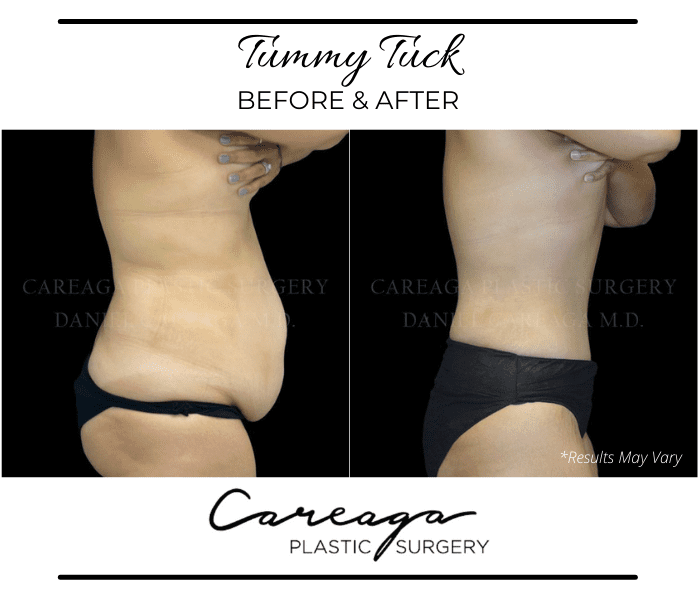 You can see more transformations by visiting our tummy tuck before and after gallery.
Excess skin and belly fat can be impossible to eliminate with diet and exercise. If you're struggling with these problems, do not hesitate to contact Careaga Plastic Surgery today at (305) 574-9262 or fill out our online contact form.