6 Things You May Not Have Known About Liposuction
Posted October 04, 2022 in Liposuction
5 Minute Read:
One of the most common concerns that men and women have when they come into plastic surgery consultations is the excess fat in various areas of their bodies.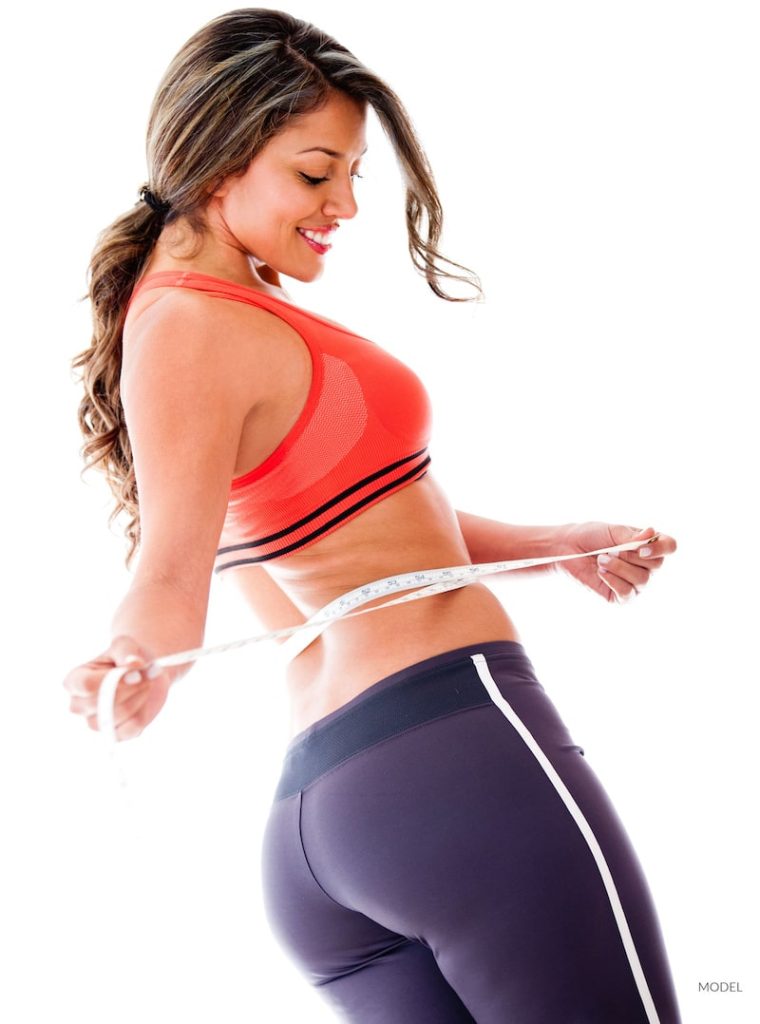 And what makes this issue even more frustrating is that some subcutaneous fat doesn't respond to normal diet and exercise, meaning that it doesn't matter how many hours you spend at the gym or how healthy you eat.
Fortunately, liposuction is a minimally invasive plastic surgery procedure that is designed to remove stubborn fat from the body to help you achieve that toned and contoured look you have been dreaming of!
As prevalent as liposuction has been over the years (over 210,000 liposuction surgeries performed in 2020 goes to show just how popular this procedure is), the truth is that many people don't fully understand just how beneficial liposuction can be. 
In this blog, we will explore the benefits of liposuction to help you decide if undergoing a liposuction procedure is right for you.
How Is Liposuction Performed?
Liposuction surgery is a cosmetic procedure in which fat is removed from various areas of your body. This procedure requires small incisions, which will result in minimal scarring (if any), and can be performed using local or general anesthesia to keep patients from feeling any pain or discomfort.
At Careaga Plastic Surgery, Dr. Careaga and Dr. Durand are proud to offer three different liposuction techniques to help you achieve optimal results.
The first of these techniques is tumescent liposuction. With this procedure, Dr. Careaga or Dr. Durand will inject a saline solution into the treatment area(s). This solution will help minimize pain and discomfort, and leads to less bleeding than with standard liposuction surgery. Once the tumescent solution is injected, small incisions are made in your skin, and a small tube (cannula) is inserted to suction out the troublesome pockets of fat.
Careaga Plastic Surgery also offers Vaser LipoSelection®, which uses ultrasonic energy to loosen the fat before it is removed.
Finally, Smartlipo™ uses laser energy to reduce the size of the fat cells, thereby making the fat easier to remove through the cannula.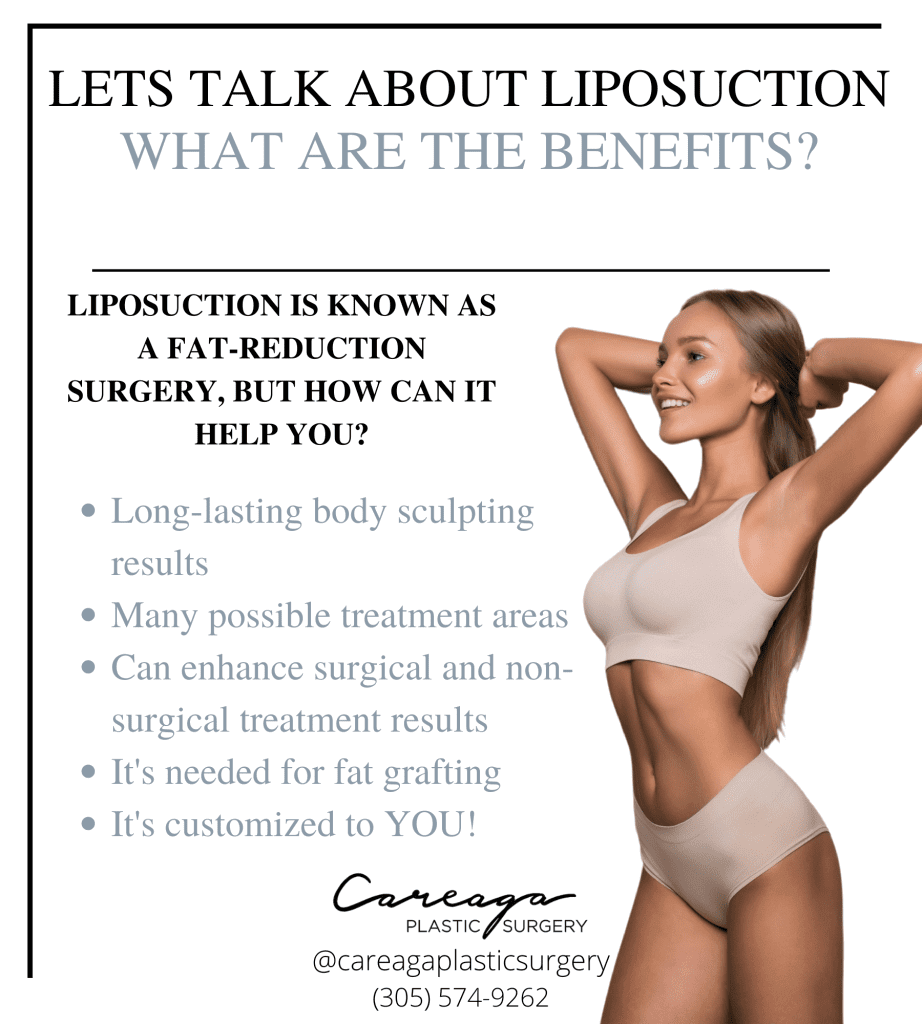 What Should You Know About Liposuction?
While liposuction is one of the most effective ways to remove fat from the body, there are many details about this procedure that men and women simply don't know (but should!).
Besides offering you stunning results that can help you feel more comfortable and confident, here are some of the benefits of this procedure…
1. Long-Lasting Results
Liposuction surgery removes fat cells along with fatty tissue. This means that the fat is permanently gone once it is suctioned out through the cannula.
It is important to note that new fat can grow in the old fat's place; however, with a healthy lifestyle, you can help maintain your results and minimize your chances of new fat pockets developing.
2. It's Versatile
Liposuction isn't just one of the most commonly performed plastic surgery procedures in Miami but in the entire country.
One of the reasons for this popularity is that liposuction can be used on nearly any part of the body, making it one of the most versatile plastic surgery procedures available to men and women.
3. Easy to Combine With Other Surgical Procedures
Liposuction can be performed as a standalone procedure, or it can be used in conjunction with other procedures, such as tummy tuck surgery (abdominoplasty) and breast reduction surgery.
During these procedures, liposuction is used to remove any excess fat in the area before the skin and/or underlying muscles are tightened.
What makes combining surgical procedures even more effective for helping men and women achieve their aesthetic goals is that liposuction cannot tighten or remove excess skin, but other body contouring procedures can.
This makes the combination the perfect option for certain patients.
4. Enhances Results of Non-Surgical Treatments
Not only can liposuction be combined with surgical procedures, but it can also help compliment non-surgical treatment options.
Some of these treatments include dermal fillers and Emsculpt Neo®. When combined with non-surgical treatments (such as a chin liposuction along with a cheek filler, or liposuction of the flanks or back combined with Emsculpt Neo® on the abdomen), liposuction can help you achieve the results of your dreams without the invasiveness of other surgical procedures like a full tummy tuck.
5. Required for Fat Grafting
Many patients undergo cosmetic procedures to augment portions of their bodies, whether that be the breasts or the backside.
Besides using implants, the most effective way to enhance the size, volume, and shape of an area of the body is with fat grafting (also known as fat transfer).
The first step of this procedure is to harvest fat from one area of the body. (This harvested fat is then purified and injected into another area of your body.) It is through liposuction surgery that the fat is initially harvested. The Brazilian Butt Lift is one of the most popular and common fat grafting procedures, and the results can be absolutely jaw-dropping.
6. Customized to the Patient
Lastly, liposuction can be customized to fit your specific aesthetic desires and needs. As long as you trust your liposuction treatment to a skilled and knowledgeable plastic surgeon like Dr. Careaga or Dr. Durand, you can have liposuction performed on as small or as large an area as you would like.
This means that your results can either be subtle or dramatic. At your liposuction consultation, your plastic surgeon will be able to help you decide which is best for you.
Interested in Learning More About Liposuction Surgery in Miami, FL?
If you are interested in liposuction and want to find out more about this procedure or any of the other services we offer in Miami, Florida, please call us at (305) 960-7511 or fill out our online contact form.